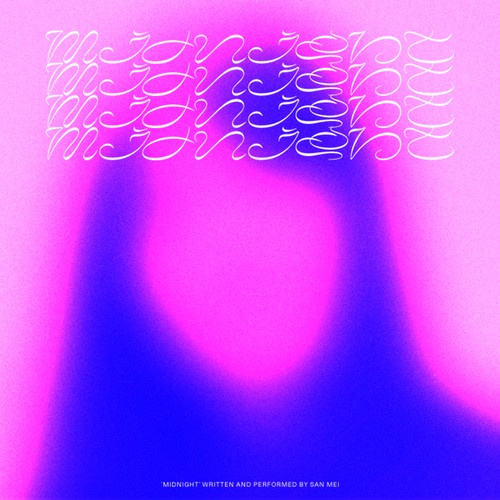 The grieving process is a strange thing. You never quite know when it's going to happen. Personally I lost my father in 2015. I naturally cried. I also cried at his funeral. But it was probably around 18 months later when grief finally hit me. I was doing some work on my PC when a song by my fathers favourite artist, Roy Orbison, happened to come on the radio. The floodgates just opened and I spent the best part of an hour crying on and off. And it suddenly felt like a weight had been lifted off my shoulders.
Unfortunately someone else who has experienced the awful event of losing a parent is San Mei, real name Emily Hamilton, who's mother sadly passed. Her new single 'Midnight' is a tribute to her mother and a way of accepting the grief as she says below.
"I wrote Midnight after losing my dear mum. For a while, I'd wake up every single night around midnight in a panic about it, struggling to accept what I'd lost. It felt surreal, like a dream. Eventually though, with time and healing, I found the peace I was longing for. I wrote the chorus lyrics "go sweetly, out into the night" as a sentiment of letting go, because I decided I didn't want to keep trying to hold on to something I wasn't going to get back. I wanted this song to be a celebration and a sweet send-off, and my way of finally saying goodbye."
"Midnight has probably been the most challenging song I've made so far. It took a couple of rounds in the studio and then many sleepless nights tracking and re-tracking parts at home to get it to its final version. At the time it felt like we were never going to finish it, but it literally came down to finding the right guitar part for the verses, and everything finally clicked into place. The song itself is very special and personal to me, and I think that made it harder to get right, because it had to be right. In the end it became the tribute I wanted it to be, feeling hopeful and reminiscent amidst the feelings of loss."
And what a tribute San Mei has written for her mother. 'Midnight' punches you right in the heart with it's beauty, it's impossible not to feel the emotion. It's so gorgeous it actually makes you want to cry. The lush musical arrangement sweeps over you, the guitars shimmer but ache. San Mei's sugary sweet vocals embrace you and draw you in. They make you want to hold her and let her know everything is going to be ok. It's dreamy but sad. And I'm glad she has let us share this personal moment with her. A lot of people are going to be able to relate.
I could listen to 'Midnight' on repeat all day. I haven't heard a better song yet in 2020.
Follow San Mei on Facebook.
Morph