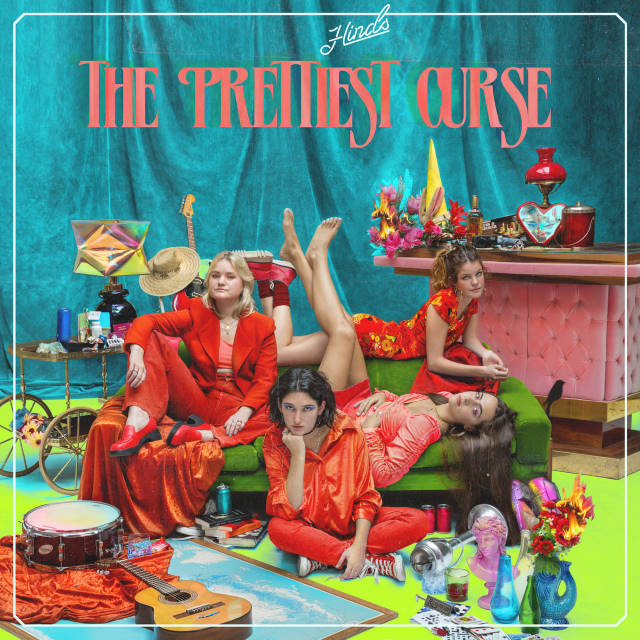 Stepping out of the garage and into the sun, Hinds are an unapologetic power to be reckoned with in The Prettiest Curse.
The Prettiest Curse is Hinds' third album out on Lucky Number coming June 5th, contrasting both their time spent writing in the golden haze of LA against the neon lights of New York. This album contradicts isolation with unity, in songs like 'Riding Solo' and 'The Play' , then excitement and heartbreak in 'Take Me Back'. The Prettiest Curse not only soundtracks summers with your friends, but also the times spent in bed with the lights off, it is diverse and developed, showing leaps from the lo-fi days of the Barn and Demo EPs and into the poppy anthem 'Good Bad Times', without losing any of the essence of Hinds.
From the beginning, there has been a running theme of crappy relationships or flings, and this album is no different, lyrics like 'I'll be stuck thinking about him all day long' from Boy ring true to many, holding a similar feeling to that of Best Coast's 'Boyfriend'. Similarly, on Waiting for You, you can hear the release of emotions and openness but with that tongue in cheek attitude that has always been present in Hind's music from earlier lyrics like 'you can't come over today you're classifying your cassettes' (Bamboo).
Because the music industry, is well the music industry, Hinds have always been branded with 'girl band', which is far from a bad thing, however along with this label comes men telling you how to hold a guitar and sing 'properly'. Not that they needed to prove themselves, however, this album is certainly a statement to any critics. 'Just Like Kids (Miau) is a song based upon the boring, patronising comments they've received over the years partnered with a statement video telling critics exactly where to stick it.
'Burn' sounds like an early Libertines-esque rallying cry, with one of the most prominent guitar solos I've ever heard from Hinds. Followed by 'Take Me Back', beginning with some more lo-fi elements, the track builds into a perfect laidback indie track, full of depth from prominent bass lines.
The album finishes on 'This Moment Forever', a dreamy number, showing Hinds' range into an appreciation for slowness and restraint, alongside 'Come Back and Love Me <3' compared to the earlier full-throttle numbers. This album is the most developed offering that Hinds have produced to date, confirming their status as a key and influential indie band in the modern scene.
Unfortunately, their 2020 US and Europe tour has been cancelled, however their album can be streamed, bought etc on the 5th June, and there's no reason it can't still be enjoyed out loud, with mates and a beer. Also check out the interview I did with Ana where we discussed this album, the inspirations for it and touring.