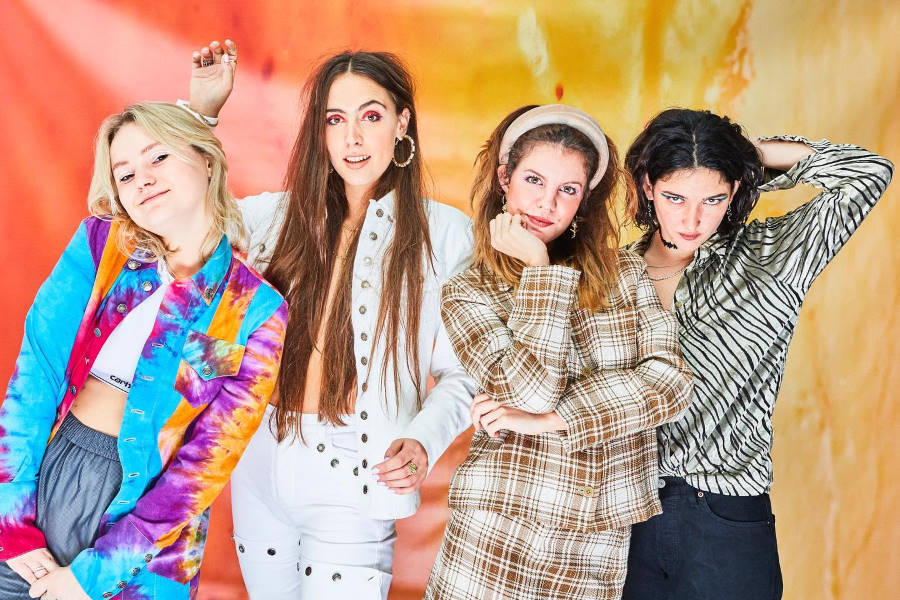 Ana Perrote from Hinds Talks Touring, Lockdown and Music Inspirations
I spoke to Ana about Hinds' new album The Prettiest Curse (out June 5th) and the highs and lows of touring. It's coming with an exciting new sound with inspiration coming from many sides of the music spectrum, from Kali Uchis to The Jesus and Mary Chain.
Hey Ana, how's lockdown going for you?
I'm lucky enough to be surrounded by people that help me out but I just really miss playing with everyone. Talking on whatsapp, we're just desperate to play, even if it was just going to the rehearsal space in masks and standing 2m apart, I just want to play music with other people.
Is that your favourite part of touring, the playing together?
100%, the only thing I like about touring. Everything else is all the travelling, the staying over, raining, waiting in lines, losing passports. Definitely the best part.
Not a constant party then?
It's a pain in the arse apart from the constant playing!
I'm really loving the new album what's your favourite song from it?
It's hard for me to say, I think my favourite song would be 'Good Bad Times' but my favourite lyrics are from 'Just Like Kids (Miau)'.
Hinds have got videos out for both 'Good Bad Times' and 'Just Like Kids (Miau)' which both have very cool, 80s vibes. 'Good Bad Times' features superheroes, saving cats and school bullies, and 'Just Like Kids' seems to exist as a statement against everyone who has ever tried to tell them how to do their jobs. Together, in powerful outfits, Hinds are the gang you don't want to mess with, they're no longer taking any of your shit.
There are a few mentions on the album of crappy boys or crappy relationships? Have you got any advice for listeners that might be going through relationship troubles?
I'm no one to give advice, but if I was talking to a friend in general, one of the things that helps me the most is having perspective on things. Most of times, with any sort of problems not even just relationships, you see the problem as the biggest thing you're going to face, but trying to breathe and see things, remember that maybe you've been through that before, like a breakup, we have survived them even if we didn't think we would. Just getting perspective on how you feel.
I saw you went to America to record and write the album, how was the little bungalow in LA?
Yes it was really fun. In general, it's the first time we've travelled to write, not only the first time we've recorded out of Spain, but it's the first time we've wrote outside as well. Because we wrote outside and took the time to do it, instead of touring touring touring and stopping one month to write, to record, and then tour. It was the opposite. For the first time we had the luxury to stop touring and focus on the writing which was so good. It didn't feel like we had to write the best thing ever for like one month, because of travelling and time. You really can tell on the album that there are different feelings and different sounds. And it's more colourful.
What sort of records were you listening to whilst recording and writing?
We listened to a bunch of very different stuff. The good thing about this album is we didn't just have one reference that we wanted to sound like or one type of production. We love the imaginary kinda vibe like Kali Uchis. And we also listened to this band Molotov which have loads of electricity, packing vocals and layers and layers of sound which you can hear in Miau, god knows how many millions of layers! Also, The Jesus and Mary Chain, Carlotta sort of discovered them. Well where you think you know a band but then you actually listen to them and its like 'where have I been?'. We had a revelation with them, doing the album, their melodies are like very very poppy, but they make it very interesting, punk and weird. Super weird! That was also a good reference. You can see we listen to things all over the place.
When you're feeling a bit stressed, what's one song that makes you want to dance or feel happy?
I think it would be 'Cheek to cheek', it doesn't make me happy, but it just fucking relaxes me and makes me smile. As if I was talking to my grandma, like what am I complaining or worrying about, it's just like life is beautiful!
Talking of family, what's the first thing you think you're going to do when you come out of lockdown?
Definitely, I want to spend the whole afternoon with my friends and family, even altogether, just on a terrace, sitting down, drinking something with someone else drinking, I don't know about you but one of the things I most tired about doing in lockdown is fucking dishes!
Christ me too!!
It's like right I'm going to cook something great, and then seeing the washing up! So definitely being on a terrace, seeing life pass away.
And hopefully enjoy the sun!
The good thing is that when we come out it should be good weather, imagine if it was January like the only thing, you'd be able to do is be home.
So you've rescheduled the tour for September, who are you going with?
In Europe we have Liss and in America I think we have The Shivas, and the other band that Amber picked which is Vista Kicks.
Exciting stuff, thank you! Can't wait to see you in September.
Hinds are coming to the UK in mid-September, after the April tour was rescheduled, with a Birmingham date at The Castle and Falcon, supported by Liss. They've also got dates across the country touring 'The Prettiest Curse' (fingers crossed). Whilst you're waiting for the album, here's a playlist I put together of the artists Ana mentioned and the songs I've listened to whilst hearing the album, that have a similar indie, summery vibe.
Keep your eyes peeled for the album release in June, and you can purchase tickets or pre-order the album here.
(P.S. look out for the merch, it's always the best.)