SPINN
Mama Roux's
Review by Aradi Priyanto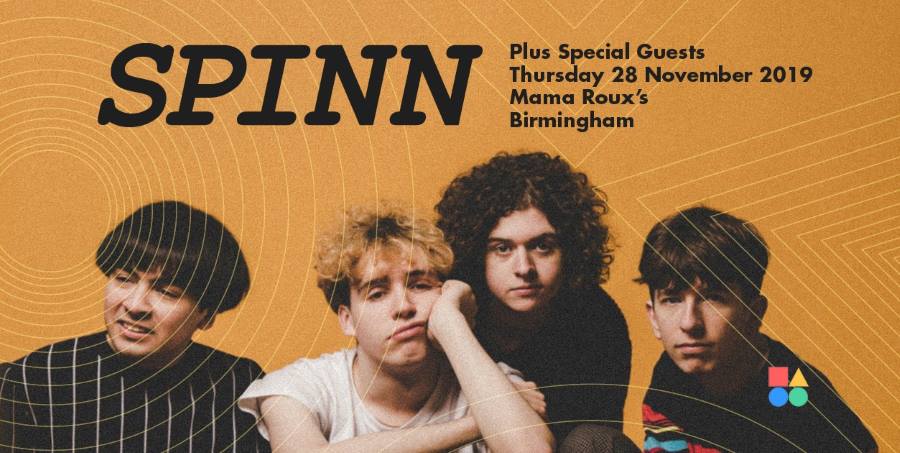 Stopping by on their biggest tour to date, up and coming Merseyside music makers SPINN successfully brought their brand of indie pop rock to Mama Roux's. As well as debuting exciting new tunes front man Johnny revealed that a new EP is in the works to be recorded in February. With the new also came plenty of the old favourites, with the band treating the crowd with a fine mix of both mosh energy and emotive singalong songs.
Local lads Outline were the first of the three supporting acts on the night. Also debuting new music, they started things off with their own danceable jangly riffs similar to the Liverpudlian main acts.
Londoners Sad Boys Club were up next, playing their the 1975-style indie pop. Front man Jacob Wheldon's Morrissey meets Matty Healy-like stage presence and infectious energy spread throughout the crowd. Soon, many in the crowd were dancing to their very catchy and danceable latest single 'Kukachu', which received Radio One air time on Huw Stephen's show this week.
Walsall boys The Assist brought some heavier multi-layered sounds on the night, bringing their own brand of indie-rock with Britpop era and The Stone Roses vibes, the booming basslines and the Squire-style guitar riffs. The band got the crowd singing along with their tune 'Wonderful', with an anthemic chorus "you are so wonderful, you are so magical". They also played their new single 'I Don't Care', which is to be released next week.
As soon as they took to the stage, SPINN got everyone dancing from the get-go, opening with fast-paced 'She Takes Her Time', which starts with their signature dreamy and echo-y jangly guitar sound masterfully played throughout the night by lead guitarist Andy Power.
It was soon to be apparent that the band were facing some technical dilemmas, however lead Johnny Quinn filled the time sharing with the crowd how it was a hometown gig for Brummie drummer Louis O'Reilly and how they had to play Newcastle the night before and then had to attend university back home at eight the morning after. The tiredness wasn't on display at all and it wasn't long before he was back dancing in his own, now trademark way.
"I felt very nervous today, because I was really tired, and I hope that I haven't let anyone down, but it's boss playing venues this size and people actually turning up" Johnny said, talking to me after the gig.
They soon got everyone singing along with another tune from the self-titled EP, 'Who You Are', as the crowd follow Johnny belting out the lyrics. Both the super catchy tune and relatable lyricism on this song and others is a reminder of why they've racked up millions of plays on Spotify.
The band released their first album this year, also self-titled, to critical acclaim. 'Is There Something That I Missed' is definitely a fan favourite from the album, with a The Smiths-esque intro before a seamless return to their usual dreamy jangle rock.
Acoustic track 'July At a Glance' provided some rest for tired legs but many were still in fine voice for the heart-warming tune as it brought mid-summer warmth to what was a cold night outside.
The more upbeat and fun, yet still as charming and warm, 'Sunshine' got everyone dancing again to well-woven, light-hearted bittersweet lyrics about nice girls and heartbreaks "Oh the Sunshine girls that break your heart I don't know why you try so hard". It is reminiscent of the contagious appeal of 'Who You Are' and 'Notice Me', their second ever single and another pre-album fan favourite that they played on the night.
They teased their next project with a couple of new untitled songs, which were certainly heavier than their past works. "Some of it are a bit heavier, we're trying to explore that side, but we also want to explore some orchestral influences, and obviously there will be some classic jangle tunes" Johnny added, talking about the new material they played and the new EP to be recorded February.
The night wouldn't be complete without 'November', which epitomises the appeal of SPINN and their gigs. It blends the charm and charisma of their lighter tunes with the vigour and energy of their heavier indie rock. Johnny sums it up brilliantly, describing it as a song for "moshing and snogging, so get your boxing gloves and brush your teeth". There aren't many gigs where you'd feel like having fun doing both, but a SPINN gig is certainly one of them.