Priests
Hare & Hounds
Review by SdM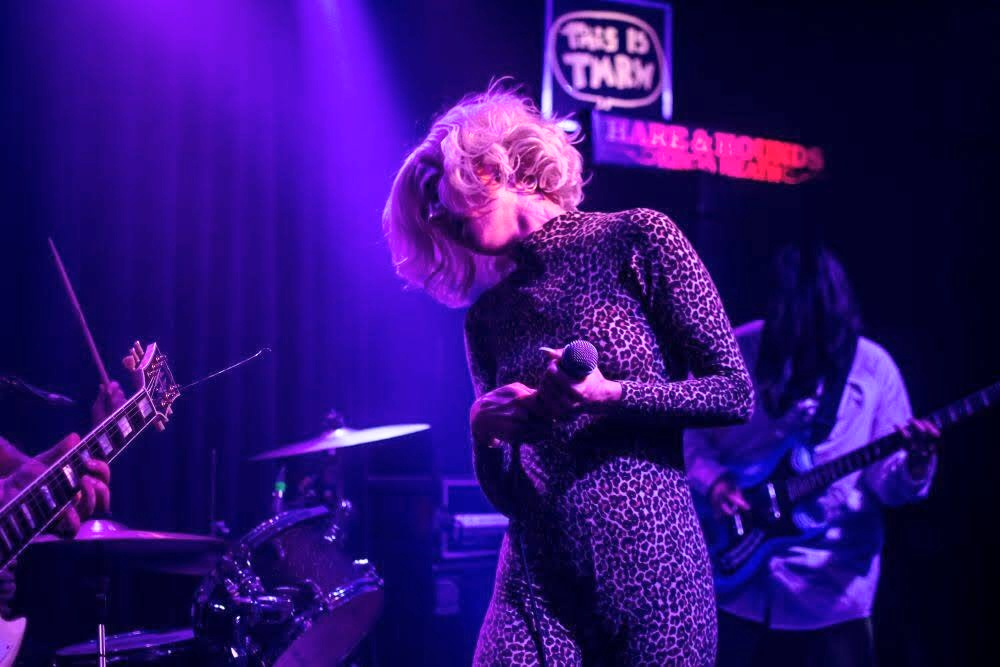 Lead singer Katie Alice Greet has the platinum blonde hair of a 1950's Hollywood movie star. The tight-fitting leopard print cat-suit gave her the look of a super-villain from the original (and best) TV series of Batman. She moved around the stage looking every inch a rock star, posing and pouting like the love-child offspring of Mick Jagger and Nancy Sinatra. Her voice is simply stunning – effortlessly dynamic she can belt out an impassioned cry as on set opener 'Jesus' Son' or send tingles down your spine as on an electrifying version of the tempestuous 'Leila'.
Drummer Daniele Daniele is no slouch in the vocal department either taking over the front-line singer spotlight on 'I'm Clean' and the playful '68 Screen'. Katie sat at the drums and played maracas but returned to sole singing duties with the fast-paced 'Good Time Charlie' onward.
'Pink White House', 'No Big Bang' and 'Nicki' from the first LP 'Nothing Feels Natural' were total crowd pleaser's. Katie joked and commented on the reverential silence between songs but the outing of older material changed all that and the dancing and moshing increased markedly.
Priests gave an interesting insight to State-side appreciation of the Great British Bake Off. Guitarist G.L. Jaguar wearing a huge black Stetson hat expressed his love the show and the difference between the UK and the USA: "[in the UK] if one person doesn't finish, the other contestants help out. And when people leave everybody cries. In American its like, 'I'm in it to win it myself!'". "I didn't come here to make friends!" adds Katie with a grin.
TV bake-chat over 'Texas Instruments' took us back to the 80's with it's Siouxsie and the Banshees-like guitar sound. And a raucous and incendiary (well, it was Bonfire Night) version of 'JJ' was played with an intense vigour. 'Control Freak' brought an exhilarating set to a close.