Lazy Day
The Sunflower Lounge
Review by SdM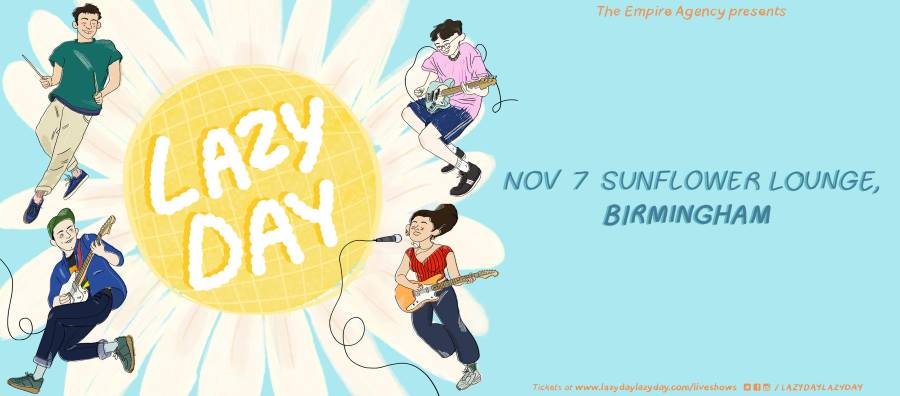 This was not Lazy Day's first time at The Sunflower Lounge – they've even headlined here before – but it was easily their best performance to date. For whatever reason everything has fallen into place. Every song sparkled with a tad more energy and vibrancy; instruments were played with a liberated ease, and yet the Lazy Day sound was just so much more tighter and cohesive.
To prove the point set opener 'Disappear' gave goosebumps – Tilly's clear-as-a-bell vocal impressed as did the string-bending guitar of Liam. Former singles 'Weird Cool' and the unsettling yet wonderfully enjoyable 'With My Mind' get an outing to much audience approval.
An energetic drum opening of 'Ribbon 1" complete with growling bass and gritty guitar melody was very nearly Kula Shaker's take on Deep Purple, before venturing into the more contemporary indie-pop of 'What's Up' . Lazy Day do their side-step feet-together dance routine to this which always raises a smile – for them and the audience.
The band were in full flow and clearly having a good time by this point enjoying every second of playing and singing live. New song 'Real Feel' bopped along in this upbeat mood positively pouring out feel-good vibes. Tunes of the night however, have to go to the rousing and dynamic merging of 'Baby' and 'Tell Me'. The twin lead guitars of Tilly and Liam came together in the most scintillating way adding an almost tangible fizz of electricity in the air.
For a gig that had started very well the band kept the pace and energy flowing throughout. Not once was there a lull or a tune that dipped in mood. Lazy Day looked like the perfect indie-pop package – full of great tunes that were performed with gusto and tenacity. Throw in some fun dance moves and you have a band that look as if they are only going to get better and better.