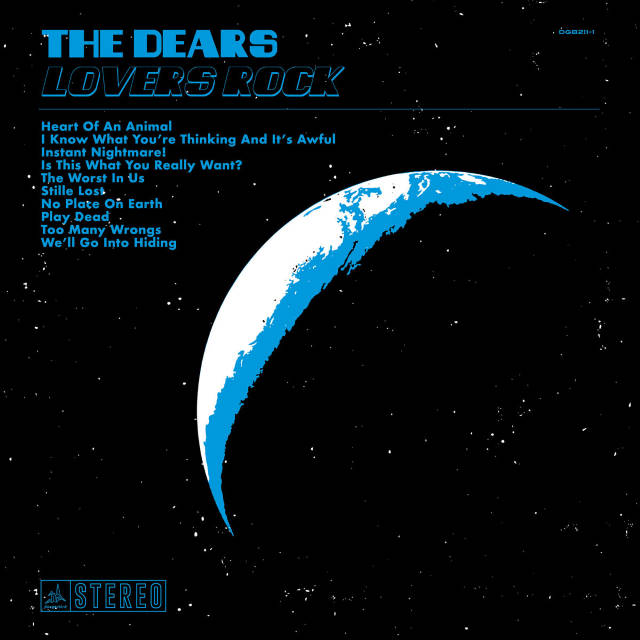 "And after all these years, is it still the same old song?" Murray Lightburn ponders on the new album from The Dears.
Being a song from The Dears, the question is posed to a lover about a relationship that's veering perilously off the tracks, a staple theme of Lightburn's exquisite songwriting over all these years.
But the question could be asked of his band. It's been 20 years since Montreal's The Dears released their debut album, 'End of a Hollywood Bedroom Story', at the start of the new millennium. And 17 since their breakthrough release, 2003's stunning 'No Cities Left', that set the template for the band with its dark, orchestral-driven apocalyptic love songs. As the NME put it at the time: "Like Marvin Gaye fronting The Smiths while the London Philharmonic Orchestra has a stab at the Burt Bacharach songbook."
Seventeen years on, The Dears are as potent and downright beautiful as ever.
In 2003, 'No Cities Left' was written and recorded in the shadow of 9/11, war and an impending financial crash. 'Lovers Rock' – their eighth studio album – was written against a backdrop of Trump and the new nationalist world order, a sense that the world is heading to hell in a handcart once again. And of course, it's released right in the middle of the Covid-19 pandemic.
Global crises obviously bring the best out of The Dears: 'Lovers Rock' is the best thing they've done since 'No Cities Left'. Part Krautrock, part Bacharach, it soars with lush orchestration, bittersweet themes and heart-lifting melodies, with more mood shifts on many of the songs than Bohemian Rhapsody. There are 10 songs on 'Lovers Rock'. It feels like double that.
"For me, it's like an onslaught of ideas and sounds," Lightburn says, "and then I can't keep up half the time. It's a feverish process. Every record we make, there's a ton of songs. The Dears aren't fucking around. We don't have time to waste."
Over the years, The Dears have seen over 20 band members join husband and wife Murray Lightburn and Natalia Yanchack. It's less a Fall-style operation, though, more a canny squad rotation system that sees musicians returning to the fold regularly.
On 'Lovers Rock', Lightburn (vocals, guitar, 'other') and Yanchak (vocals, piano) are joined by long-time drummer Jeff Luciani, who's been with the band since 2011's 'Degeneration Street', and two holdovers from Lightburn's 2019 solo album 'Hear Me Out', Steve Raegele (guitar) and Rémi-Jean LeBlanc (bass). There's also a string section, and saxophone from Canadian Alex Francoeur and The E Street Band's Jake Clemons.
Lightburn says of the songs on 'Lovers Rock': "The question we're asking in the music is, 'how do we navigate so much bullshit in this world?'. We're still playing this dumb rock music but there's always going to be a little twist of the knife, cutting into something deep to make you feel like you're alive. To say, 'I know what you're going through. And I'm hearing you, and I'm with you'. That's what the music's supposed to do."
A burning frustration at the state of the world bleeds through much of the album. You can hear it in Lightburn's repeated cry of 'lunacy' in album opener 'Heart of an Animal' and its anthemic anger. "We're lost and no-one gives a damn," he sings on 'Stille Lost', the E Street Band's Clemons providing feverish saxophone against a 50s sci-fi movie soundtrack that sounds like a debauched cabaret singalong at the end of the world. "We know it's all a scam," he bristles on 'Instant Nightmare!', guitars crashing and 'wooah wooahs' mounting.
So the world continues to burn, as always. The menace grows. It can be a frightening place.
But there is refuge on this album, as in life itself. It's our relationships, it's love – as messy, compromised and difficult as it is – that will always save us. There are few songwriters so brilliant at writing about relationships as Lightburn – and he's written some of his best on 'Lovers Rock'.
'I Know What You're Thinking and it's Awful', 'Is This What You Really Want?', 'Play Dead', 'Too Many Wrongs' and shimmering album closer 'We'll Go Into Hiding' are all beautiful apocalyptic love songs to clutch tightly to our chests during these difficult days.
"This world has no chance," Lightburn sings on the swooning, swerving epic 'The Worst In Us', "against the pure, full-blooded romance."
The album ends with 'We'll Go Into Hiding' and a couple fleeing the troubled world for splendid isolation on 'Lovers Rock', where they'll try to build a better future as far away from the travails of the world as humanly possible.
"It's going to be all right," Lightburn sings.
I believe him.
In the run-up to the release of 'Lovers Rock' on 15th May, The Dears are going live on Instagram each night at 9pm to play their albums on vinyl and to talk about each release. It started on 8th May and runs until album release day on the 15th. You can see recordings of the live streams on their Instagram account – @thedears
Pandemic permitting, The Dears will be playing some UK dates in November in Cambridge (19th November), Glasgow (21st), Manchester's Deaf Institute (22nd), Bristol (23rd), London (24th) and Cardiff (25th)