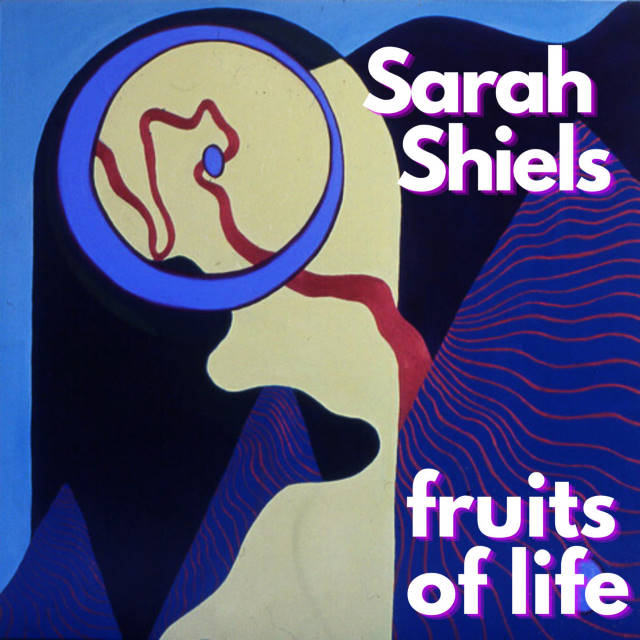 Sarah Shiels may be just 24 years old but looking at her resume you'd think she's at least a decade older. An accomplished bassist, she has played with a plethora of acclaimed indie acts such as Ming City Rockers, Black Delta Movement and currently The Dyr Sister. She has toured nationally and internationally, appeared at the biggest festivals on the folk-rock scene and released a poetry book entitled '2 Years' to much praise. This year she decided to ditch the low frequencies for the front of the stage and released her first solo single 'Fruits of Life'. Well, be prepared for big things as this lady means serious business.
The first thing you notice while listening to 'Fruits of Life' is Sarah's deep, strong voice. Rich and raspy, emotional, touching your very soul. It's hardly an exaggeration. Blues as a genre, by definition is based on feelings. It is defined by themes of loneliness, longing, solitude and sadness. A blues singer needs not only the ability to channel those emotions, they need a voice to make the listener feel the despair and misery. The voice must fit the music or it will not do. Luckily for my pair of tired ears, Sarah Shiels has the ability to make me feel blue, in the best sense of the word. Who needs sunshine and rainbows when you can be delightfully sad.
The song itself is a rather intriguing mixture of traditional blues from the Mississippi Delta and the Prospect Park NYC alternative folk rock. In certain moments Miss Shiels sounds like the grungy Ottilie Patterson or Liz Phair who settled down in Baton Rogue. In others, she's Jacqui Abbott playing Elliott Smith's covers at the original Sin-e or Lisa Loeb guest fronting the Throwing Muses at the legendarily infamous L'Amour. Whatever your opinion – give her several years and she will be the talk of the town. She already is one of the best new voices on the Yorkshire scene and she can only go up from there.
Under The Radar magazine called 'Fruits of Life' hypnotic and I don't think anybody will be disputing this verdict. Soundsphere Magazine compared Sarah to Suzanne Vega, Leonard Cohen (I absolutely love this!) and again Elliott Smith. I can throw in a few more names – Kristin Hersh, Fiona Apple or (believe it or not) Melissa Etheridge.
It is also worth mentioning that 'Fruits of Life' is the first song released on the Fast & Bulbous Records, run by the excellent folks behind the immensely popular Adelphi Club.
Well done to Sarah, and well played guys. I had not seen this coming. A+ from me.
'Fruits of Life' was released on the 14th of January 2021.