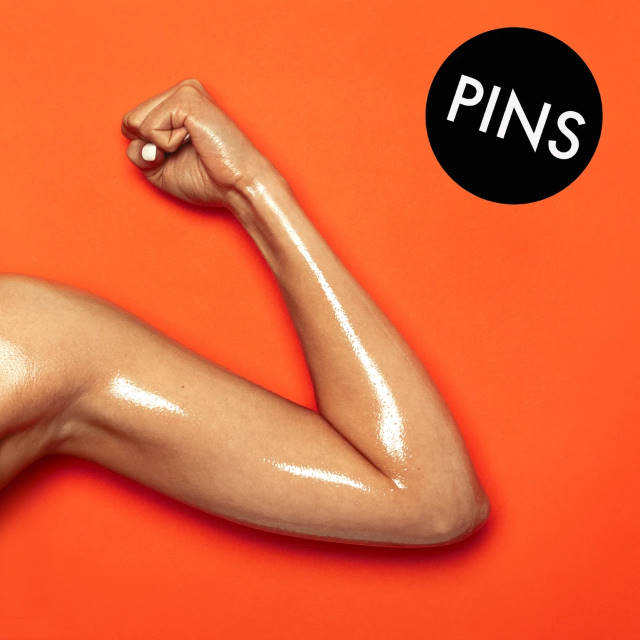 Five years on from 'Wild Nights' and PINS have returned, with an electro indie offering, 'Hot Slick'. This is their third album. Coming with a new rhythm section, PINS have switched up their sound using talented producer Rich Woodcraft (worked with the likes of Radiohead, Echo and the Bunnymen, The Last Shadow Puppets) to bring us this polished album. Not only has their sound become more glam, but their image overall has been rebranded alongside this, with more colourful, fashion forward looks.
The album lacks much lyrical substance, but instead functions as a dance-adjacent indie album like that of early LCD Soundsystem or New Order.  'After Hours' is a perfect reflection of this, as the first track, it introduces this new PINS, with elements of 80's pop utilising a lot of synths. Although they haven't completely abandoned their old more punkish roots, it seems like they're having more fun with their sound and experimenting. Jamie Hince also helped to produce this record, with his influence feeling present on this track with some similarities in sound to The Kills.
'Bad Girls Forever' follows, which honestly, I find pretty cheesy, with lyrics like 'good girls go to heaven that ain't where we are heading' it feels like one of the weaker songs on the album. Yet, it does have the potential to be played on the radio as a fun, empowering indie pop tune. 'Bad Habit' functions quite in contrast to this, with heavier and more prominent bass lines, it showcases the harmonies and layers within the vocals, and swirling guitar lines.
There are nice, welcome contrasts in the album, showing diversity in their sound where a track like 'Daisies', a high energy poppy number, is followed by 'Ghosting', a song that features unstoppable hooks and a relentless synth beat. Similar hooks are continued into 'Hot Slick' the main single from this album. Promoted by a sultry video featuring swimming pools and nightclubs, 'Hot Slick' is my favourite on the album, a reminder of their take-no-shit attitude and energy, and with their classic PINS sound.
'Love You to Death' includes male vocals (which I assume are Nathan Saoudi's), and is one of the most interesting tracks on the album. Embracing elements of a psychedelic-y sound, this has the potential to be an incredible live track with the contrast between the grungier vocals and such a clean synth sound.
The album finishes much the same as it began, with 'Ponytail', 'Read My Lips' and 'Set Me Off' leaning further into that 80's indie pop sound. 'Ponytail' was first released as The Orielles remix version.
The Orielles have become indie sweethearts over the past couple of years, yet this remix is not the best, but as the first single released for the album it did set the tone for a departure from the previous guitar heavy sound of the single before, 'Serve The Rich'. Finally, the last track of the album 'Set Me Off' reminds me of Rio-era Duran Duran, in the best way. It feels like it could have a space in a John Hughes film.
'Hot Slick' is not the strongest album as a whole, but it is really interesting, and exciting when a band starts playing with new sounds. I think their upcoming live shows have the potential to be a lot of fun and an opportunity for a good dance. They should be playing Dead Wax in Birmingham on October 2nd 2020 (fingers crossed!).
7/10
Tickets can be found here.
Hot Slick is out May 29th. Order the album here.