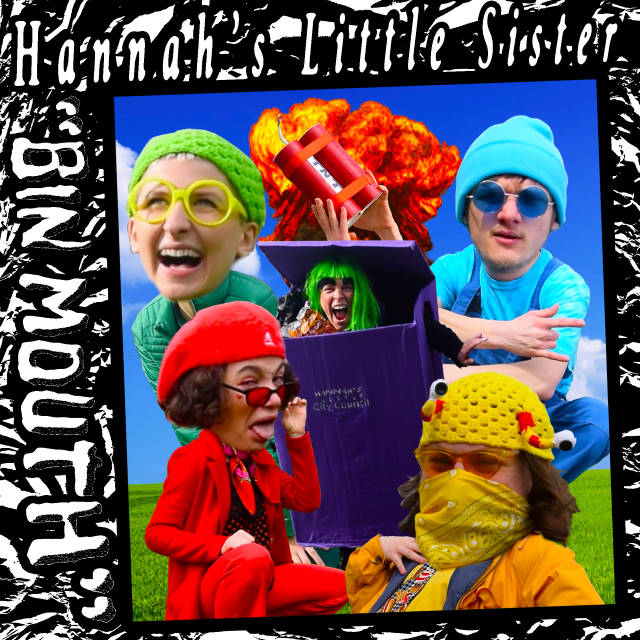 Fun. That's the feeling you get when you listen to 'Bin Mouth', the new single from Hannah's Little Sister. Kind of in the same way you used to feel when you listened to their fellow Liverpool based band Pink Kink, who are now sadly no more. And that's perhaps not surprising given bassist Nina was in Pink Kink.
From the moment the Bontempi opening and choppy guitars kick in you are instantly hooked. "What you being a bin mouth for?" they sing with excited and infectious vocals, even giving us the line in German. We have a funky bassline, giggles, screams and a little bit of everything else.
Talking about the track lead vocalist Meg Grooters had the following to say:
"I suppose like a lot of our songs, Bin Mouth is a rant in song form. It's a song about people who like to chat a lot of rubbish, when really they should just maybe zip it. I wrote it from the frustration of being in the firing line from a lot of gossip and nonsense spewing – but everyone knows a Bin Mouth, and probably everyone has been a bit of Bin Mouth too. It's about the litterbugs and chattermugs!"
She continues:
"A lot of what's kept in the track is just us messing around on the mic (hence all the laughs and sniggers and weird noises). This song is one big laugh and there would have been no other right way to record it than us doing just that for the takes. Even the German line that Nina sings 'Wofür bist du ein Müllmund für?' is technically a bit of German nonsense – there was no right translation, so we forced Nina to betray her native language and sing it anyways."
'Bin Mouth' is the kind of song that has got me longing for a live gig after not being at one since March because of you know what and Hannah's Little Sister are definitely a band I would like to see live. You just know it will be… fun.
Follow Hannah's Little Sister on Facebook.
Morph