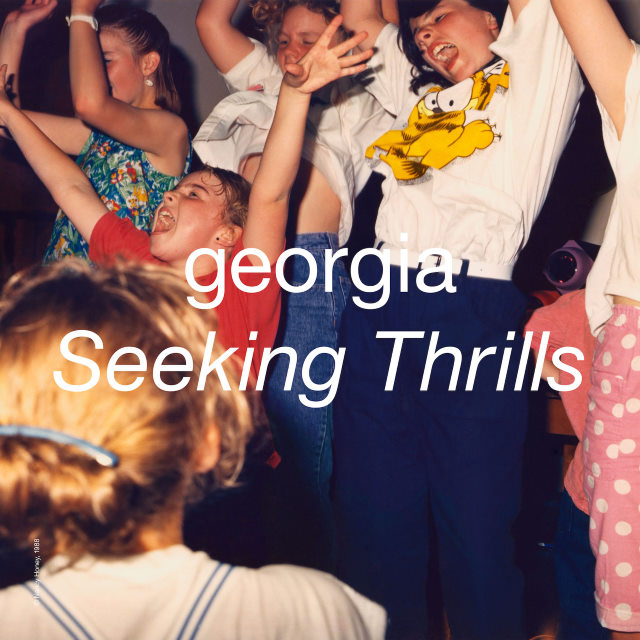 Singer-songwriter and producer Georgia has released her second studio album 'Seeking Thrills'. Coming off the back of an impressive debut record and work as a drummer, collaborating alongside the likes of Kwes and Kate Tempest, the record is a love letter to discovering oneself. But how do all 12 tracks stack up?
Opening track 'Started Out' begins with a dance floor like synth, that sweeps across the song. It is followed up by the vocals of Georgia who comes in with some impressive production that immerses the listener with an upbeat opener and a track that lyrically deals with themes of staying afloat, in life and on the dancefloor – but loving oneself as well.
Second track 'About Work the Dancefloor' acts like a sequel of sorts to the first song. With its opening drum samples that synchronise with the synths and hap up the nostalgia and the production, it's one of the biggest strengths of the album that Georgia is able to craft an impressive dance/pop track, that feels both nostalgic and postmodern.
This is followed up by 'Never Let You Go' a song that begins with a punk flair, but retains the dance roots as the song takes off. The vocals on this track are reminiscent of modern pop greats like La Roux and Ellie Goulding, especially the chorus "And the skies will never let you go, it's all you've been looking for."
Track four '24 Hour' is layered with synths and an irresistible beat that Georgia crafts, that is a solid bop throughout. It's a song that is sure to be played in clubs going forward.
'Mellow' is one of the first of two tracks to feature guest vocals, the first being Shygirl. It's opening drum beat, with influences of dance and trap acts is like a brooding take into nightlife, especially with the poet like vocals of Shygirl that compliments the song.
'Till I Own It' starts with a laid back synth line that feels like it would compliment a slow dance, before the song erupts with an incredible vocal work by Georgia, mixed in with her impressive production.
Halfway through the album 'I Can't Wait' begins with a war like drum beat, that is followed by the vocals of Georgia that show another example of a song that has incredible production layered throughout, with lyrics of finding someone and that attachment towards them.
'Feel It' at first feels very post-rock in its opening, you're almost expecting an eruptive guitar. Instead a beat drop comes in and Georgia's vocals come across very activist-esque, something that compliments the production of the track and is a personal favourite of mine.
'Ultimate Sailor' continues the projection of synths used on the album, but this time to minimal effect. With the instrument being used to craft an almost ballad-like feeling that Georgia sings over with ease. It's lyrics touching upon the theme of two lovers who might feel apart and will travel just to be with one another.
The first of the final three tracks. 'Ray Guns' builds on from earlier musical motifs, with its trap-influenced drum beats and a song that celebrates the importance of coming together. This is followed up by 'The Thrill' the second track on the album to feature a guest, this time Maurice who compliments Georgia's vocals well. The song itself is a solid effort and one that amps up the nostalgia.
The final track 'Honey Dripping Sky' is one of the longest of the record and as such, it concludes the album perfectly with its captivating soundscapes, immersive lyrics and a journey that takes the listener to new places.
Georgia was able to construct a pop album that wasn't only nostalgic in sound, but lyrically relevant, immersive in terms of the various sounds and textures and creating pop anthems that I like to think will be remembered going forward and will sure to be played at all the popular night clubs to come.