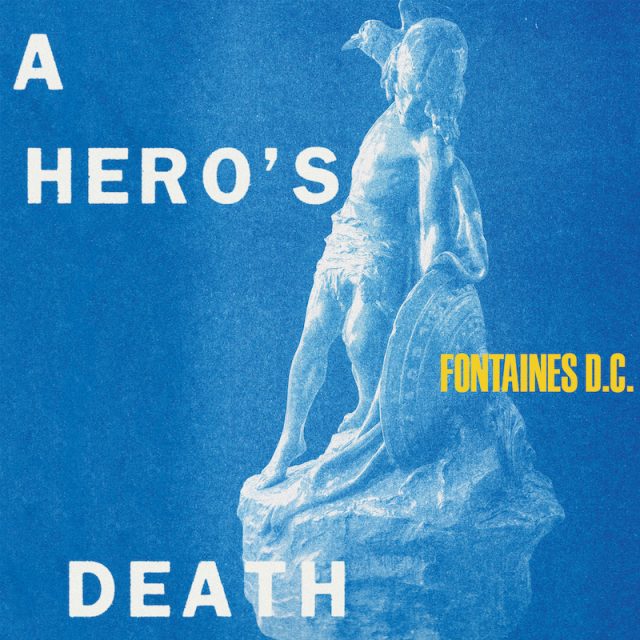 Forget about May the 4th. It was two days later when a disturbance in the Force was felt. Irish rockers, Fontaines D.C. announced that they are returning with their long awaited second album and hundreds of fans held their breaths in collective anticipation. Entitled "A Hero's Death", after a line from a play written by Brendan Behan, the record is set to be released on Partisan Records on 31st of July. According to the press release (and early interviews given by the band), the sophomore LP will be a big step away from the post punk aesthetics of "Dogrel".
The gap between the debut and "A Hero's Death" upon its summer release, is going to be exactly 15 months. Quite short if we are talking about the music business where a standard break between records is often two full years. Yet, for the band, it must have felt like forever – a merciless drag of constantly changing venues, towns and TV appearances. Starting anew is always tempting, even despite expectations to fill and goals to achieve. And nobody can blame the Dublin quintet for jumping at the chance to leave the past behind.
Working again with producer Dan Carey (Bat for Lashes, Black Midi) in London and recording during their American tour, offered Fontaines D.C. a chance to return to the beginning. And to look for fresh inspiration. The Beach Boys, Suicide, Leonard Cohen, Beach House, Broadcast and even Lee Hazlewood provided a good soundtrack and some of their influences made it onto the record. "A Hero's Death" is still going to be a Fontaines album, but we are promised something more toned down, refined and beautiful.
The announcement of the new album arrived in tandem with the release of the new single, a title track from "A Hero's Death". And this is one of the best songs we have heard this year. The production is immaculate, precise, sticking. The song starts with a powerful percussion beat and quickly evolves into a cacophony of fuzzed guitars, muted choruses and almost hypnotic vocals. "Life ain't always empty" repeated like a mantra, has something magical about it. This unusual motivational chant makes you almost believe that everything is within our grasp.
And there is also the video to the song that is an absolute gem. Filmed apparently in just a few hours and directed by Hugh Mulhern (Fontaines D.C, Kojaque, Inhaler), it tells a surrealistic story of a late night TV host named Georgie Barnes who has some sort of psychological breakdown just before going live. Barnes is played by Aidan Gillen (Game of Thrones, Bohemian Rhapsody, The Dark Knight Rises) and is accompanied by Bryan Quinn (Vikings, Game Of Thrones, There You Will Find Me) who stars as a puppet master and controller of Marty – a strange blue critter that co-
hosts the programme alongside Georgie. Fontaines D.C. members play bored guests that pay more attention to the puppet than to the host and there is also a string of cleaners, production assistants and technical crew that hang around. The more Georgie tries to please his guests, the more he puts on his fake smile and strikes his choreographed poses, the more things get bad. Faces melt, people age in seconds, the dressing room starts spinning, photographs are altered, guests laugh hysterically in inappropriate moments – and yet the show must go on, in the artificial glow of the headlights.
If the single is any indication of the things we can expect from the new album, Fontaines fans can sleep soundly. It seems the group has yet another massive success on their hands.
"A Hero's Death" track list:
"I Don't Belong"
"Love Is The Main Thing"
"Televised Mind"
"A Lucid Dream"
"You Said"
"Oh Such A Spring"
"A Hero's Death"
"Living In America"
"I Was Not Born"
"Sunny"
"No"