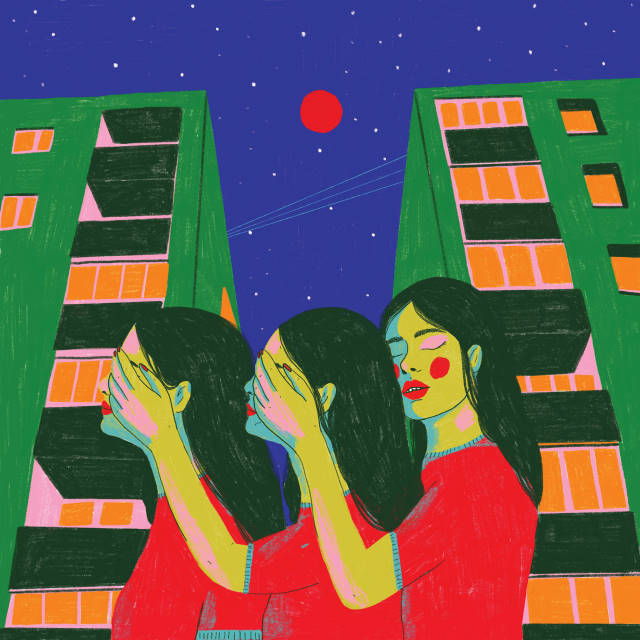 Diet Cig are back. After reaching a lot of ears between 2015-2017, they slightly dropped off the map. This new album retains their fun, spunky charm where they take pop-punk but somehow make it indie?
'Do You Wonder About Me?' carries a similar vibe to the 1st album 'Swear I'm Good At This' but carries much more emotional depth. Vocalist Alex Luciano sustained a serious knee injury in 2017 that left her in a personal lockdown. The introspectiveness that comes with being stuck inside is clear on this album. The openness in this album is refreshing, and demonstrates a maturity, which is to be expected 5 years after their 'Over Easy' EP. The album as a whole feels slightly samey, and the interludes are appreciated. However, reaching only about 24 minutes in length, which is similar to some band's EPs, it would be difficult to include a large amount of range.
'Thriving' begins the album, with a punchy shout out to an ex, shouting about personal growth and empowerment, accompanied by relentless drumbeats. This song is a statement that clearly sets the tone for the rest of the album of energy and youthful charm. This is continued into 'Who Are You', with hints of shoegazy guitars which provide a welcome depth to the simple melodies in the track, demonstrating their move forward from garagey, lo-fi production into a more polished sound.
'Priority Mail' is one of the highlights of the album, at just 53 seconds long, it contrasts to the previous song 'Night Terrors' speaking of lost love and loneliness. 'Priority Mail' combines the sugary sweetness of Alex's vocals, the simplicity of the Diet Cig sound, and the emotional depth of this new album. 'I sent you a package to say I love you' will speak to many a listener during this pandemic period, when many are apart from their loved ones and post is the only physical means of communication.
Diet Cig have always featured many a relatable lyric from the tongue-in-cheek 'Does it feel better to be in a Ivy League sweater?' (from 'Harvard' off 'Over Easy') to the lyrics on 'Broken Body' 'I can't remember the last time I felt good inside my head' to 'I can't even walk one fucking block from my house' (unintentionally relatable I expect). They speak to everyone's feelings of inadequacy and sadness, but with a punk energy that makes you feel less alone. Their live shows, as soon as they can happen, involve so much joy and excitement that even if their lyrics speak to dark times, you still want to dance and not cry.
'Flash Flood' is the epitome of this American punk energy, with guitars reminiscent of early Weezer with lo-fi vocals, providing a fun relief and surprise after 'Makeout Interlude'. The short length is what makes the song so fun, however, I think it has the potential to be extended when played live, as the crescendo it reaches at the end needs to be enjoyed more and feels cut short within the album. This fuzzy sound is carried into 'Stare into the Sun' which is my favourite track on the album. I think the layered sound on this track highlights what Diet Cig are capable of.
'Night Terrors (Reprise)' closes the album on a cool, distorted, synthy vibe, with the same atmosphere of longing that featured on the rest of the album. The synths provide a great depth of sound, and maybe hint at a more experimental future of Diet Cig?
Diet Cig have a UK tour planned for mid-November, details of which can be found here, with a Birmingham date at the Hare and Hounds on the 22nd November.
The album can also be streamed on Spotify below or bought from here.