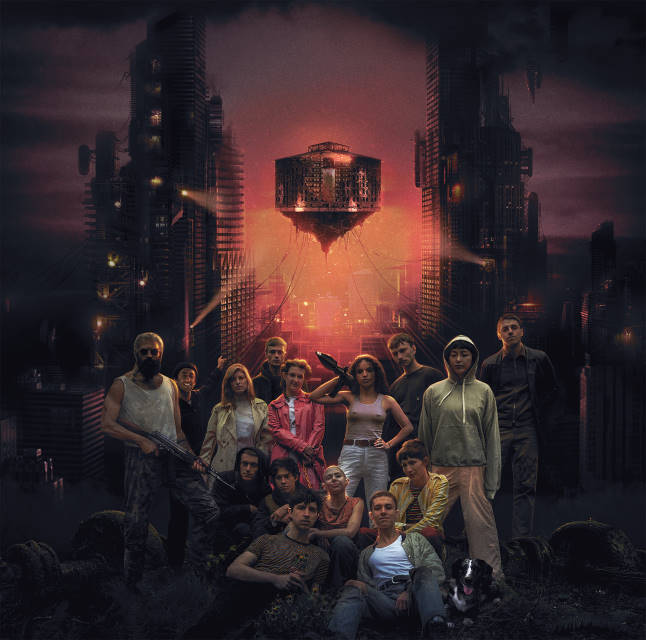 Under the post-punk umbrella, Crack Cloud have made a name for themselves over the past two years for their chaotic yet deeply personal song writing ability. Formed from a mix media collective of a multitude of members, the group combines musicians, filmmakers, artists and designers. The project shares one goal, far removed from money or fame, to support and help in the rehabilitation and recovery of ex-addicts, the homeless and those suffering from mental health issues. Born from the poverty and the opioid crisis in Canada, specifically Vancouver and Alberta, this is what separates Crack Cloud from many of their current genre. There is a raw realism in their song writing that stems from pain and trauma, not a privileged, middle class life like other art-school bands. 'Pain Olympics' is their second 8 track album released by Meat Machine.

'Post Truth' opens the album with the classic screams of guitars but alongside this industrial collection of sounds it melts into an orchestral arrangement with choral vocals, strings and flutes. From the very beginning, it is clear that this isn't your typical post-punk album, demonstrating a clear range and ingenuity in their sound. Followed by 'Bastard Basket' and 'Somethings Gotta Give' there is an emotional vulnerability in their work, but combined with this demonic chanting, making clear where the cult comparisons come from. Their long hair and anarchic beliefs are the ideal target for a cult comparison, and this seems to only be encouraged with outlandish fashion and makeup. It may be feared that Zach Choy is set to lead the next revolution, however it is more likely to be with drum sticks and a talent for motorik playing before anything sinister. This chanting becomes close to rapping on 'Favour Your Fortune', not far from a Death Grips sound, they use more electronic sounds and synths to create this dark and smouldering track.
The collective of creators means that alongside their music, the Crack Cloud videos are never just an afterthought. 'The Next Fix' video depicts a painful reality of drug use and drug ideation, on the backdrop of choral arrangements and powerful brass. In a discussion with Fader Magazine, the band spoke of 'The Next Fix' being a song in remembrance to all they have lost to drugs and mental health issues. The video ends on a classic movie arrangement of a group dancing, some with umbrellas to funky beats which seems to be a message of hope or future at least. The distorted faces and aging eyes at the end bring it back to the classic surrealist video style they usually use. A youtube comment on their videos asked a key question:

The scenes in the videos for 'Ouster Stew' and 'Tunnel Vision' are easy to describe as dystopian, but really they appear as a visual representation of the trauma faced individually and collectively by the members. Using anarcho-punk zombies and fashion forward paramilitaries, both videos are high octane and bear resemblance to their live shows.
In 'Ouster Stew' there is a chant of 'excommunicated we are free' which is said with the passion of a manifesto. Similarly, in 'Tunnel Vision' the shouts help create a landscape of  sound alongside howling guitars almost like sirens and screams at the end. This is accompanied with a futuristic video by Jeremy Cox which features abandoned high rises and desolate streets.
The album closes on an incredibly poignant note with 'Angel Dust'.
The slang term for PCP, a downer drug that 'produces a feeling of detachment from oneself and surroundings.' The lyrics and vocals on the track seem to expose a painful vulnerability that is pure in emotion. The track closes on ramblings of Jesus, God, judgement and forgiveness maybe implying that the song exists as an acknowledgment for the past of the band or a release for them. Whatever the reason for the song, it is a powerful statement on drug use free from glamour or swagger that will speak to many.
The short 29 minutes of the album is a must-listen, and can be bought here.