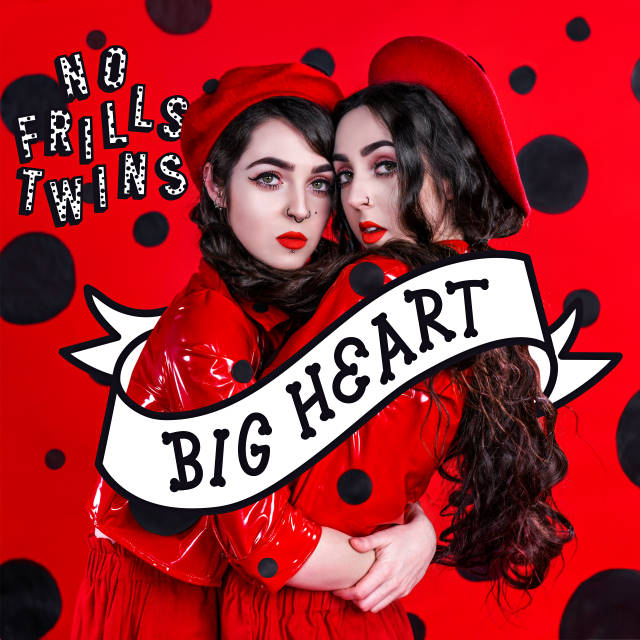 Sydney based duo No Frills Twins today release new single 'Big Heart'.
No Frills Twins are identical siblings Vanessa & Arna Rogers and 'Big Heart' is their most personal song to date as it deals with sexuality and coming to terms with who you are as a person.
"This song is a big moment for us, not because we've been afraid to open up but because it's taken time to work it all out. To be honest, we're still figuring ourselves out and that's what this song celebrates. It makes sense to find yourself and then write a song about who you've become, but we wanted to write about being in the middle of that journey… the confusing part. Living in such a fast paced world it can feel unsettling when things aren't instantaneous."
Whilst both twins admit to knowing they have been queer for years, Vanessa has struggled more than Arna to identify with exactly who she is.
"It felt lonely to not be in touch with something everyone around us seemed so in touch with… ultimately we felt out of touch with others. We were confronted by the realisation that we still had a lot to figure out personally and we grieved the "coming of age" experiences we had missed out on, significantly due to our history of social anxiety. Belonging can be found in labels, but there can be a paradoxical freedom in having none at all," says Vanessa.
The song itself is a catchy pop tune with sweet harmonies and a fun electronic production wrapped around bouncing beats. The soaring chorus is full of power as the twins set out their stall. "I'm not afraid, I'm not ashamed… I'm not hiding, I'm just finding myself… Before I find someone else… Rather be bent than ever be straight. I'm not hiding, I'm just finding myself… Before I love someone else." sing the twins as they reflect on finding acceptance in who they are.
The track is co-written with Sam Phay and produced by Indie Midlands favourite Lupa J.
"We knew Lupa J would be the perfect producer, not only because of the extraordinary talent but because we knew Lupa understood and related to the sentiment of the song," tells Arna. "Upon moving to Sydney, Lupa J was the first queer friend we made here and remarkably we all happened to be going through the exact same experience which added a whole new level of comfort and creativity."
Adds Vanessa: "Sam blew us away with his ability to understand our experience even though he possibly didn't relate at all. He was in tune with us to fine tune the message of the song. Sam is hands down our favourite co-writer to date."
Follow No Frills Twins on Facebook.
Morph