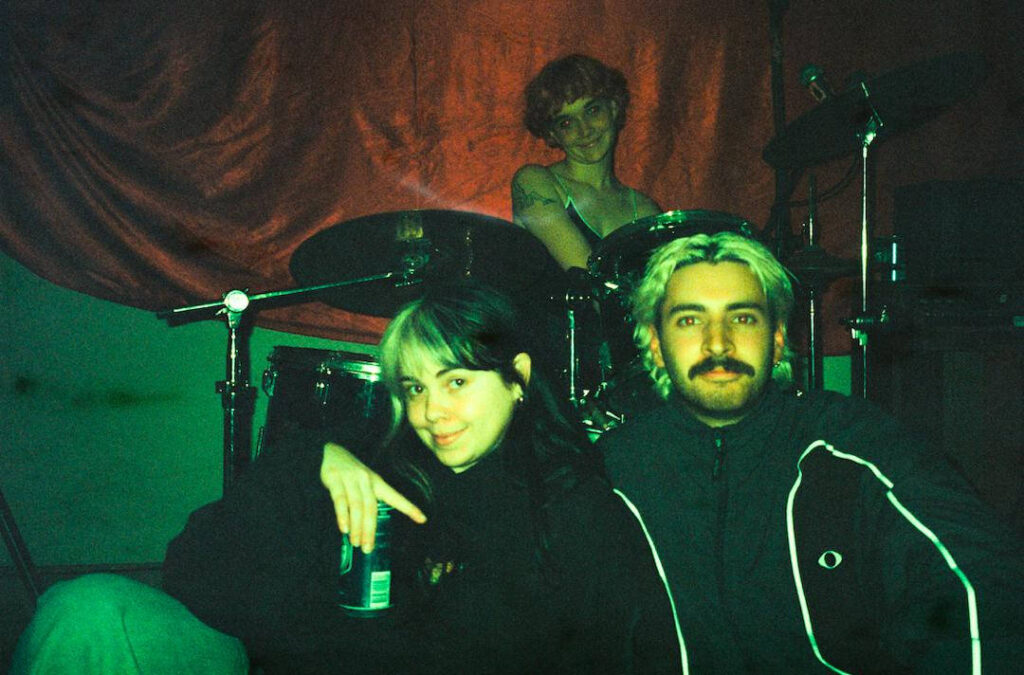 In Conversation with: Kill Bell's Charlie Pass
"Maybe I'm going to live out my Avril Lavigne dream"
Kill Bell are a key player in Melbourne's punk scene. The trio comprised of Charlie, Nick and Layla have over their short life as a band released three fuzzy, hard hitting, lo-fi singles that showcase their ability to mix distortion with captivating melodies, bought together with Charlie's imposing and sultry voice. Nowhere is this more apparent than on newest single 'Sad Song', despite being recorded in a bedroom, it provides the same sucker punch as 'not on loop' and 'Baby'. I was lucky enough to have a big chat with Charlie about everything from Kim Deal and lockdowns to punk scenes and dream festival line ups.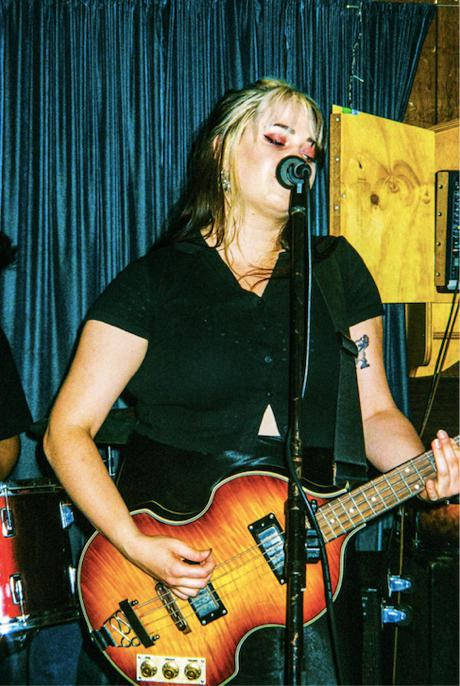 The new single is sounding great, what's the reception been like?
It's been really good! Better than our previous two singles that we put out. As of today we're number 2 on this community radio metro chart for our region.
Well done!
Yeah, I don't know how, but I'm really excited for it! It's been really good I guess something to do with people having a lot more time as we're all in lockdown but who knows!
How has the pandemic influenced the release of the single?
It definitely has taken its toll, and it's made us have to be a little more creative with our recording process. The state of things in Melbourne at the moment is that we can't leave the house for more than an hour a day. So we were lucky enough to get this single out a little bit before that, before our restrictions came down super hard. But, we were still having to do it all bedroom production which was a different approach to our previous two singles which we did in a studio. Nick and I had to meet up at his place and try and create a set up. The most challenging thing was the vocals just trying to stack mattresses against the wall to get the best sound. To then go and chuck a load of effects on. That's the main thing, is trying to adapt to an even more DIY sound that we were previously used to.
I guess it can be exciting, having a new challenge.
Absolutely, and this single has done better than the previous ones, so maybe worth adopting in the future!
What inspired the new single 'Sad Song'?
We wrote the track, must have been earlier this year, and even more appropriate now with a lot of kind of grief for the current music scene. But I think musically we've got quite a few influences. I've got a big penchant for things like The Breeders and Elastica. And Nick, growing up, was really into metal guitar. Then I came into it as a jazz singer having no idea what I was doing, so that was the musical influence that created the sound of it. Lyrically, I guess it was just a whole thing about trying to face sadness. It's got the really simple, and minimalist, almost ridiculous title of 'sad song', about facing sadness or things like depression and that kind of thing. Yet also feeling very strong going into it and feeling very confident, then getting hit with certain waves of sadness at certain events and immediately succumbing to that. That's the kind of influence or inspiration.
You've just touched on it, but what are your main musical influences?
I guess I love The Breeders, I love Kim Deal.
She's such a queen, my icon!
I don't know if I want to be here, but I want her in my life.
I want her to be like my aunty.
Yeah! I guess those were my inspirations for the band. It was kind of strange coming into it from up until a couple of years ago I was always trained as a jazz singer, and was really trying to branch out into this kind of neo-soul kind of thing at-home, solo DIY. Then to come together with Nick and him having a big, not even guilty pleasure, but genuine pleasure, and love for Blink-182. I don't know if he'd admit that in an interview. He loves Blink-182 and we were both in the same kind of age of having a pop-punk phase when we were younger so that's definitely what allowed me to consider branching out into something rockier. I was like you know what maybe I'm going to go and live out my Avril Lavigne dream. There's a bunch of, I guess and eclectic range that goes into it. I don't know how it's kinda translated into the music we play.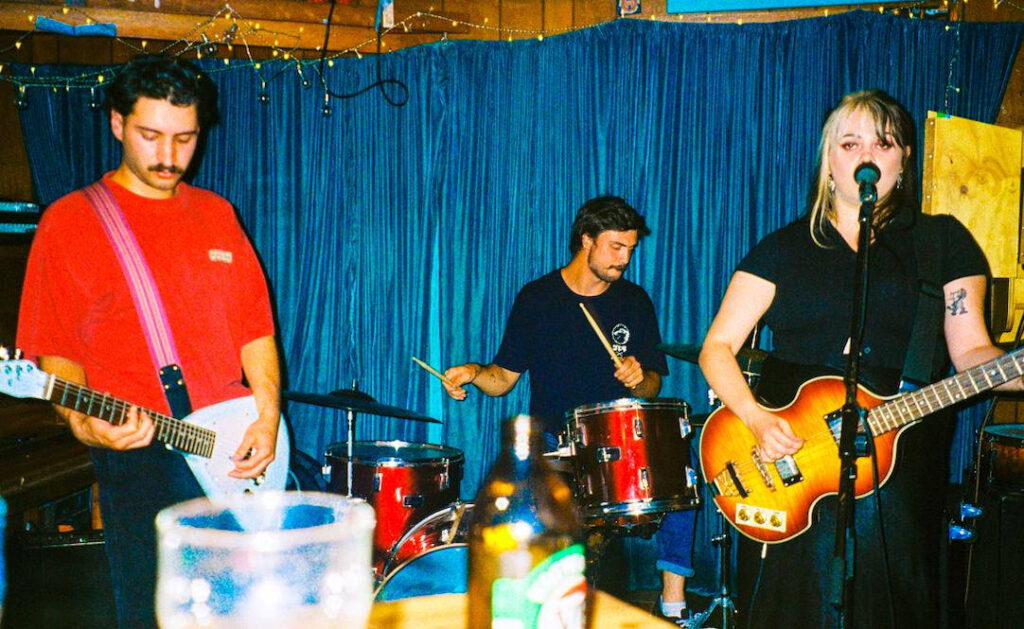 Where did the name Kill Bell come from?
We'd been sitting around trying to come up with a band name for so long, almost at that point resorting to an online name generator! We'd just been sitting for so long, getting distracted or caught up in it. I'd been watching Kill Bill that week so I thought we'll do a little take on that. It's not even clever, it's kinda silly. But I guess it's a kind of conversation starter for when people ask like "Kill Bill like Quentin" and we're like No. But maybe if you're in New Zealand, it will be a bit of a difficulty trying to tour there if we ever do.
How long have you guys been playing together?
Nick and I originally started the band with a friend of ours Danny, back in the end of 2018. We started out, and then Danny moved to France so we were just like alright well we'll just try! Then from there we kept the name, but we didn't really keep much of the music. Having Danny leave allowed us to venture more into the genre that we wanted to play with. Since I guess early 2019 was when we were really forming what the current Kill Bell at the moment is.
How did you meet each other?
So, I met Danny through my housemate a few years ago, I think they met on a night out or something in the city and just sort of became friends because they're both very creative and friendly people, also they just managed to make a friend??? I don't know about that like 'yeah this is my new friend we're just gonna hang out all the time now'.
That's so rare!
Yeah, he's a very confident, very open and friendly person. I got to know him a little bit through that, and Nick was one of his childhood best friends growing up. The 3 of us got together and started playing together, then Danny moved off to the south of France with his whirlwind romance girlfriend.
Wow, that's mental.
I know he's just like yeah it's crazy, it's passionate, it's French. The two of us from that just had to kind of piece together things, I never really knew him that much before we started playing together. It almost felt like a blind date, but musically.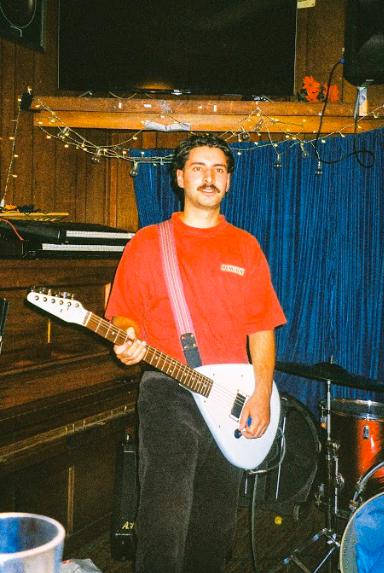 What is the punk scene like in Australia?
At the moment… non-existent! I don't know about elsewhere, but our limitations are meaning that we can't leave our houses for more than an hour a day. Right, so we're not even allowed to leave our houses between 8pm and 5am. There's a curfew!
That's so dystopian!
It's terrifying, it's so bizarre. I don't know what's going on with it! There's a pretty strong communal vibe to our local music scene, and we're hoping once things start opening up again it will be a lot of community support to try and revive the scene. I think Melbourne has a lot of funding for the arts, so hopefully we can build upon that to regain some sort of control over it again, and get it going. Everyone's really missing gigs, playing them and going to them. But, yeah, I'm not really sure about elsewhere in Australia. I think Sydney has been having these difficulties anyway over the last few years. They had lockdown laws put in place so you're not able to play music past 1am, so you're not able to do clubs and stuff. It's some sort of an attempt to combat nightclub violence. They tried to put these laws in place which unfortunately really stifled the music scene. I'm not sure how they're doing at the moment with this extra added pandemic things. It's all a bit of a shitshow but I think we're hopeful that we're able to regain some sort of control in it.
Everywhere at the moment seems to be in this weird state, no-one knows when gigs are going to happen again and it's all a bit mad
I think people are half trying to adapt to live stream performances, it's fun for sure and it's novel. Melbourne has been in this state of lockdown since March. We had a brief break from it for a couple of weeks and then they were like no actually that made things much worse, so they put much heavier restrictions on us, so it's been a long time. I think the novelty of live stream music and this new way of approaching it is getting a little bit tiresome. People are still, myself included, just hopeful there will be some point in the future real gigs.
How do you find it being a woman in the scene in Melbourne?
For the most part I'm quite lucky, where we live is what we call the inner north bubble, it's essentially these 3 suburbs almost, a little bit bigger than that, that's very progressive and there's a lot of effort put in place to create that. There's always going to be these issues within the music industry, and it's always going to be a bit of an imbalance. But at least on a communal or local scene level it's been really good. I've felt very embraced and very supported. It's very limited to our very small area, which is luckily where all the good venues are. It's this weird thing where you go south of the river and you're like 'who are these people' it's such a different kind of culture. I think south of the river has been more of where I go along and I'm the only girl in a 3 band line up. It's a little bit divisive. It's been mostly a positive experience and our style of music has really leant itself to this kind of community within the local scene that's a lot of like fem-punk bands and really drawing on that 90s fem-punk scene. There's quite a few similar bands up here, and it's meant that I'm able to play with them and feel really supported and welcome.
Have you played much elsewhere or just in Melbourne?
Before all this hit we'd planned to have our first out of state gig! We had a gig lined up in Sydney for like May, right in the middle of it where they're closing the borders, and no-one's allowed to travel. We were really excited! We were planning to do Sydney, and then do a bit of a tour back down again. I'm originally from Canberra which is like right in-between Sydney and Melbourne, so we were gonna do Sydney, then Canberra, then maybe stop in on my parents who live in New South Wales on the South Coast. We were maybe going to stop and do a weird little one there. But that has gone through no fault of our own, nothing we can help!
Obviously, there hasn't been any festivals this summer, but if there were which ones would you want to play?
I know of a lot more of the like little local festivals. There are things like the Bush festival, then there's bigger things like Meredith would be an amazing one to play if we could get on a smaller like little line up spot. Also, a few little festivals around Melbourne and the south coast that would be cool to get on. I'm hoping that they're able to revive at some point. Then by next summer maybe we'll be dominating, on the radio station maybe we'll be taking the number 1 spot!
Who are your 3 dream festival headliners?
Well it is a cheat to go back to The Breeders, but they are just my all-time favourite band. I was lucky enough to see them once, like a couple of years ago, they bought out Courtney Barnett, our local, and she just came out and was like 'I'm just going to do backing vocals for this song'! So, they'd definitely be up there, I mean Elastica again, they're another one of my favourites but they only have those 2 albums.
It can be in their prime, we can get a time machine
Okay so they'd be up there for sure! I'd love to see like Hole live I think that would be really fun. We've had a couple of people compare our heavier stuff to them, and I'll take that! Just being generous but they're another one I'd love to see.
Definitely! What's next for the band, have you got any plans?
Yeah! So we've got an album planned, but it's another one of these things that quarantine has got in the way with. It was originally planned for a mid-year release, and now it's been pushed back to October, but that's being optimistic. That was before all our extra quarantine measures were put in place, so hopefully by late October if not later this year. Then we should have our debut album coming out which is super exciting!
Check out Kill Bell's bandcamp here.
And look out for their debut album (hopefully) coming soon!