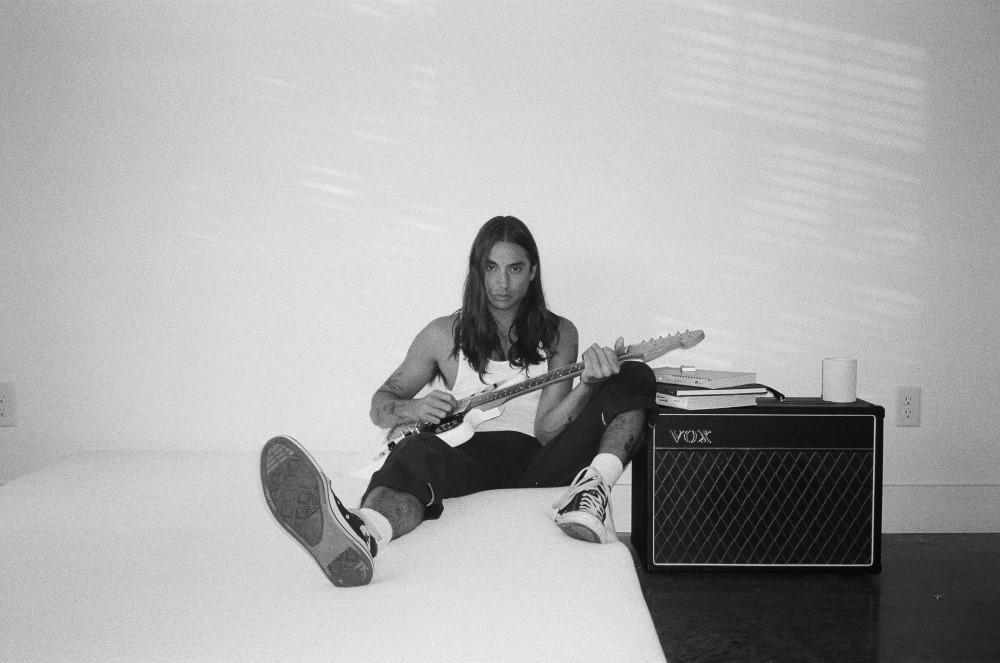 johnny was here is the workings of highly strung singer-songwriter, Johnny Gates. After years on the live circuit, performing in his successful band Runaway Saints and another solo project of his own, Johnny has now decided to take full reins of his own solo career with this new-found venture. The Rhode Island born and now Nashville based multifaceted artist has channeled all of the energy from his previous musical experiences into johnny was here, and the result is something refreshed, raw and most importantly, exciting.
Recording all of his new material at home in his producer's bedroom studio, Johnny wanted to fully encapsulate the DIY aura of where the music was born, in a full batch of songs with him and producer Austin Luther working together to hit that sweet spot between alt-rock and indie pop. His debut offering is six-track EP 'Nervous Wreck', with lead single 'silverlake' fully showcasing where johnny was here sonically lies.
'silverlake' is a high energy and crisp indie-rock offering, full of catchy guitar chords and simply brilliant lyricism and melodies from Johnny. There are moments of solace and singalong lines from him before the energetic chorus ensues, in a song that's all about romanticising the past for him personally. It's melancholic yet angsty, which is immediately what sets johnny was here apart from the many, not the few.
Indie Midlands: Who is 'johnny was here', and how was it inspired?
johnny was here: johnny was here, is my passion project, and hopefully a reminder to everyone, and myself, of who I truly am as an artist, and musician. I started playing music in a garage, with my high school band, and it was always punk rock, but I had some detours along the way. Some good. Some bad haha. But I'm finally at a point in my career, where I'm able to make a record that's truly me. And the inspiration behind it is, continuing what I started, when I first started playing rock n roll, back when I was a teenager and didn't care or know enough to stress about it.
Indie Midlands: Can you tell us about 'silverlake' and the narrative of the single?
johnny was here: After asking out of our record deal, my band and I left Nashville, and moved to LA. It was so random and crazy and wild and scary, and felt like a movie. As a band, we only really lasted a year there, though I ended up staying for almost 5, but a lot was packed into that year. We were doomed by that point, but we were touring the country, playing arenas, and coming back to Hollywood, to scrape by, and, even though it was kind of a nightmare, it was beautiful and romantic, and I'd do it all again, if I could. Literally, I'd move back haha.
Indie Midlands: Who do you think will relate and listen to this release?
johnny was here: This is a tough question for me, because I don't know if I've ever really thought about that, while making music. I think most of my stuff, as a writer, is so deeply personal, that it's almost weird to think anyone would. But my hopes are, fans of authenticity, and rawness, and imperfections, and starting over, and never giving up. Anyone who has felt any of those emotions, should hopefully relate to my music.
Indie Midlands: Who was involved with the creative process?
johnny was here: I made the entire EP with my producer Austin Luther. I'd usually start writing something at night, and bring it into Austin the next day, and we'd bring it to life. We did everything in a spare bedroom at his house. Even the drums. And everything was real. No auto tune. We wanted to keep it as raw as possible. Every rule was broken.
Indie Midlands: Who would be your dream collaboration for a future release?
johnny was here: I'd love to have a writing session with Ruston Kelly. I'm such a fan of what he does as a lyricist, and his melodies are infectious. Caleb Followill, of Kings of Leon, is probably my favorite singer ever, so getting a chance to dig into what is happening in his head, and vocally, would be a dream. And I'm for sure, in the Butch Walker fan club. I had a chance to open for him, in Topanga Canyon, and he's the nicest dude ever.