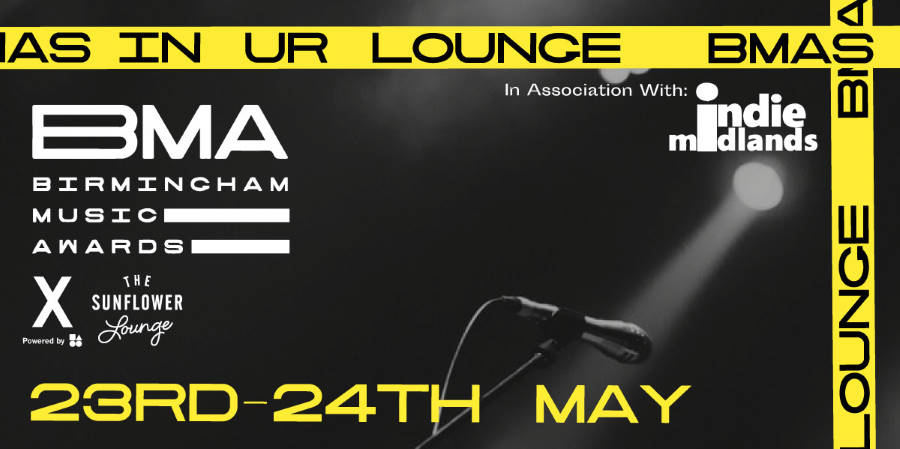 Birmingham Music Awards are taking over The Sunflower Lounge's Facebook this weekend to bring you two days of live streams to raise money for both The Sunflower Loune and NHS charities. The good people at BMA kindly did an interview about the take over.
You're taking over The Sunflower Lounge's Facebook for the weekend, can you tell us a bit about the acts performing?
Hey !  We certainly are; and we're over the moon to be involved. We've invited a broad mix of artists to take part, as we aim to champion the diversity that so represents our city. Vix Perks from the fearless female 80's pop punk band Fuzzbox opens, with introductions both days, and everyone tuning in can expect to enjoy everything from iconic Indie rockers Sugarthief to Namywa's jazzy afrotwang, to hip hop and neo-soul from Tarju LeSano and electronica from T8pes, acoustics and beatboxing from Ed Geater to the incredible R&B vocals of Relley C. Then there's the reggae-pop hit-factory that is Kioko and the singer-songwriting genius that is Jessie Dipper.  You'll hear MC favourite VITAL on Saturday night and beautiful commercial country from Gasoline & Matches.  And quite frankly, everything in between, as well as a few surprises.  Everyone deserves a mention, if only we had the space!!  And no-one will disappoint. We're all in for a real treat, across two wonderful days of tippin the hat to the awesome Sunflower Lounge… It's our turn to support you !!
How important do you think it is to support local venues during the COVID-19 pandemic?
It's crucial. Without our venues, our music scene (and thereafter it's talent and community) will buckle. Our venues are critical to our infrastructure; they sustain us so we must do everything in our power to unite to sustain them.
You've announced the nominations for the next BMAs – can you tell us a bit about the awards that are up for grabs?
We aim not only to support and celebrate the artists in our region, but also to salute its entire music support business infrastructure and music community; anyone and everyone who contributes to the city's music scene, no matter how big or small; everyone is fundamental to the wheel. So you'll see people collect their awards for Best Music Business, Best Education Provider, Best Small Venue and Best Community Project alongside those for Best Male/Pop Act/DJ/Album, etc; people who have not only enjoyed local success, but have gone on to achieve great things on the world stage. We have a Rising Star Award (with nominees just emerging, many still in education) presented just before our Lifetime Achievement and Brum Bastion Awards, last year won by Trevor Burton from The Move and Brian Travers from UB40 respectively. So you can imagine the excitement stirred there !!
Why do you think it's so important to celebrate and highlight the successes of grassroots musicians?
It's essential to support, to motivate, to encourage collaborations and opportunities, and of course to instil belief. That's how we nurture and grow; that's how we retain strength in our community. The Birmingham Music Awards is so much more than an awards ceremony. We are here to maintain the strength that manifests when we come together as a music community, so we are all united as a force for the music city we have always been and will continue to be.
Is there anything else that people should keep their eyes out for from the BMAs in the coming months?
It's a tough time for us all right now, and we've obviously taken a direct smack to the stomach because our events are our income, and they have all had to be cancelled. BUT, on a positive, we've been forced to think differently; we've thrown ourselves into online community projects, engagement, and fundraisers. And we've been plotting some growth projects to further help the local scene, exploring partnerships, label opportunities, ideas to help grow the city's music support business infrastructure, bringing investment into the city, conversations we may well not have had, had Covid-19 not reared its head. So we'll take that. And we'll come back stronger, continuing to fight for the city with a renewed drive. Exciting times.