Saturday March 7th – 1pm to 7pm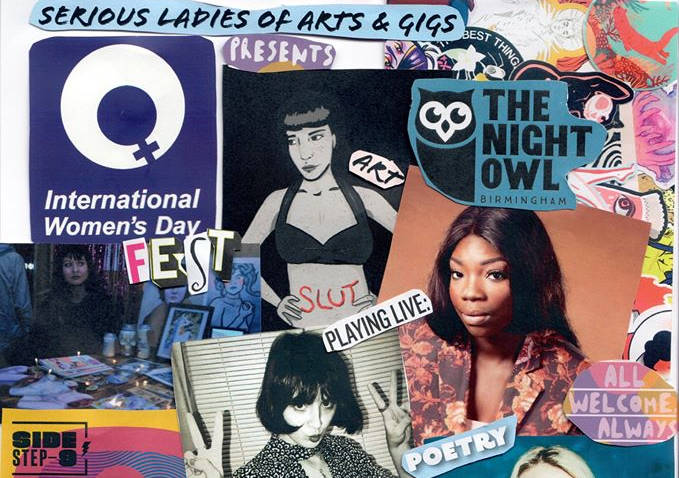 Serious Ladies of Art & Gigs present issue 4 zine fundraiser
International Women's Day FESTIVAL 2020
Celebrating amazing women and womxn in music, art & poetry.
Live music:
Harry Jordan
'It's the glitz & glamous of 50's Hollywood but it's been dragged through the dirt'.
At just 27 years old, Harry Jordan has made her mark on the Rock n Roll scene, creating a new brand of decadent Rockabilly, which has earnt her the coveted title of BBC Introducing Artist Of The Week, noted as 'The Best of Boomtown' on the Steve Lamacq show and earning praise from the original Queen of Rockabilly 'Wanda Jackson.
Namiwa Jazz (stripped back set)
Namiwa Jazz, singer-songwriter & composer who speaks her truth, with a fearless lyrical approach to subjects that mean a lot to her, leaving music lovers feeling that once again, the world may see another great voice emerge from the region.
Low Red Moon
Five-piece from Birmingham blending early 90s indie with psychedelic reverb, 60s sci-fi, goth sensibilities and a touch of surf rock for good measure.
Village Bully
The new project of Paige Thomas, featuring hushed bedroom indie, surf rock vibes, receiving high acclaim in the project's short time.
The Bitter Lemons
+ spoken word from Carys Hannah + more
DJs
Emelia Eagles
Jessie Scutts
Side Step 9
Mazzy Snape & Libby play psychedelic, progressive & far out sounds.
Issy Holmes
Indie and electro-dance from this glittery queen of the indie disco
& more
PLUS
Art stalls to be announced.
£8 advance / £10 on the door
1pm till 7pm with option to stay for The Night Owl's International Women's Day event Soul Sisters after
Free Slag Mag zine issue 3 with your entry subject to availability
Full disclosure:
After paying expenses such as bands travel + drinks, promotion etc. all money will go into Slag Mag – printing + designing new zines & merch, no profits will be distributed amongst any individuals.