Friday March 27th – 7pm to 11pm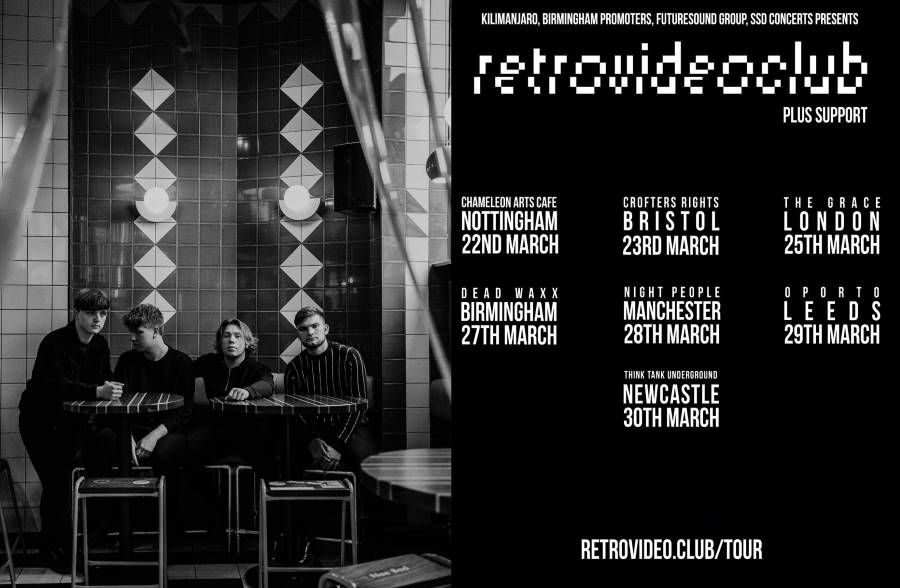 Bursting onto the scene in 2017, Retro Video Club are a high-octane Indie/Rock band hailing from Edinburgh, Scotland.
After holing up in the studio for almost a year refining their sound, their single 'Psycho' was play-listed to both Spotify's 'Hot New Bands' and 'The Indie List' playlists which propelled them to a number of sell out shows, at Edinburgh's Mash House and Glasgow's King Tut's.
2018 saw their February single 'Chemistry' playlisted on seven Spotify playlists including 'All New, All Now', 'Indie Roadtrip' and 'Walk Like a Badass', seeing it reach over one million streams. One week after Chemistry's release, the band sold out The Liquid Room in Edinburgh, three times the venue capacity of their Mash House show, four months previous.
Throughout the summer came numerous festival appearances, as well as a hometown show at DF's Summer Sessions in Princes Street Gardens, with Bastille and The Vaccines. This was followed up by the band's first full UK Tour, as well as three Scottish shows in December.
2019 so far, has seen the band heading off on a European Tour supporting Barns Courtney, as well as supporting The Hunna on their most recent UK Tour. In April, they sold out three consecutive nights at Edinburgh's Sneaky Pete's, breaking the previous record of two, in one day. With new singles looming and a list of growing festival appearances including TRNSMT, 2019 looks to be the year RVC cement themselves as one of the UK's must-see new bands.