Tuesday May 19th – 7pm to 11pm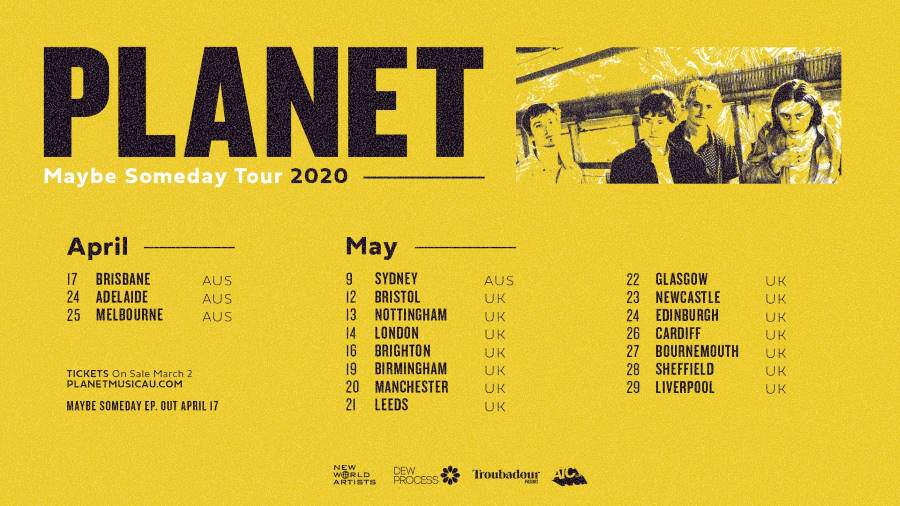 Sydney outfit PLANET is the culmination of several years of trial and error in songcraft, performance and production. They were first brought together by their shared love of music: old and new, foreign and domestic. Drawing influences from past and present the four-piece combine pop laden guitar hooks with soaring vocal melodies. The result is a sound which is reminiscent of Britpop but remains undeniably Australian.
Having signed with booking agents New World Artists in late 2016, PLANET kept themsleves busy playing a string of shows all over the country supporting British India and UK giants JAMES. They also made their debut on the Australian festival circuit securing slots at Festival of the Sun, Lost Paradise, Party in the Paddock, Blurst of Times. As proof of their ability to stand on their own merit, look no farther than their first ever interstate single tour. The boys played three shows in support of their most recent effort, 'Aching Dream'. Starting with an intimate affair at The Foundry in Brisbane, the band headed down to Melbourne to play a rowdy post-midnight gig at Yah Yahs before bringing it all back home for a sold out show at The Chippo in Sydney. Over the course of this period the band have developed a tight and energetic live show which has on more than one occasion resulted in sweat drenched t-shirts and arm in arm sing-a-longs.
While PLANET remains, for the most part, a staunchly independent labour of love – all songs being recorded in Matty Took's bedroom studio – the band employed producer Lachlan Mitchell (Jezebels, Little Bastard) to add his touch to their past singles as well as their debut EP. Dave Ruby Howe of Triple J has said of the band, "Every song feels like a step forward for them to the point now that they're 10 paces out in front."