Pom Poko
Hare & Hounds
Review by SdM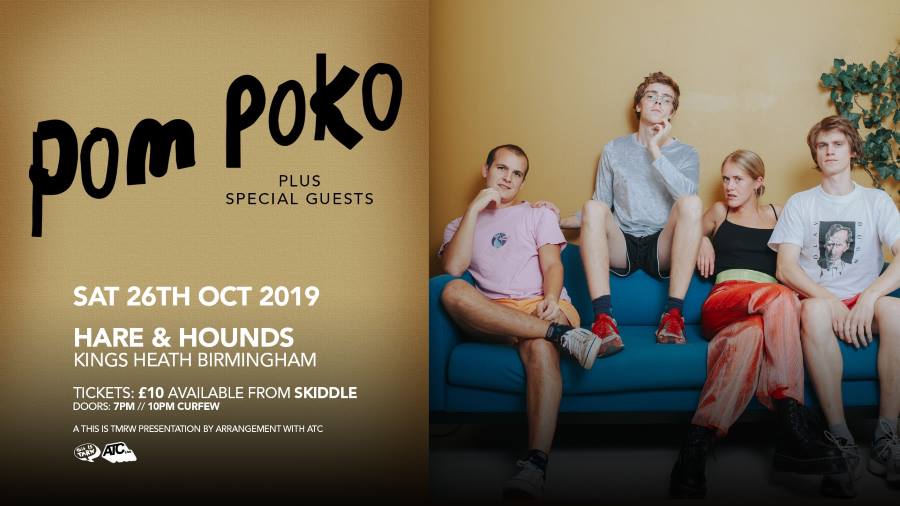 Punk rock, it has long been said, came along to kill off Prog-rock. The fast exciting angry no-nonsense music of the Pistols, The Clash and The Damned had stuck the boot into the over-blown over-indulgent soulless technicians of Emerson, Lake & Palmer, Yes, Genesis and the like. Prog-rock was, of course, guilty of most of the accusations thrown. But time is a great healer, and a new generation of bands are achieving what many thought impossible – combining both; melding Punk and Prog into a match made in musical heaven: Math-Rock. All the technicality combined with the punk spirit; and anything else you happen to chuck in, just in case.
Norwegian band Pom Poko have all the expertise and quirkiness you could wish for: odd time signatures, bizarre key-changes, wonderfully warped scales and modes, the lot. Bassist Jonas Krøvel and guitarist Martin Miguel Tonne set their respective fretboards alight with a dazzling finger blitzkrieg that would please prog God Robert Fripp. But they also blasted through their set with the energy, brio and beaming smiles of cheeky tearaways nicking sweets from a corner-shop.
They open, as the debut album 'Birthday' does, with 'Theme #1' rolling without a pause into the fast-slow-fast-slow of 'My Blood'. In keeping with the album listing, for now at least, 'Follow The Lights' rumbles the floor with its deep bass heavy riff and dazzles with squealing guitar tones.
'Day Tripper' comes within a hair's breadth of being the guitar riff from the Beatles classic but side-winds its way into a heavier ballsier crazier territory. Singer Ragnhild Fangel indulges in all manner of vocal noises before Martin's guitar solo dips a toe in Heavy Metal waters before popping back to atonal nuttiness.
Ragnhild dressed in the longest sparkling stripy shirt you have ever seen jumped and danced while wearing a Cheshire-cat grin. This necessitated her to re-make and tighten her hair into a pony-tail several times. During songs she spoke with that delightful breathy tone that Scandinavians possess. She interacted and joked with the audience between songs and skilfully deflected some of the more, let's call them 'worrying', comments made by one particular guy.
'Honey' is as close as Pom Poko get to a ballad; naturally it contains odd musical quirks but Ragnhild was at her most angelic and her voice simply soothed your eardrums. Non album track 'Mine' combined a laid-back bass groove to sweet punkiness. Early single 'Leg Day' was introduced by Ragnhild as the perfect song to workout to at the gym (whatever that is). Squats, apparently, are the thing (again, no idea).
The upbeat 'Birthday' is a solid crowd pleaser, so much so the couple next to me went bananas throwing their hands and feet about (although they may call it dancing). The song was dedicated to an audience member who was celebrating clocking up another mile that very day. Swings and roundabouts, eh?
Drummer Ola Djupvik decamped from his seat and hid behind the drum-kit during the freak-out that was the closing song 'If U Want Me 2 Stay'. The water he had called for mid-show had only done so much – he looked physically exhausted – which given the ferocity and speed he hit those drums is not too surprising. He climbed back on to the seat and smashed out the last remaining beats whilst the wonderful sonic chaos of screaming guitar and bass feedback carried on around him.
If, like a lot of people, you share concern that new creative talent might not thrive in this day and age then you can take comfort from this gig. Pom Poko are enormously talented, unique, different, wild, punky, proggy and mathy. They put an excitement back into music that many would say has been missing for far too long. Great stuff!