Hot Snakes
Hare & Hounds
Review by Nikki de Ruijter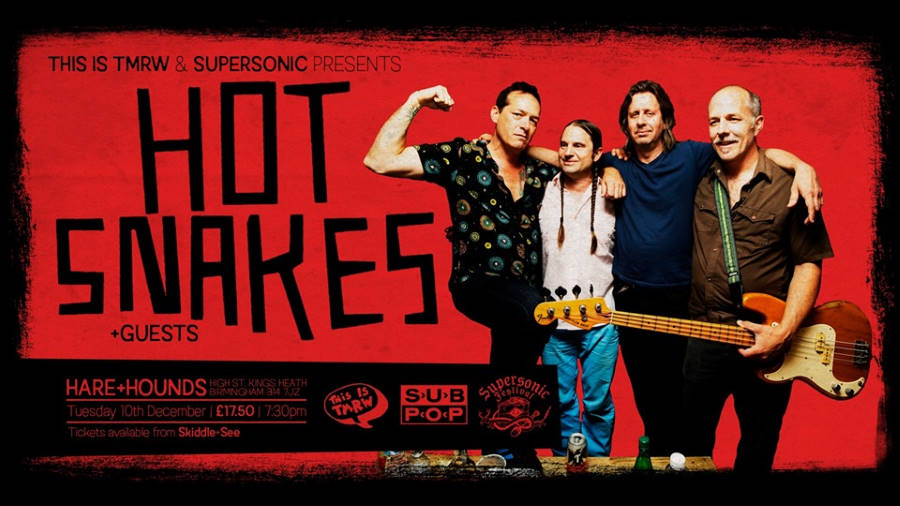 A few gentle claps trickled out as John Reis' gently rolled sound leads and drummer Mario Rubalcaba found his seat, flicking back his perfectly-plaited hair. While Rick Froberg plugged in his well worn telecaster he said through a big smile "Things are going to change very drastically in a second".
Everyone knew, wooing ensued. It's clear the United States post hardcore rockers Hot Snakes had retained their audience from '99 despite the bands 14 year hiatus. Every one of their fans at the Hare & Hounds on Tuesday 10th of December stood energetically earplug clad, knowing exactly what to expect.
The support band Rattle, a drum duo from Nottingham opened the night. Katharine Brown and Theresa Wrigley sat opposite each other at their respective set ups, clinking together their bottles of Bud before jarring you with their scattered but well complimented beats. Brown's voice dragged you melodically into spellbound, it was almost a foetal feeling. A heartbeat quickening, floor tom to snare. Lost in magical rhythm for three theatrical songs.
So, by the time Hot Snakes then moved onto the stage, the energy was up, everybody hungry for more. "If Credit is what matters, I'll take credit" was belted out like a signal to raise pointed fingers at the stage. An earlier hit from the band didn't go unappreciated. A few songs deep brought the highlight, "I hate the kids". Reis drew deserved attention, living up to the 'Slasher' nickname delivering every lick perfectly as he moved to his knees to become forehead to forehead with front row fans.
Hot Snakes show was a beautifully intense showcase of refined talent. Banter thrown on and off the stage showed a connection to the audience built through years of performance. Nobody moved at the commencement of their set, ready for the anticipated encore featuring Rattle. A wall of noise to leave the night on an incredible high and people in awe.
"I've never seen a band so comfortably incredible, like what the fuck man?" I overheard while leaving the venue, perfectly sums it up.