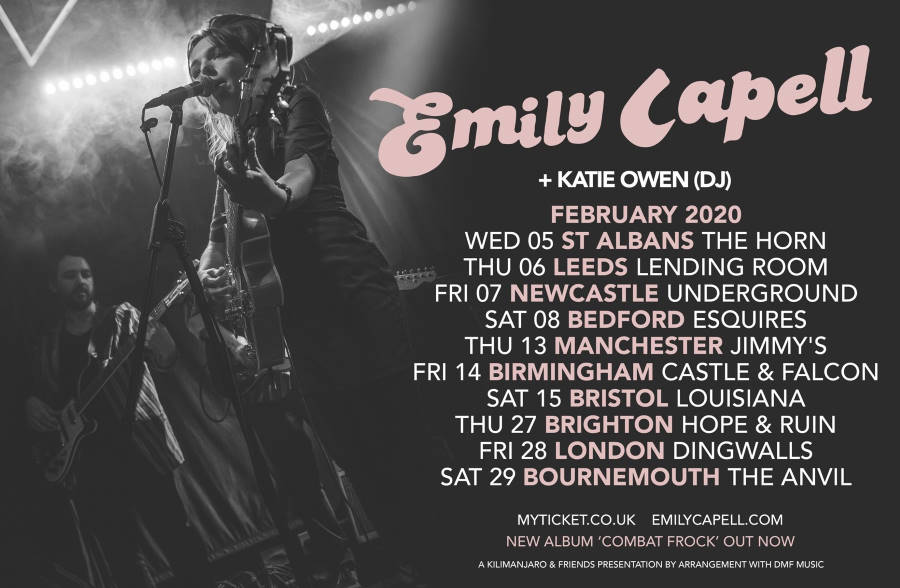 Emily Capell
The Castle & Falcon
Review by Mark Wakeman
On a wet Valentines night The Castle and Falcon had an initially sparse crowd during opening act Joe Slater's set which eventually built up to a respectable number. Despite only being 23 years old Liverpool born Joe had a great well worn blues voice which could have easily belonged to someone over his age. The opening song 'Lady' was apparently written about his guitar. The great BB King called his guitar Lucille so Joe was in good blues company there.
Joe said he wasn't feeling tonight's gig for some reason but his next couple of songs 'Nothing Ever Seems To Change' and 'Mr Rock and Rol'l were both accomplished songs. 'Rainbows' which was written about Elvis was the highlight of his short but quality set.
Emily Capell with her beehive hairdo, orange fluffy cropped jumper and chewing gum in her mouth evoked memories of the late Amy Winehouse or as Emily describes her style 'Nineteen Fifties Prostitute'. With a look that also encapsulates Mod and Rockabilly, a musical hero in Joe Strummer and a cardboard cut out of Joey Barton at the back of the stage I knew we were in for an interesting headliner.
Whilst Emily doesn't have the haunting voice that Amy had she is certainly a highly talented performer whose lyrics are some of the sharpest and funniest that I've heard in a long time. The set got off to a good start with the rocky '101 Walterton Road', also the opening track on her debut album 'Combat Frock'.
The 60's vibe of 'No Worries' evoked memories of Lesley Gore's early material but the song was written about people wearing t-shirts or bands they know nothing about and Emily's love of Kanye West before he got his god like complex.
'Ipso Calypso' as you would guess from it's title had hints of reggae and ska. Emily mentioned that she had supported The Selector previously in Birmingham and I could have seen this song going down a storm with their fanbase.
Next up was the wonderfully titled 'I've Found A Footballer to Marry Me' about the cost of living in London which Emily introduced by stating she was a QPR fan and asking about the local football teams.
'Tupac' about a friend who thought he was like the late rapper contained more wonderfully cutting lyrics and the driving rhythm of 'Until Monday' kept the pace of the gig moving along.
Having been bought up on a diet of Johnny Cash there was a nod to the main in black with 'Brixton Prison' which started with Emily singing an acapella solo before going into a great rockabilly work out with bluesy undertones.
Emily informed us that water had leaked onto her bands clothes at the venue so they were all having to wear her merch t-shirts. 'Pinching and Itching' was another song with a great 60's feel and really got the appreciative crowd going.
Next up was 'Joey' about the aforementioned Joey Barton with Emily explaining the prohibitive cost of the cut out. Early song 'Bombs to The Beatles' was interspersed with introducing her excellent three piece backing band and bits of Paul Simon's 'You Can Call Me Al', the drum solos from The Only Fools and Horses theme and 'The End' by The Beatles.
'Twisting on The Waves' was a song which Emily had interestingly written about the unnecessary early death of soul singer and civil rights activist Sam Cooke. Before 'Lunatics On De Run' brought a storming end to the main set.
Emily returned with just her guitarist to play the haunting 'Who Killed Smiley Culture' – if she does sound like Amy on any song then this would be it. The whole band returned for 'Bonanza' before Emily closed her gig on stage alone singing 'Ode to Uncle Moz' totally acapella. This is a song she had written about Morrissey and being a fan of his music but then being conflicted by his reported neo Nazi sympathies and contained probably the most cutting lyrics she has ever written.
Emily is a multi genre encompassing young female singer songwriter and quite simply one of the most perceptive lyricists I've heard in a long time.