Camp Cope
Hare & Hounds
SdM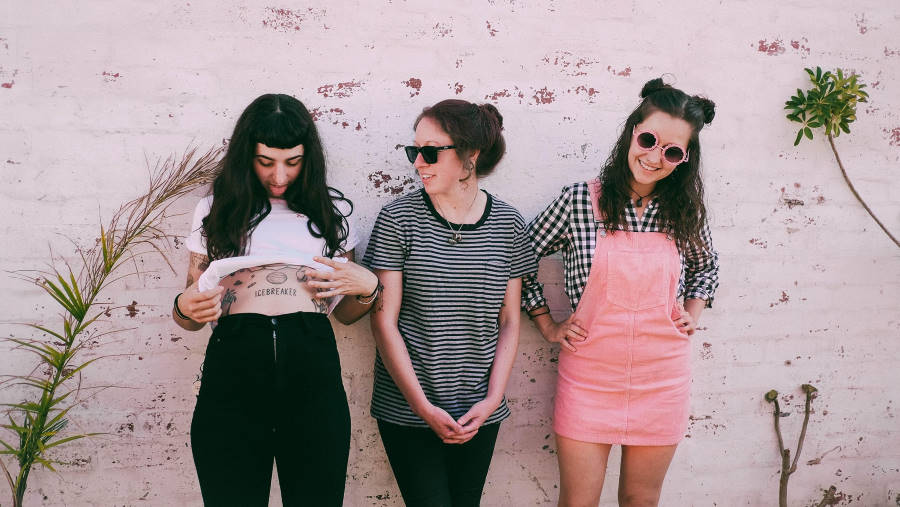 Camp Cope were on stage well ahead of schedule. Georgia was using the time to practise a few yoga moves. Kelly was enjoying pushing Georgia off balance during the most difficult of poses and maneuvers. They then picked up their instruments, tuned them and set up sound balances and levels with the help of the sound-tech. They then played opening bars to Green Days, 'Warning'. Which they did mean to play in its entirety, didn't they? Yes, they did. Probably. Maybe.
Singer and guitarist Georgia is very casual between songs and speaks quietly as if slightly surprised or taken aback that so many people turned up. "We're Camp Cope and we're here to rock with you. Never been here before…" Georgia looking slightly puzzled, " …I don't think?". "You definitely have." said an authoritative voice from the back. Cue much laughter from the audience. "Thank you so much for coming on aaaaa…." Georgia trailed off smiling but looking puzzled again, "Monday?"
Following a few introductory bars of Chumbawamba's 'Tubthumping' it was time for Georgia herself to sound authoritative, vocally at least, on the melancholic ditty to self doubt and indecision, 'Keep Growing'. Her voice cut through the mix soaring with passion and zeal, "I never wanna do anything, even when you're around/I'll keep growing my hair out/It's not for you". It was difficult not to feel a pinch of sadness and empathy.
'How To Socialise and Make Friends' takes off at a ferocious pace. Georgia's guitar is strummed hard with a merciless pounding and unrelenting fervor that adds extra tension and determination. 'The Face of God' is introduced with a troubling story of certain characters within the music industry. Georgia simply captivates – it's as if tonight she is singing with an extra layer of heartfelt concern and sombre disbelief. The aching melancholia continues with 'West Side Story': "And I'm no storyteller the way you are/I'm just an angry kid who got given a guitar". There can be no doubting the talent behind these lyrics – they just hit you with a blend of wit and poignant beauty; often stunningly bewitching in their directness.
Camp Cope like a bit of larking about during songs but when it comes to the tunes they leave you in no doubt they are here to play music. Kelly rips out a tune on her bass guitar in an exhausting nimble-finger marathon. So much of the weight, character and melody is contained in the bass playing – something you might not necessarily appreciate on record but live it's quite awe inspiring. Georgia's voice on a cover of Frightened Rabbit's, 'Heads Rolled Off' burbled with questioning longing but it was Kelly's bass that added the drive and energy.
The conspiracy theorist's favourite,'Jet Fuel Can't Melt Steel Beams' flew along with the speed and intent of an alien spacecraft leaving Area 51. The fan favourite 'Lost Season One' got the biggest cheer, with the loudest sing along of the night left to final tune 'The Opener', which saw guitar duties handed over to Emma from support act, Witching Waves. This left Georgia to jump unencumbered around the stage performing all kinds of arm flailing poses, some military style jogging-on-the-spot and some unfettered rolling on the floor to a song that is both lyrically briliant and indeed contains a very important message. You can google the lyrics. Please do.
The Aussie invasion continues. Camp Cope are among a veritable cabal of great bands from down under who are simply producing some of the best music around right now. Quite why that should be so is anyone's guess? But since they've made the colossal effort to get to Blighty, well, it's our duty to enjoy it.