Saturday February 29th – 7pm to 11pm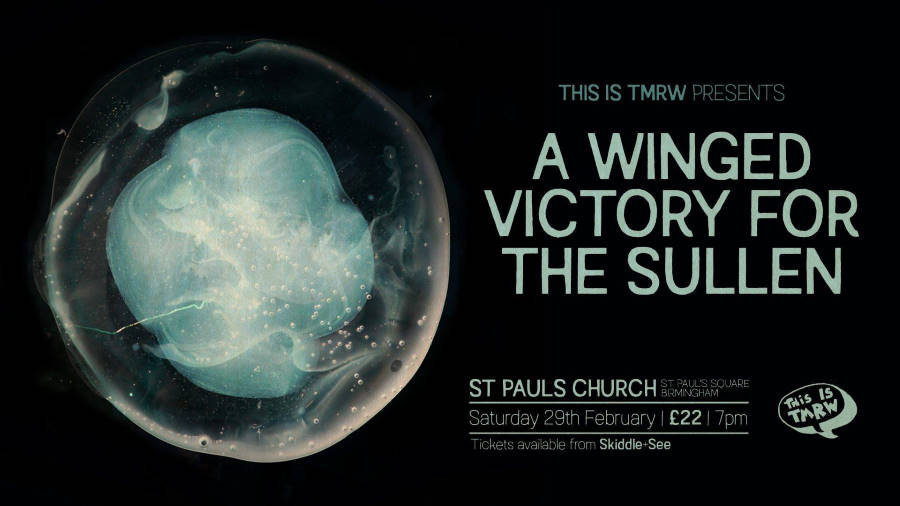 THIS IS TMRW PRESENTS…
We're delighted to announce this very special show (and our first in a church) with one of our all time favourite ambient / electronic duos A Winged Victory For The Sullen who will be releasing this on the fantastic Ninja Tune
Expect full string sections, fully immersive light show, & lots of smoke all in one of Birmingham's most beautiful spaces. We honestly believe this will be one of the best shows on the year.
Purveyors of contemporary ambient and electronic inspired music, A Winged Victory for the Sullen make a bold return on new album "The Undivided Five". The pair, made up of Dustin O'Halloran and Adam Wiltzie, have created iconic film scores and forward-thinking ambient groups, releasing a series of game-changing records for Erased Tapes and Kranky. On "The Undivided Five" they rekindle their unique partnership for only their second piece of original music outside of film, TV and stage commissions, creating an album that channels ritual, higher powers and unspoken creative energies. Their fifth release (following their debut album, two scores and an EP), they embraced the serendipitous role of the number five, inspired by artist Hilma af Klint and the recurrence of the perfect fifth chord.
This album sees them pay greater heed to the small details in their sound than previously, something they say has been encouraged by the move to a new label. It's been their first opportunity since their debut to create something that's solely guided by their ideas, and it represented an opportunity to call back to that first outing while also building on the various ways in which they've grown. "We understand that times have changed," they say. "We have evolved, but we also didn't want to forget the beginning."
The start of recording sessions for the album were marred by the death of one of their closest friends. Within weeks after the funeral O'Halloran found out that he would be expecting his first child, and it was soon after that a visit to see the art of af Klint brought home a profound realisation of life, death, the afterlife, and the spaces in between. She belonged to a group called "The Five", a circle of five women with a shared belief in the importance of trying to make contact with spirits, often by way of séances. This chimed with the duo's unspoken approach to collaboration, and nudged them to return to their writing process centered around the harmonic perfect fifth; the five senses, the divine interval – The Undivided Five.
The album is their debut for Ninja Tune, and comes as change is underway for O'Halloran, moving from Berlin – hence the title of 'Keep It Dark, Deutschland' – after a decade in the German capital. He's headed to Iceland, the country where the pair shot their latest press photos and which is an important locale for both of them. The wide-spanning connections which have shaped the record are testament to their deep roots as artists. This album's powerful energy is driven by the deep-rooted bond between them.