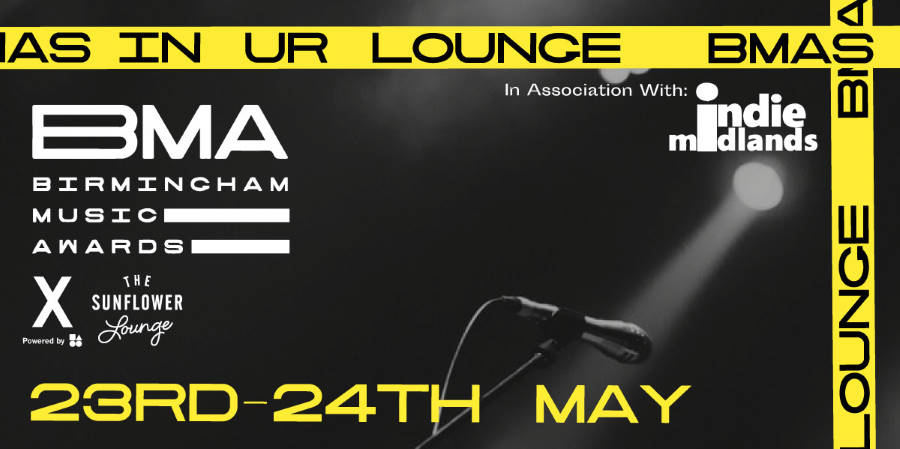 SAT 23RD AND SUN 24TH: BMA TAKEOVER – Sunflower Lounge's 'GIG IN UR LOUNGE'
As you know, Covid-19 continues to batter our live music venues, so when Birmingham Promoters and The Sunflower Lounge approached us to take over their 'Gig in Ur Lounge' series to raise funds for the venue, and for the NHS, we said: Errrr: HELL YES !!!
We are up for the fight !!! 🥊
Soooo next weekend LIVE FROM THE SUNFLOWER LOUNGE'S FACEBOOK PAGE we bring you one of our best ever line-ups, with just under THIRTY artists streaming from their lounges all day Saturday and all day Sunday !
Can you spare a few pounds in return for a FREE show from the city's best talent?? If so, please MAKE A DONATION TO THE SUNFLOWER LOUNGE AND NHS CHARITIES TOGETHER HERE:
Massive thanks to Birmingham Promoters, Sunflower Lounge, and media partners Indie Midlands.
And big up our artists as always:
LINE UP:
SATURDAY 23RD MAY

22:00 Vital Vernon Caisley
21:20 Darcy Holmes
20:40 Sugarthief
20:00 Relley C
19:20 Rhianna Keane
18:40 El Sam
18:00 Paul The Messenger.
17:20 Courthouse
16:40 James Reidy
16:00 Stella Music
15:20 YIKES
14:40 Genevieve Miles Music
14:00 Ali Gilbert Music
13:45 Intro from Vix Perks from Fuzzbox Official
SUNDAY 24TH MAY
22:00 T8PES
21:20 KARKOSA
20:40 KIOKO
20:00 Namywa
19:20 Ed Geater
18:40 Unique Brown
18:00 The Pagans S.O.H
17:20 Gasoline & Matches
16:40 Glass Ceilings
16:00 Tarju Le'Sano The DopeRes K.I.D
15:20 Wrenne
14:40 Jessie Dipper
14:00 Shoshanna.
13:45 Intro from Vix Perks from Fuzzbox Official