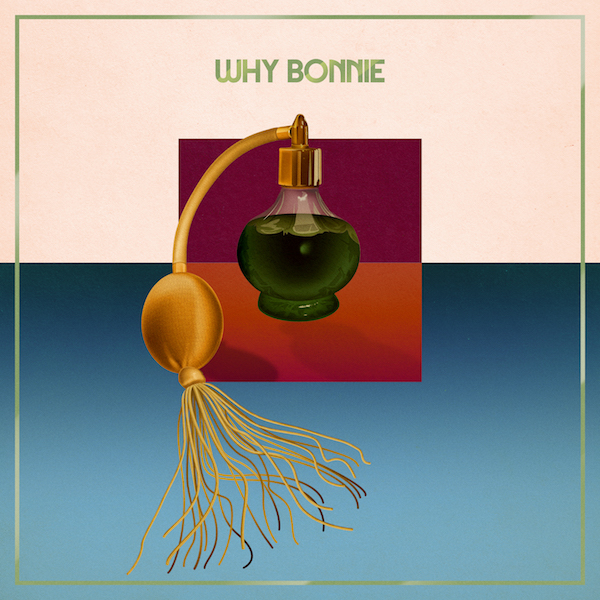 Why Bonnie is a four piece from Austin, Texas that play dreamy, post hardcore inspired instruments paired with soft vocals that are reminiscent of 90's shoegaze and dream-pop.
This makes an exciting change from their previous work, which seemed to float around post-emo or math rock, but it still keeps that very same appeal. It's definitely still innovative and shows their personal growth but doesn't drift off from who they really are.
The EP starts with 'Bury Me' which has a very dreamy and atmospheric soundscape. It has breakdowns like you'd expect from hardcore, but with indie sounding guitars and an ambient synth playing throughout that isn't so common in this specific genre of indie/emo. I like the angsty instruments and emotion in the vocals, it reminds me of Dinosaur JR but with a female vocalist and a more experimental take on things.
Title track 'Voice Box' follows. It starts like a shower fall and the delayed guitars act like raindrops with beautiful vocal harmonies. Very trippy, it feels like drifting off into space. The music video is absolutely amazing and beautifully shot and coloured, and compliments the music, without distracting from it, which is very hard to do. The song appears to me to be about having no control over what to say or do.
The next song, 'Athlete', is more of an acoustic song with great bass tone and great riffs. And the noise they use is amazing, the trebly scratching violin is almost on the edge of not being good, but they pull it off. With the FX they use it sounds like a spaceship taking off or the noises in a cockpit. Very fast violin playing and saw toothed synths that sound so great, like some pulsing waves splashing out on to the beach where you are laying. Really psychedelic; it's so moody it gave me goosebumps!
The music video is in a glitchy VHS style, feeling like an old video tape from one of David Lynch's family holidays. The song's theme is based on the fun of being a teenager and I love the over dramatic scenes of them playing sports. But the reality of growing up catches up with them and now they're being forced to do things that nobody wants to do, because we all need to eat and pay our bills.
'Jetplane' has, to me, the most emotional lyrics out of all the tracks on the EP. The vocals are mixed a lot clearer in this song which really makes the lyrical content hit harder… The softer/quieter bridge is really good, the duel harmony that comes in is impactful. The bass is really solid and full sounding. The guitars sound meaty and they panned everything really nicely. I really really love this band's music, it has kind of an orchestral vibe. It's very colossal sounding, especially with having the amazing stereo and the gigantic reverb and echoes.
I loved the songwriting and Why Bonnie have a great aesthetic – what's not to like? Here's a bonus fact; they opened up for Snail Mail and Crumb gaining a lot of popularity from touring with these other bands. People hear them live for the first time and fall in love.
They are now signed to legendary blues label; 'Fat Possum Records'. Fat Possum have gone with the times and dived into neo psychedelic and indie rock and soft emo. The bands they do sign are extremely good with unique sounds.