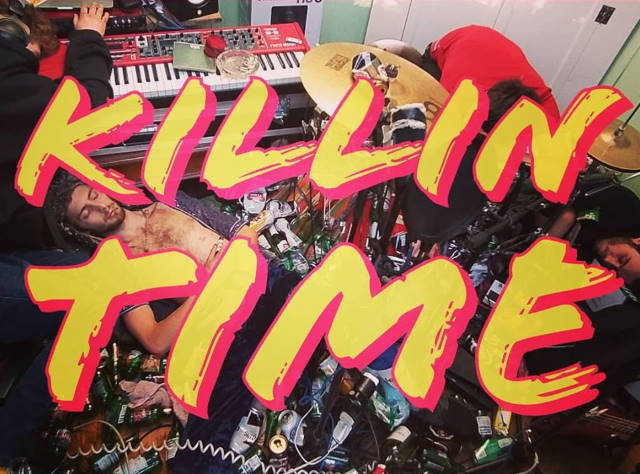 West-Midlands-but-residing-in-Bristol ska punk rockers, Up the Bug, are on a mission to cheer their fans and everyone else affected by the recent outbreak of corona virus. Released on April 1st, their new single entitled "Killing Time" is a perfect song for self isolation. With witty lyrics describing the lack of toilet rolls on the supermarket shelves, closed venues and eating raw bats, the song is destined to make you laugh out loud. And it comes with a hilarious video making fun out of the exaggerated rock and roll life style with drinking, smoking and playing ukelele.
"Like the rest of us we are trying to stay safe, productive and sane during this trying time" – says the band in their press release. "Unfortunately due to the COVID-19 outbreak our April UK tour and respective single release have been postponed. However, we have recorded a topical new single and music video reflecting upon the crisis that sends a positive message about staying happy, strong and united through the changes the pandemic has already made to our lives".
The video and recording may not be up to the highest standards (the bands themselves admit this), but it is a pleasure to listen to the "Killing Time". It sounds raw, true and very genuinely punk rock-ish. And this is what alternative music should be about. Actually, I'm very happy Up The Bug recorded it DIY style in their home studio, instead of hiring a top shelf producer who would smooth it out and make it radio-friendly. In the last decade, music and indie rock especially, lost a lot of spirit and its "claw" to overproduction and polishing. And while other music reviewers may cringe at barely heard choruses, and uneven chanting, I think this is what is the best about this song. It is funny, optimistic and catchy as hell.
Richard Hell would surely approve and John Peel would offer them a BBC live session.Keep the band on your records as they are exactly what an A&R like me look out for in new bands. True, naughty and fun? What's not to like?