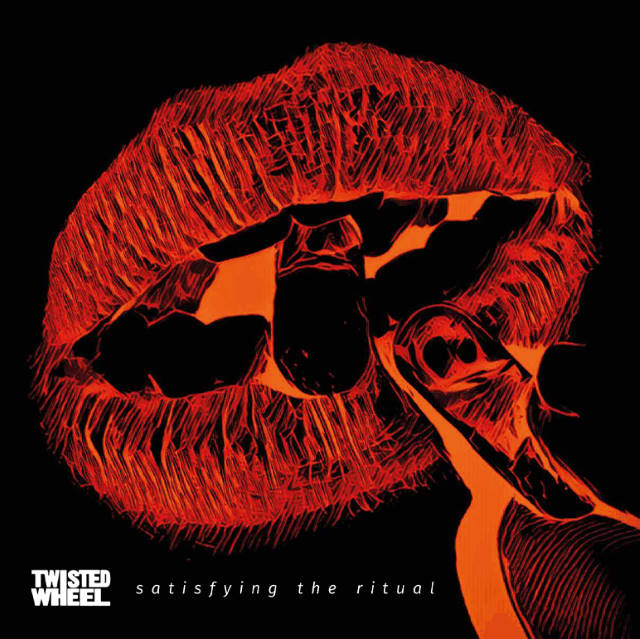 If you weren't driving fast before, then you are when you start listening to 'Satisfying The Ritual'.
Punchy riffs, fast beats and a pounding bassline which keeps coming and you never want to stop, all complimented by Johnny's harsh, in your face vocals.
'Nomad Hat' will take you on a journey as it smartly builds up, drops down and then builds up in depth again through the use of wailing guitars and drum rolls.
'I Am Immune' is in your face from the start and gives you the overwhelming feeling to want to jump around. The chorus is a harmonious, catchy release from the raw in your face verse. Again the use of panning and depth used in this tune is very clever.
'Black And Blue' takes a step back from the 'in your face' for a short while as we start with Johnny's melodic vocals and you can't help but sing along. A very emotional song which you can hear both through the lyrics and the instruments, the guitars intertwine beautifully on this track.
'D.N.A.' takes you to a dreamy, shoegaze world and attacks your senses as each guitar pans around your head. We can hear again the emotion shining through the amps and raw sounding vocals. The solos at the end just don't last long enough for my satisfaction. Give me a bit more, they sound great!
'Ghost Man' takes you nicely into 'Wheels of Love', the album has picked up its pace again as we hear 'in your face' vocals as well as clever breaks and some mad effects which work seamlessly.
'Wheels Of Love' takes us to more of a classic rock side of Twisted Wheel, keeping the tone the same but giving us a simple catchy tune.
'2020 Vision' revolves around a driving drum beat and a repetitive riff for the first minute and a half until it breaks down and hits you with nothing that you expected from the song, brilliantly surprising.
'Rebel' sounds like a tune that would fit nicely on the latest Arctic Monkeys album for the first 40 seconds, we then change back into the tone which follows the rest of the album, but with a step back from the overdrive and effects. This song adds greatly to the diversity of the album.
Speaking of diversity, 'Satisfying The Ritual' (song) takes you to a place again where you didn't expect to be on the album. It feels like you've put on a different band almost, with the rapping vocals, groovy bass line and dreamy guitars. I'm on a different planet on this one. 
'Show Me' further proves the bands ability to write something completely different. I start off driving fast on the way to a party, have a great time, then leave without part of me and spend the rest of the night looking for myself. That's what this album is, a journey from one song to the next. It can only be believed by listening for yourself.
Overall 'Satisfying The Ritual' is a very well produced album which is best described as unexpected, in your face, energetic and fuelled by emotion. If you love being taken on a journey and having your senses attacked, then definitely check out this album.