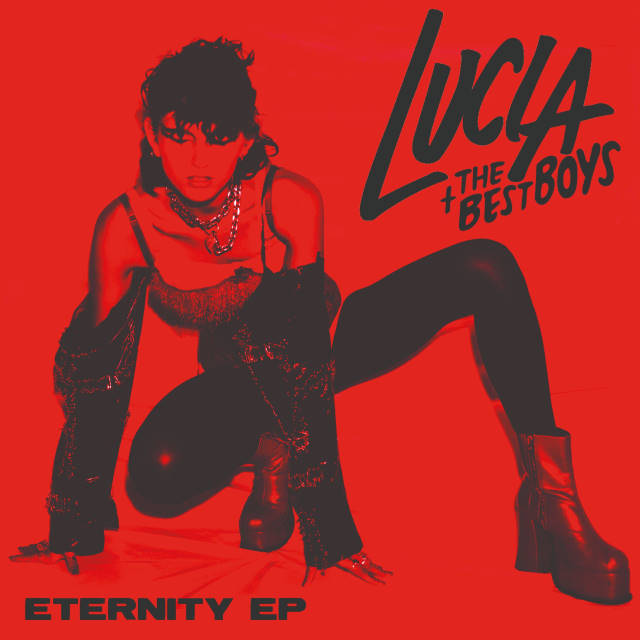 Singer and songwriter Lucia re-emerged last year with a new backing band, The Best Boys. Fired-up with a new sense of purpose, energy and zeal, the first single 'Good Girls Do Bad Things' packed an anthemic punch wrapped in a vibrant 2 minute 45 seconds stomp of clenched-fist drama and brio.
Lucia's vocal, laced with vitriol and venom, soared over aggressive guitars and whip-smart production. The single is included on the latest release E.P., 'Eternity'.
The swirling-drama and catchy-chorus of opening track 'City of Angels', swoops and soars with guitar-riffs and compelling rhythmic drive. The huge-sounding synths could have travelled through a time-portal from the era of big hair and even bigger shoulder-pads, bringing with them a sense of euphoria and ecstatic escape.
The synths continue on the ballad-esque, 'My God'; and it's on this track that Lucia's vocal impresses the most, ably capturing the highs and lows, the slings and arrows, the hope and loss.
Closing track 'Flames' is a homage to the golden-age of pop music with shades of 60's opulence and style allied to the glam-stomp bravado of the 70's. It's all heavy eye-liner and feather-boas; good-time parties and artful tears on the chaise-lounge.
Lucia & the Best Boys could have taken the easier route and released four solid air-punching rock tunes – it's to their credit that they have chosen something altogether broader in both scope and ambition. Totally unexpected, and all the better for it.
Terri Lee