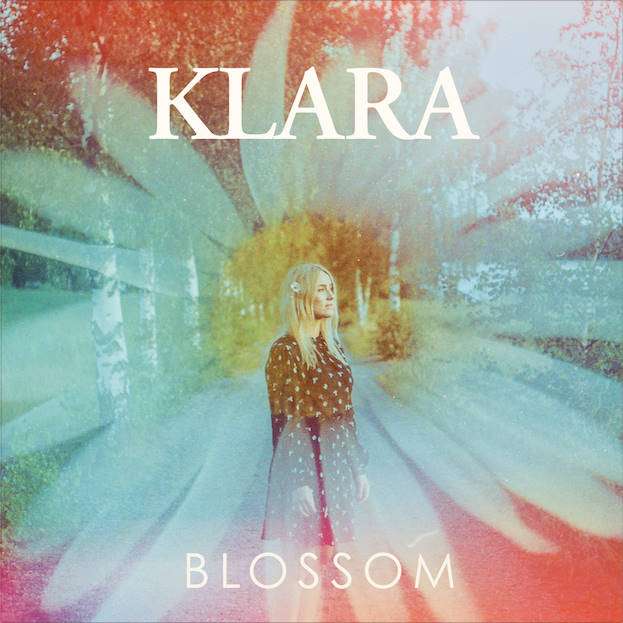 Sweden's biggest export has always been the Volvo car so it is appropriate that young Swedish folk singer KLARA should gain worldwide recognition when her track 'These Woods (Human Made)' was used in an advert for the aforementioned car maker.
Whilst we may associate Swedish music with the pure pop of Abba and to a lesser extent Roxette, the country does have a fine folk tradition with members of Abba amongst others having originated in folk groups and the likes of KLARA are keeping this fine tradition going.
Sweden with it's spectacular scenery, the land of the midnight sun, gives it's creative community lots of material to write about as evidenced on KLARA's debut album 'Blossom' which was released last week.
This is an accomplished set of 12 songs clocking in at just over 45 minutes. Opening track 'Playgroundhouse' with it's lush harmonies was written looking out of her bedroom window in Maida Vale London thinking of the first moment you meet someone and hoping that it will blossom into something beautiful.
'I Can't Speak For You' co-written with composer Dan Weinberg continues on the relationship theme in a similarly wistful manner. 'Strong' is another relationship song – what is it with these Swedes and relationships I wonder?
'Voices' was written in the aftermath of the UK voting for Brexit and also the Harvey Weinstein scandal. KLARA's perception of all what she considered bad news lead her to have a news detox and write this accomplished song.
'Laura' is a heartbreakingly beautiful song about a homeless woman she met and her sad story and what KLARA imagined about her. 'Broken' is a typically understated song about broken trust and trying to redeem it.
Title track 'Blossom' is about hopes and dreams and watching them blossom like a seed growing into a flower. 'Falling' is another song with slight political overtones about how KLARA perceives the plight of refugees and is woven together to create another stunning soundscape.
'Breathe' is a concise two minute tune about just giving yourself the space to take a step back and literally giving yourself a chance to breathe. 'Another You' is about coping with grief and one of the album's longer tracks at nearing 5 minutes.
'Where Do We Begin' is about picking yourself up after adversity.
Closing track 'Our Finest' claims to be the only love song she has ever written. But her music is so delicately beautiful that all tracks could be classed as a true labour of love.
This album has been an absolute pleasure to review. If you appreciate fine vocals, accomplished musicianship and beautifully created melodies then 'Blossom' is certainly worth checking out.