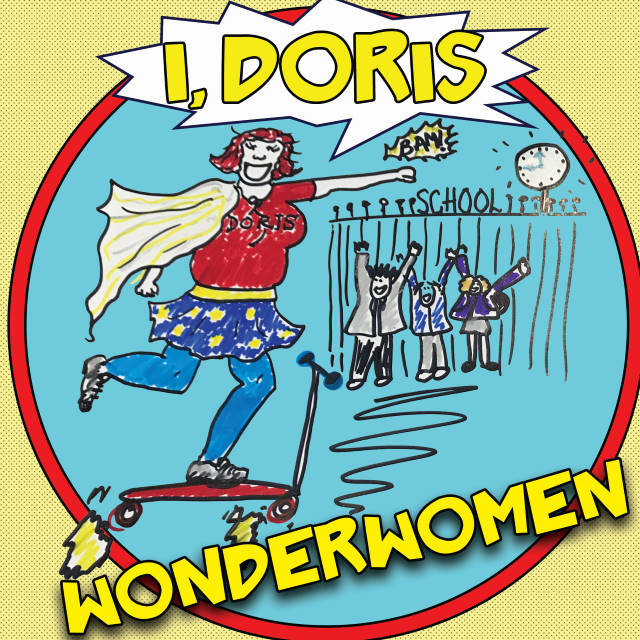 London's 'mummycore' feminist pop band I, Doris released their new superpowered single, 'Wonderwomen'. I will admit, this is the first time I've ever heard of the sub-genre 'mummycore', and I wasn't sure what to expect.
The track has a fun, disco-punk sound with a catchy verse delivering the message that 'you don't need to be a hero, you're doing fine as you are, love'. Taking the mundane life of mothers and turning it into an upbeat bop tune accompanied by a comic book style music video, showing the 'Dorisses' tackling everyday battles such as the school run, work and the weekly shop while in superhero gear.
If this didn't already sound like the most entertaining way to present motherhood, they also cast their own children in the video, giving them special mentions in the credits with alliterated nicknames as if they're Horrid Henry characters. 
In the words of Doris "Women are often praised for being multi-tasking superheroes. Who needs that kind of pressure?" Which is what led them to create this entertaining song about cutting yourself some slack because you're doing fine.
Radically feminist like I've never seen it before, reassuring mothers that life is hard, between work and kids and everything in between, there's a lot to do in the life of a mum.
The song was released June 5th, perfectly in time for when the first batch of UK primary schools open and more employees are returning to work, this song accurately describes the day to day life in a humorous and enjoyable manner.
This is the third track by I, Doris who have had both previous singles receive airplay on Radio X and BBC London.
Honestly, if you're a mother who's returning to normal life, this is the soundtrack for you.