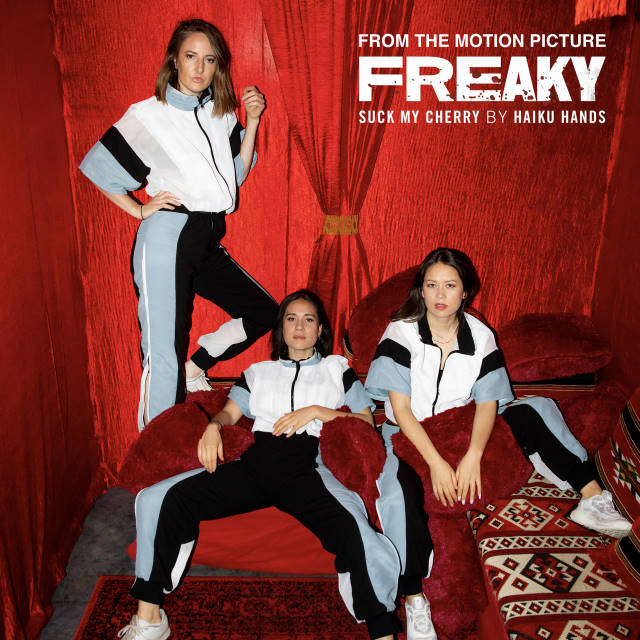 On the back of their recent amazing self-titled debut album Haiku Hands return with new single 'Suck My Cherry'.
'Suck My Cherry' was written for the soundtrack to forthcoming horror movie 'Freaky', a film starring Vince Vaughn & Kathryn Newton and directed and co-written by Christopher Landon.
"Amid the COVID-19 lock-down and during the Zoom craze, we teamed up with the creators of the feature film Freaky to write the film's closing title anthem, 'Suck My Cherry'," Says Haiku Hands. "We were invited to watch an exclusive preview of the film. It was freaky, and we were jumping and screaming all through it."
"It was our first experience writing a track from start to finish over Zoom," they continue. "With tropical-island filters behind us and from different states and studios, we started with a cheerleader rhythm and got loose on the lyrics. It was also a new experience to write from a brief, one we could get behind as they were saying 'make it weirder'. We wrote it to one of Hermitude's beats with Joel Ma on board the writing team. We're stoked that it's being used for the film!"
'Suck My Cherry' is instantly recognisable as an Haiku Hands track. It has everything that makes them the great band they are. Attitude, swagger and fun. You'll be 'air punching' whilst listening to it and you'll definitely know what to do with your hands when you are 'fist bumping'. It will probably also make you 'squat a little'.
Talking about the collaboration film maker Landon had the following to say:
"When I was finishing my new movie Freaky, I knew I needed a song and vibe that reflected the movie's message of female empowerment. I have been a huge fan of Haiku Hands so I reached out to them to see if they might be down to write the closing credit song for the movie. They have a sound that feels both retro and modern — and this is nothing short of a banger. Lyrically, it's playful and powerful. I couldn't have imagined a better way to end this movie and this song is [chef's kiss] perfect."
'Freaky' isn't in cinemas until December 25th but thankfully you can get freaky with Haiku Hands right now.
Follow Haiku Hands on Facebook.
Morph