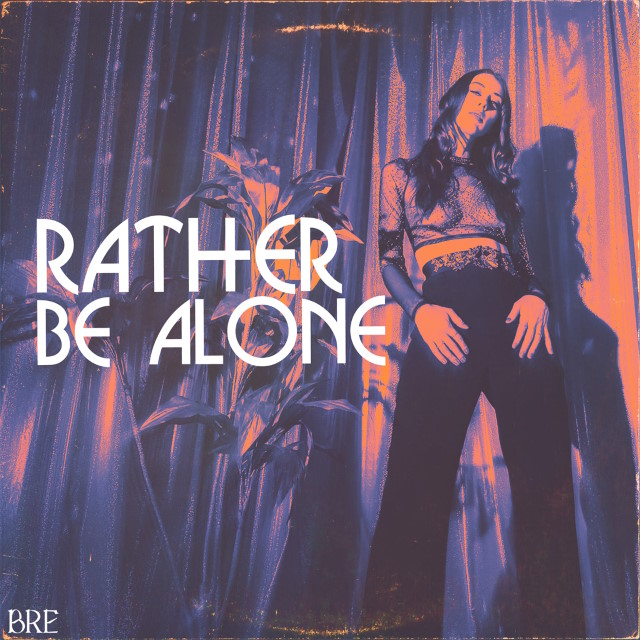 When the majority of songs are about falling in or out of love, a song about the realities of dating in the modern age is refreshing. In her recent single 'Rather Be Alone' pop-rock artist BRE discusses her struggles of dating nowadays through an upbeat and dance-worthy beat and honest lyrics.
'Rather Be Alone' serves as a song about a liberating type of empowerment and the happiness of being yourself instead of trying to shape yourself so you appeal to other people. This mood gets injected into every part of the song including the instrumental which is full of synths and keyboards, giving the track an upbeat feeling that it takes pride in. Then there's the drum beat behind the synths, which furthers the uplifting vibe, as well as giving it the type of beat that you cannot help but get up to dance to.
Then after the second chorus, the guitar comes in, turning this liberating pop powerhouse into a punchy pop rock anthem. The switch from the electronic instruments to the guitar feels powerful, however it still works well because of the slightly electronic sounding guitar tone that is used, creating a natural transition. The guitar does drop out before the chorus though, but BRE uses her own harmonies to build up the chorus so it is still an impactful ending.
When asked about the meaning of the song BRE said "Dating sucks. Dating in LA sucks. Dating in LA in your late twenties/early thirties sucks. That's the place where 'Rather Be Alone' came from. After being fuckboyed one too many times, I couldn't help but think to myself, 'Honestly, I'd rather be alone than deal with this BS!'". The annoyance that comes across in her words are also captured in the song, as well as discussing the specific issues of modern dating. In the chorus BRE sings "Cause if you don't expect a call/Then it don't hurt at all/ If I leave the ledge then there's nowhere else that I can fall/I'd rather be alone.". To me, this is a masterful summary of why dating nowadays can be so difficult, as well as bringing up a common mentality of 'If I do not engage with anyone I will not get hurt'.
In her latest single, BRE impressively manoeuvres through her difficulty with dating and discovering her self worth and value on her own, bringing an empowering atmosphere to her music that I hope she keeps for her future projects.