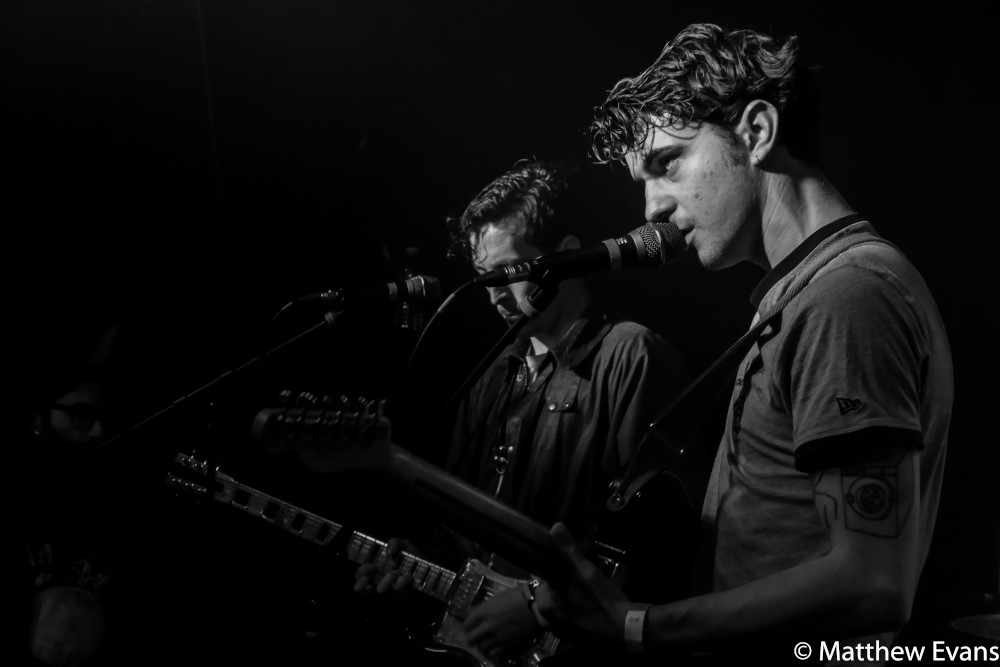 Egyptian Blue
Hare & Hounds
Review by John Frazer
Photos by Matthew Evans
First up on the night were local band Baudelaire. Great name guys and if you want to find out how
it's used as a noun be my guest but a word of warning, don't do it if you have a laptop provided by
your employer (Every day is literally a school day!). The lads who hail locally from the Black Country
were not listed as original support, so we were unsure what to expect.
These guys went for it from the off, resulting in a broken guitar strap but they soldiered on, proof if
any was needed that the show always goes on. It feels like as a group they've done the hard miles
and they're a proper live act, you feel that tightness from playing together coupled to a great energy.
The undoubted aesthetically pleasing lead singer does no one any harm either yet looks apart, the
tight room and tighter stage complimented their sound and the bands holistic appeal.
They reminded me of current contemporises Working Men's Club and Yard Act, enthused with a 80's indie feel. And just for those of us of an older vintage, there's a definite sound of Teardrop Explodes. Highlights musically were 'Regret' and their new single 'Metamorphosis' – get into a dark sweaty club with these guys now.
Time for the main act.
Egyptian Blue are touring off the back of the release of their debut album 'A Living Commodity' and are halfway through their headline UK tour. They came on stage and with no introduction went straight at it, kicking off with 'Salt', which as a single never made it to the album. This was the first sign these boys weren't messing about!
Seeing them for the first time live was a beautiful experience. It feels like they are on the cusp of making it and that they can sense it, which gives them an urgent quality. They were energetic, moody and brooding. Live, their music transcends them into giants as they slowly draw you in with their intricately methodically built walls of sound which have been carefully choreographed.
The band state they are very proud of this record in all their releases (they repeated this on the night) and so they should be. There is a definite suggestion of The Foals about them and contemporaries The Folly Group. The band look great too, at times watching them on that little stage, they reminded me of a rockabilly gang, yet they have an unmistakably British sound. Even with all that performance bravado they have an introspective side and midway through they played 'Apparent Cause' and 'Suit Of Lights' back-to-back, demonstrating this perfectly.
They finished with 2020 single 'Nylon Wire' but this album should be their breakout record and 2024 should surely be their big breakout year. Their post punk energy twinged with a dash of arrogance, their look and ultimately their credibility should have them playing at all types of festivals next year (Future Days take note). My one gripe is they should be playing to a much larger crowd than this, the state of the gigging and the record industry is a debate for another time. Egyptian Blue are a superb indie rock and roll band – go see them.