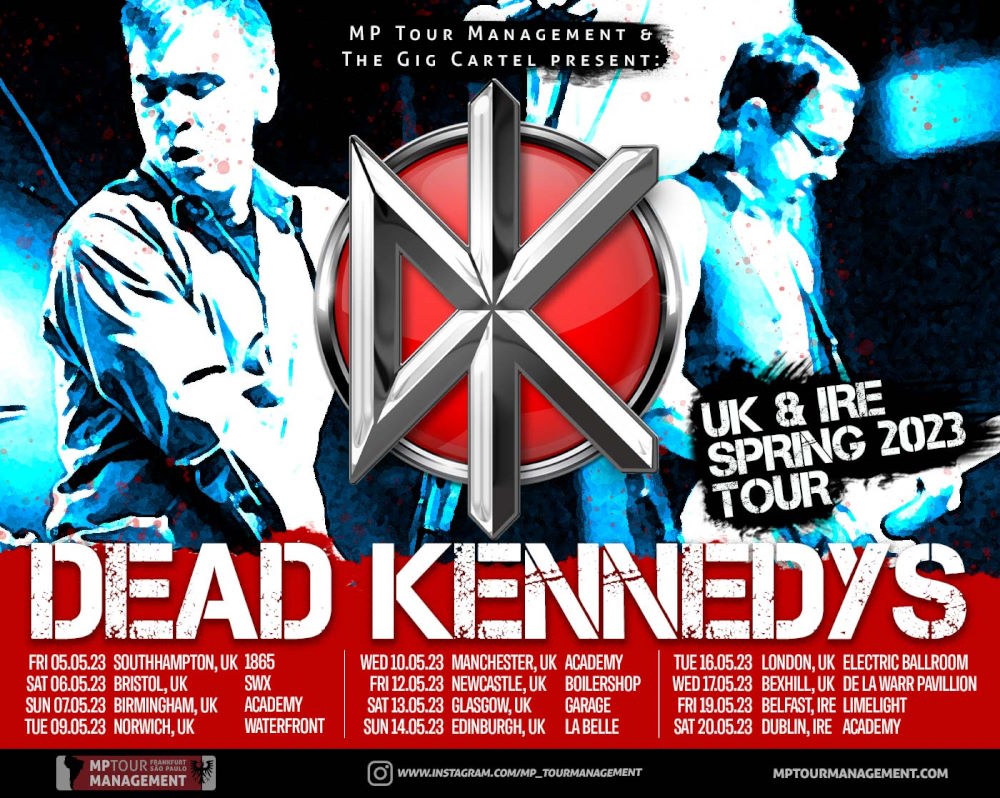 Dead Kennedys
O2 Academy
Review by Isabelle Evans
On the weekend of King Charles' coronation, there were a myriad of different things people decided to do to celebrate, whether that was in the comfort of their own home or out enjoying the weather. However, for some people there was no better choice than travelling into the city centre of Birmingham to enjoy some punk rock from one of the most influential punk bands, Dead Kennedys and their opener, Scottish punk rock band, Pïss Bäth.
Upon hearing the name Pïss Bäth I was not entirely sure what to expect, but I was incredibly excited to find out about this band and I was not disappointed. With the distorted guitars that make punk rock so punchy and the heavy vocals that filled up the whole room, they created the perfect sound for an insane mosh-pit. The stage was surrounded by a fiery energy that can only be brought out by music. The lead single off their EP 'Sword Swallower' was my personal favourite, it created an incredible and thrilling atmosphere throughout the whole room. They did an amazing job of raising the crowd's energy for the headliners.
Dead Kennedys are a punk rock band that released their debut album in 1980, however they began in 1978, they are inspired by the politically driven punk scene in the UK with bands such as the Sex Pistols. They are very seasoned performers and have a fair amount of songs that have gained immense popularity, however they decided to fill their setlist with a mix of their most popular songs, such as 'Holiday In Cambodia', 'Too Drunk To Fuck' and 'Nazi Punks Fuck Off', and lesser known songs that were most likely some of their favourites. The songs that they did perform were absolutely amazing, 'Jock-O-Rama' and 'Kill The Poor' being my highlights of the set.
There was a wonderful atmosphere in the room, the energy being absolutely palpable as the crowd moshed, cheered and yelled along with the band. If people were not busy getting incredibly invested in the music they were drinking, which led to a couple of hecklers, however Dead Kennedys handled them with ease, just moving onto the next song in the setlist. I will say that these hecklers would often be calling for them to play the next song as there were long periods of talking in between some sections of the setlist which had a tendency to take you out of the music, but the moments they played made up for this well enough. It was an incredibly fun night and it was interesting to watch a band that had been around for so long and were now seasoned professionals at performing in their natural habitat. I am incredibly lucky to have been able to intend it.