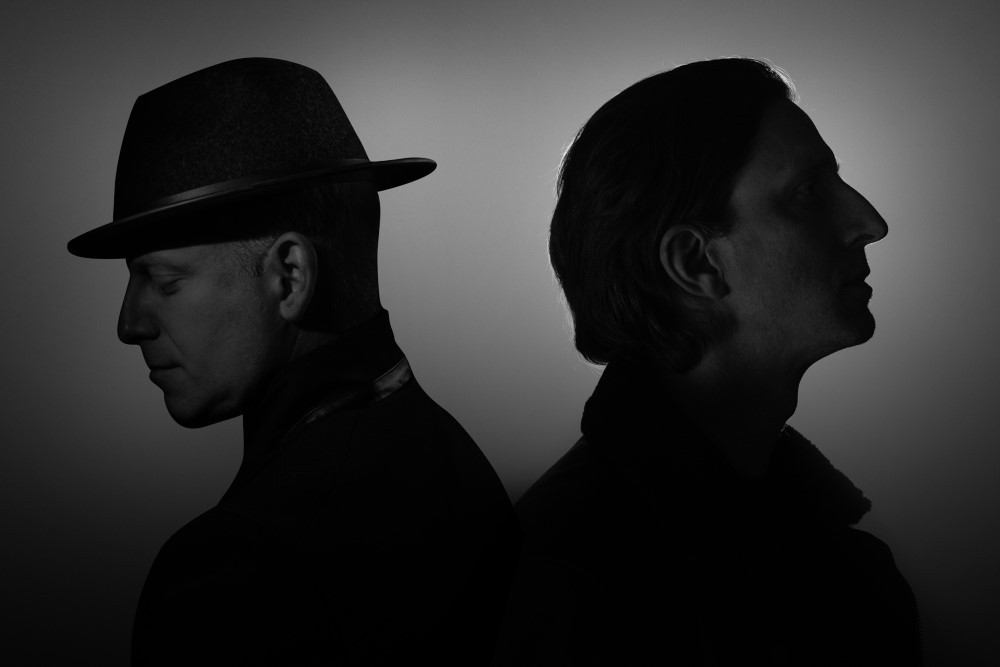 'Change My Mind' is the sixth single set for release on March 15th from the San Francisco and Portland-based, independent duo Moxxy Jones with notable singer-songwriter and vocalist Isabelle. The track – released by Starita Records, off of the duo's debut synth-pop album, 'Unnoticed' (available in Dolby Atmos) – is modern rock with a twist, a clear departure from the more synth-pop releases of their past.
The duo, composed of Milan (guitar) and Frank (keyboard), are known for their unique takes on traditional genres, a sound that's full of dichotomy: unexpected yet familiar, energetic yet dark, sonically boundless with classical elements, and intentionally juxtaposed lyrics. Isabelle has made waves as a powerhouse vocalist through her appearances on American Idol, Off-Broadway Productions, and her viral, body positive single 'Unlabeled' (which has amassed nearly 5 million views). Her talent (and vocal style) transcends genre as well, making her the perfect collaborator for such a freeform project.
Previous releases from the duo have received incredibly positive reviews with both fans and press tastemakers. 'Leave the Room' reached over 1.6 Million streams on TikTok, repeated adds to editorial, algorithmic, and user-generated playlists including Indie Essentials (54K followers), Electro Indie Pop (53K followers), XXX (25K followers), and Worldwide Hits (20K). 'Another Yesterday,' the duo's first collaboration with Isabelle, was featured in the likes of Earmilk, Rock Cabeca, and Lock.
Indie Midlands: How can you describe the Moxxy Jones sound to new listeners?
Frank: I'd say that it's a blend of pop, vaporwave, and rock, and that it's very accessible. What makes it a bit unique, in my mind, is the blending of my traditional singer/songwriter sensibilities and organic instruments with Milan's industrial influences and his knack at finding really unusual sonic elements to weave through our songs. What comes out ends up feeling both familiar and also pretty unusual.
Milan: Industrial R&B pop. There's a heavy emphasis on rhythms and sonics but at the root are songs that you could play on an acoustic guitar or piano. Those elements crashing together is what makes our sound feel both unique and familiar at the same time. Frank and I have been working on Moxxy Jones for years and have a library of songs / song ideas, etc. We've only released a small fraction of what we've been working on and have been on a pretty solid wave of inspiration recently. So, it's a bit hard to align what we hear we are vs. what others have heard.
Indie Midlands: What genres do you draw the biggest influences from and why?
Frank: Pop, rock, industrial, and electronic. Most of our songs start off really "pretty" – often with me writing something on piano – but end up getting thrown in the blender and coming out entirely different. I see the pop and rock influences really helping structure the songs and allowing them to be accessible, and the industrial/electronic elements making them interesting and unexpected. But at their core, all of our songs still work with a single piano or guitar and vocals.
Milan: My biggest influences for Moxxy Jones are industrial, R&B, hip hop, ambient, shoegaze and rock. I've taken a lot of inspiration from music in the 90s in terms of sonics and approach. It was an incredibly amazing period where it seemed like every genre was firing on all cylinders and there was a ton of experimenting and willingness to try something new. You have the Stone Roses and Brit pop, some of the best electronic music in Europe, Nine Inch Nails is coming out, U2 is exploring industrial music, Depeche Mode is releasing classics, Guns N' Roses and Smashing Pumpkins are playing ripping guitar solos. You also have Digital Underground and Dr. Dre.
Indie Midlands: This is your second time collaborating with Isabelle following the release of 'Another Yesterday' – what is it about her vocals that help create your creative vision?
Frank: Isabelle brings a very unique and powerful point of view to these songs. And it allows us to have the songs grow organically and in directions that we might not otherwise have predicted. For example, 'Change My Mind' was originally a pop/hip-hop tune that had a really light and even happy vibe. But once Isabelle laid down her vocals with us at Henson in Hollywood, we knew that this was no longer just a pop song – it now had teeth and grit and always was meant to be a rock song. From there, it was obvious what we needed to do – e.g., dirty up the chorus, add heavy distorted guitars, and play around with really unusual textures like the broken strings at the end of the song.
Milan: Isabelle has this amazingly powerful voice but lurking in the background is just a hint of Southern twang. I am a total sucker for great country music. Kacey Musgraves' 'Golden Hour' is one of the best albums of the past few years. I'm very into sonics and I just enjoy hearing her sing at a fundamental level.
Indie Midlands: Do you collaborate with other artists often? What about them helps you grow as a musician?
Frank: Yes, and this is one of my favorite parts of being in Moxxy Jones with Milan. Milan and I have played in multiple bands together and know each other so well that we often anticipate where we are going with our musical choices. Adding in collaborators really turns this all on its head because it brings in very different styles and points-of-view that ultimately makes our music different – and almost universally more interesting – than what we would have done ourselves.
Milan: Yes, the entire premise of Moxxy Jones is collaboration. Frank and I have lived and played music together for years through many different bands and projects. We butt heads more than anyone, often making everyone around us uncomfortable, but we have a deep amount of respect for each other's talents and ideas. We're really brothers at this point. So, Moxxy Jones is really taking what we know works for us, giving us the freedom to do whatever we want and subjecting others to only small doses of us.
Indie Midlands: What were your biggest challenges with 'Change My Mind' and how did you overcome them?
Frank: The biggest challenge was being honest with ourselves that our initial vision for the song just wasn't good enough. We actually had a full demo that we'd worked on for a couple of years and it was pretty different; it was light, poppy, and almost shiny. But we looked at the song critically and forced ourselves to do what was right for the music, even if it meant scrapping a lot of the work that we had put in up to that point. We think that what came out at the end was worth it.
Milan: The rhythm was hard. The track started out for me as playing R&B guitar to a drum beat. We then started building layers of sonics, melodies and experimenting. It took a long time to find the balance between being creative with the drums and not overplaying to where they distracted from all of the amazing melodies, sonics and textures.
Indie Midlands: What were your highlights with the creative process?
Frank: The biggest challenge was also the biggest highlight – i.e., going down a path for a very long time but then changing things up at the end to make the song better than it otherwise would have been.
Milan: The highlight was after getting a demo of Isabelle's vocals and being inspired to play a big distorted rock guitar. As soon as I did that, it dawned on me that this was a big rock song. To hear an industrial R&B song do a complete 180 was very unexpected and a real highlight.