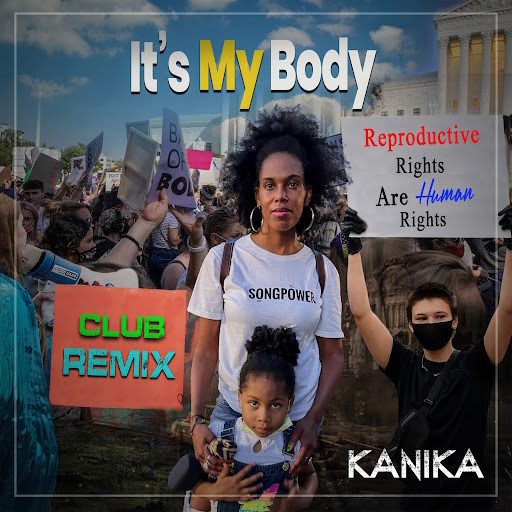 Well-established in the proactive grassroot subculture, Kanika aims to change the world with the lyrics of her music, and to be the type of artist that can create unity through song. Hailed as a high energy performer with a catchy spark, Kanika is an accomplished singer, songwriter and "Artivist" who uses her gift of music and voice to uplift the world and inspire awareness and social change. Over the past decade, Kanika has been known as the front woman of rock/SKA band The Upstarters. By fan demand, she has been invited back for performances at neighborhood events, popular regional festivals and nightclubs as the headliner or concert opener. Kanika doesn't just sing what she believes but is living proof that you can live your passion AND impact the community.
Recently introduced on network TV from United States Congresswoman, Lisa Blunt-Rochester – proudly serving Delaware, Kanika made an appearance on DETV's New Year's Eve special, an African American owned and operated TV network airing on Comcast channel 28. Not her first political statement in protest, Kanika sang for over 24 hours straight in Washington DC, to break the record of the longest filibuster and demand the Senate pass the Freedom to Vote Act. Also a finalist in the Songs For Good national writing contest during the 2020 election cycle, her "Vote in 2020" soundtrack for democracy became one of the top TikTok sounds used by voters across the US – contrasting from The Real Housewives of Potomac to Sports Illustrated swimsuit models. A career day frequent flyer and TED Talk speaker, Kanika advocates for economic equality and has assisted over 1,000 unemployed Baltimore residents in receiving workforce training to acquire a healthcare career.
It's My Body' was written and produced by John Gordon, who has worked with legendary icons such as Prince and Stevie Wonder to name a few. The song also includes the inspiring collaboration of G.U.M nominated producer Josiah Bassey – Grammy nominated in 2022 for his originally written track, "Hold Us Together" performed by H.E.R., featured in the Disney Plus movie "Safety" – who contributed to Kanika's single as a member of the vocal production team.
Remix produced by John Gordon [White Collar Music]
Kanika partnered with popular K-pop choreographer, Tinako, to host the 'It's My Body Dance for Choice': A Flash mob of 17 Asian youth dancers ranging in age from 8-16. All dancers participated because they believed in the message of It's My Body and that it spoke directly to their feelings and beliefs! The dance video is to commemorate the 50th anniversary of Roe V Wade (22nd Jan), with Kanika taking the flash mob campaign to the masses. With video submissions fas the main form of participation, digital additions to the flash mob production are welcome – more information at Kanika's website (www.kanikamusic.com).
Indie Midlands: Why did you choose dance as the focus for uniting people with this political anthem?
Kanika: I believe dance is a universal language and a powerful way to express emotion, share ideas, release positive energy, and create impact. Since 'It's My Body' is the type of song that touches on universal themes, it made sense for dance to be the focus on getting more people to hear the message of the song.
What many don't know is I grew up in a House and Club music hometown (Baltimore, MD), I love to dance and the remix of 'It's My Body' was intentionally produced (shout out to John Gordon), to make people feel the energy of the track and the accompanying vocals.
It was our hope that this track would become an outlet for visual expression. Dance coupled with a song like this can make the meaning of lyrics come across even stronger, louder and clearer. I also think that the act of losing control of one's body while dancing also symbolizes the freedom of one's body not being controlled- the message of the song.
Indie Midlands: What's the flashmob project?
Kanika: It's My Body Dance for Choice project is very special to me. January 22, 2023 would have been the 50th anniversary of Roe v Wade if it was not overturned, so it made sense to Dance for Choice, using dance as a form of peaceful protest. I got the chance to team up with popular Los Angeles K-Pop choreographer, Tinako. Dancers gathered not only in LA (although California's historic rainfall forced us indoors), but from across the world and shared recorded videos to raise awareness of reproductive rights through dance. It was such an amazing experience to see so many female dancers express how a woman's freedom of choice is their right!
Indie Midlands: How did the Tik Tok challenge come to be?
Kanika: Well, organically the song grew in interest from dancers and choreographers alike, who embraced the song by dancing and posting on TikTok. The dancers not only were very talented but appreciated the message of the song, stating it was lyrically different from what they typically dance to, and it made them feel proud to make such a bold statement.
Indie Midlands: What can people do to be involved?
Kanika: It's not too late to Dance for Choice! I invite everyone, no matter their dance background, to dance with us. You can learn the dance on my website www.kanikamusic.com, then send us a video doing the dance. I promise the moves are very simple and fun! I encourage more people to get involved.
Indie Midlands: How was your event on the 22nd and what did it signify?
Kanika: I was in artivism heaven, as the guest musical artist for TMI Project's Stories for Choice which featured 11 incredible international storytellers who traveled to Kingston, NY from Mexico, Cameroon, and across the US to share deeply personal stories about the meaning of reproductive justice, addressing one of the most critical issues at this moment in history.
Stories for Choice also included a special guest appearance by V (formerly Eve Ensler), Tony award winning playwright, performer, activist, and author of international phenomenon, The Vagina Monologues.
Indie Midlands: Best bits?
Kanika: I can't put into words how impactful it was to meet the women who shared such powerful stories. Their bravery, vulnerability and strength spoke volumes not only to the audience but to the movement. The day after the event, the reproductive freedom and equity fund bill was passed in Albany NY. Several people who spoke to legislators attended the TMI event, sharing how motivated they were after such a meaningful experience. Ripple effects are powerful!
Indie Midlands: What's your next planned protest/political statement?
Kanika: In the near future, I'm looking forward to releasing my new single 'See Me In You'. Although more of a social than political statement, 'See Me In You' is a dance song with a message about looking into one another's eyes so we can see the beauty in each other. As the lyrics go: "If you look in my eyes, you won't see my skin, gender, the clothes I wear, or the car drive. You will see me in you!"