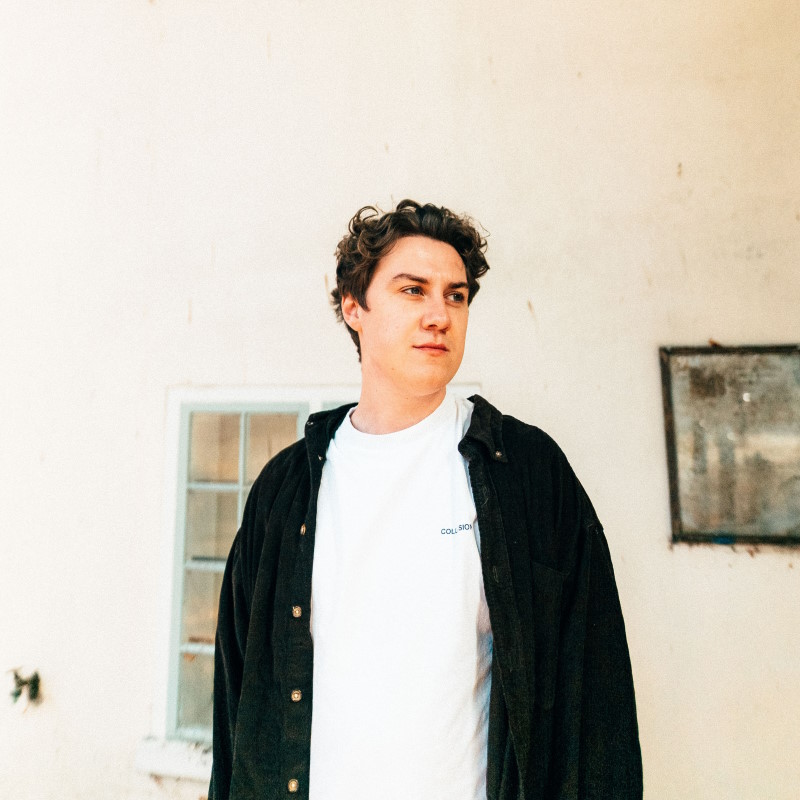 Featured on BBC Introducing, Joey Collins is an East-Midlands based alt-rock singer-songwriter whose anticipated debut album is slated for release on 24th March 2023 – with accompanying launch gig at Nottingham's Metronome live music venue.
"A strikingly original artist in the modern era of over-produced, zealous pop, Collins possesses an emotional and lyrical dexterity to satisfy tortured souls and hopeful romantics alike." — THE MIC MAGAZINE
With a catalogue of music as prolific as it is diverse, Joey Collins' sound is introspective and emotional, with a penchant for minimalistic arrangements and astonishing lyrics with a personal twist. Showcasing continuous growth as a performer and lyricist, he has received great support from BBC Introducing with Dean Jackson's 'Track of the week', and Tom Robinson 'Looked Upon A Shore' on 'BBC Radio 6 Music's Introducing Mixtape' (10/02/2020). 2020 saw Joey Collins place 20th in the top 25 "most played" chart out of the entire East Midlands music scene – followed by 25th place in 2022.
Indie Midlands: Can you tell us about your background and where in the Midlands you're from?
Joey Collins: I'm a self taught singer-songwriter and producer who resides in the Nottinghamshire/Derbyshire border.
Indie Midlands: What's the local scene like? How have they received your releases so far?
Joey Collins: Notts has a great local scene for musicians, there's live gigs on every night of the week so always someone to go and enjoy! We've hosted a number of successful headline shows from venues such as The Bodega, Rough Trade, Rescue Rooms (Acoustic Rooms) and The Chameleon.
Indie Midlands: 'Yin-Yang' is slated for release this March – what was the creative inspiration behind the body of work?
Joey Collins: What does the album mean to you? This album means everything to me as I've poured my entire existence into these songs. A lot of my music touches on the struggles of mental health issues and making sense of our chaotic world.
Indie Midlands: Who do you think will relate to this album?
Joey Collins: I think it has something for everyone. Most of the songs are Alt Rock/Shoegaze/Grunge but there's a few softer singer-songwriter style for those who are into more of an easy listening experience.
Indie Midlands: Why is 'Time Becomes Our Only Saviour' an accurate glimpse into the album, and Joey Collins as a songwriter/musician?
Joey Collins: I think that song in particular is one of the strongest on the album. The dynamics gradually increase with the intensity of the song and emotions. I think it sums up my alt rock sound in general.
Indie Midlands: Have you got anything planned to celebrate the release?
Joey Collins: I'm putting on a launch at Metronome in Nottingham alongside some quality local support acts. Tickets are just £10 and will be available from here.
Inspired by the independent scene and grassroots music, Joey Collins is the embodiment of contemporary rock that is sonically re-energised for a gripping live set. With inspiration ranging from Placebo, to Smashing Pumpkins and Wolf Alice, his creative process ​​involves a home studio in his hometown of Nottingham. On his debut album, 'Yin-Yang', the emotive lyricist explores realistic topics with atmospheric release: 'Time Becomes Our Only Saviour'.
Replicating thought patterns and memories that are hard to shake, the musician-turned-producer recorded reverse guitars in the opening sequence to reflect moments in time. Utilising aspects usually seen in emo genres to encompass a thoughtful and reflective composition, 'Time Becomes Our Only Saviour' gradually increases in tempo and intensity, taking the listener on an atmospheric journey. Despite being moody in nature, the track remains hopeful when understanding that time begins to heal all emotional wounds.
The song was created from Collins' lived experiences and the feelings endured when a long relationship abruptly came to an end. He goes on to describe "leaving the most heartache I've ever experienced… The song is written on the premise that 'time heals wounds' and it's some last words to the person the song is about."
"With a range of influences from Jeff Buckley to Thom Yorke, Joey Collins has a mature and melancholic tone that sends shivers down your spine." — BBC Introducing
A portfolio of atmospheric releases, 'Feed Me Your Love' succeeded expectations in 2021, with the single's mix by the notable Guy Elderfield (The Libertines and Jimmy Eat World). The track was picked up by Spotify and landed on 'All New Rock' and 'Alt Rocked' playlists – a showcase featuring the likes of the Foo Fighters, Kings of Leon and Hayley Williams. To date, Joey Collins has 29 releases in his online discography; One of his most popular being, 'Where Is My Mind? – Piano Version', which has amassed almost 270K streams on Spotify alone. With a growing audience, there is no denying that Joey Collins has developed a dedicated following of loyal fans, eager to hear his upcoming debut album slated for release in March.
With an undeniable dedication to his craft, the musician and producer has gained substantial live experiences from supporting the likes of Starsailor frontman James Walsh, playing alongside Nottingham's Joe Keogh of Amber Run, and overseas gig appearances with Stuart Braithwaite of Mogwai. 2022 consisted of extensive gigging with a debut performance in The Netherlands for Twitch Con; The year concluded with 140 shows during a contract at sea, performing on Marella Discovery 2 for 7 weeks. In August of 2022 and joined by his band The Bushido Code, Collins cemented his reputation as 'one to watch' with his headlining production at historic hometown venue, The Bodega.
His debut album 'Yin-Yang' is set for release in March 2023, accompanied with a headline show on 24th March at Metronome, Nottingham