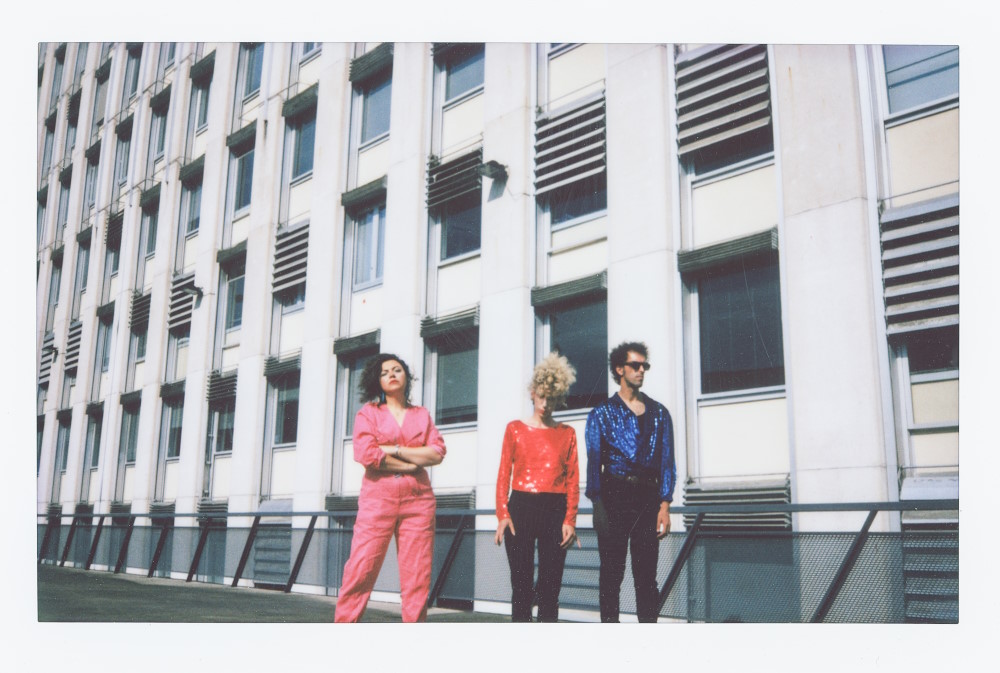 Hermetic Delight's latest single, 'Lust For Life,' is a musical marvel that defies categorization. Hailing from Strasbourg, this avant-garde trio has once again pushed the boundaries of their sonic landscape. The song opens with an intoxicating blend of dreamy guitar riffs and pulsating rhythms, setting an ethereal tone that is maintained throughout. Zeynep Kaya's vocals are a highlight, seamlessly oscillating between haunting and empowering.
'Lust For Life' is a powerful ode to living in the present, a theme that resonates deeply in today's fast-paced world. The track's 80s-inspired music video adds another layer of nostalgia and allure. Hermetic Delight continues to evolve, refusing to be confined by genre labels. 'Lust For Life' is a testament to their artistic growth and a tantalizing taste of what's to come.
Indie Midlands: 'Lust For Life' marks a new direction for your sound. What inspired this shift in style and approach?
Delphine: It's probably the confinements that have brought us closer together. We never used to create together before.
Zeynep: On our first album, we were already in the process of experimenting with pop songwriting and we wanted these singles to act as a bridge between the first and the next album. The desire to change direction was innate and natural for all of us over the years and not a carefully planned action. When the songs come along, we follow their natural demands. Having said that, we still prefer to have a more edgy, rocking sound when we play live, because that's who we are. We're a post-punk band that writes pop songs.
Atef: Our sound reflects our state of mind at the time, which was geared towards something more immediate. We were pretty obsessed with Warpaint's cover of 'Ashes to Ashes' at the time. Like every time we write a song, it reflects what we're listening to, a bit like a playlist photo.
Indie Midlands: How do you choose who to collab with when it comes to music videos?
Delphine: There are those who offer to work for us because they see themselves in it artistically, or those who we seek out because they match the aesthetic of a particular track. Our clips are very different from one another.
Zeynep: We all enjoy music videos as a genre and we tend to work with directors whose artistic vision and approach and musical tastes match our own and who also appreciate and understand our vision. Being an independent band has its financial limits, but when it comes to artistic choices, we're totally free and that's really cool.
Atef: A bit like with music, I really enjoy looking at the work of video artists. I'm also particularly influenced by my wife, who is a visual artist herself. So it's more of a background job than an event-driven choice. Sometimes you come across someone's work and you think it would work well. And if we don't know them, we contact them on Instagram and sometimes that leads to wonderful encounters, like with the director Laurens Saint-Gaudens for 'Lust For Life'. We love putting our songs in pictures, so it's a real pleasure to imagine connecting the dots between video artists and our music.
Indie Midlands: The song's message centers on embracing the present moment. How has this theme been influenced by recent global events?
Atef: The band was directly affected by the pandemic. We'd just released our first album and the only way it could exist was through critical acclaim, with very little live performance. We had a bit of a hangover from that, we couldn't see ourselves turning the page or staying with it. So we wrote songs one by one, finding inspiration and pleasure at the source, without worrying about anything more than that. And that gave rise to a rather interesting laboratory, where each track we wrote opened the door to another path, another way of composing. 'Lust For Life', for example, is the first real song written entirely by the three of us.
Delphine: There are so many of us on this earth, it's hard to feel that we exist for what we are worth for ourselves. There's also this idea of a global mass that paralyses us, that invites us to look the same, to fit into a mould. 'Lust For Life' calls for the serenity of being yourself.
Indie Midlands: The music video for 'Lust For Life' has an 80s vibe. What was the creative vision behind this?
Delphine: Laurens Saint-Gaudens directed the video and Melodrama produced it. Their approach is very cinematic, glamorous and uncompromising. It's very close to the slow, suave vision of French film-maker Bertrand Mandico, it's very expressive, it's the bodies that do the talking.
Atef: Laurens was inspired by the Italian TV studios of the 70s and 80s, Metropolis, Nosferatu, Kate Bush and Bauhaus music videos. It was a fascinating cinematic experience.
Indie Midlands: Are there any specific genres or styles you're keen to explore further?
Delphine: We had a more shoegaze period, even if our music still uses distortion and layers of layers that blend together to form a whole, but we'd like to move towards a more radical sound in the near future.
Zeynep: Anything's possible, but I don't think we'll suddenly be doing doom metal. We'd like to continue developing our songwriting skills and we'll see where that takes us. A future producer will also play a role in the sound of our next album. We're currently working on some new songs. Let's keep it a surprise.
Atef: I'd be happy to go for something more psychedelic, with more trance and loss of bearings, while still remaining pop, a bit like Stereolab.
Indie Midlands: Could you elaborate on your musical journey and how you developed your avant-pop sound?
Atef: Our backgrounds are quite different: Zeynep grew up in Turkey playing grunge, punk and new wave, then lyrical and jazz. Delphine was more into dark stuff and I was discovering rock after having been into techno. As we wanted to do something we could all agree on, we had to find a common language, but it's inevitably a bit special.
Delphine: I also listen to Warpaint, Fontaines DC, Oasis, The Dandy Warhols. They're all pop to me.
Indie Midlands: What can fans expect from Hermetic Delight in the coming months, and do you have any upcoming projects or collaborations in the pipeline?
Delphine: We're shooting the video for our next single!
Atef: We're going to have a few things prepared in France and then there'll be a time to take care of ourselves, until next year when we'll be doing a UK/Europe tour. We're dying to get out and meet our fans.