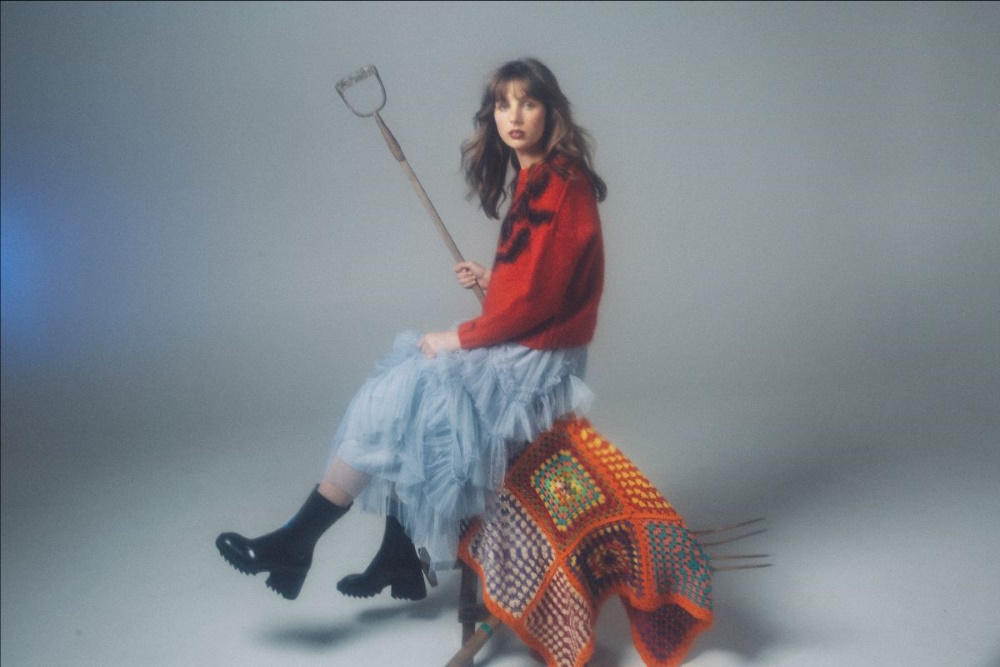 After releasing sophomore album 'Deep Is The Way' at the start of the year, Melbourne-based artist Gena Rose Bruce heads over to the UK in May to play a selection of live dates, including a stop in Birmingham at Hare & Hounds on the 4th. Tickets for the Hare & Hounds gig are available here, and below you can read an interview Gena kindly did with our Isabelle Evans.
Indie Midlands: First off, how would you describe your style to someone who has never heard your music?
Gena Rose Bruce: Storytelling, melancholy, dreamy and a bit unhinged.
Indie Midlands: You just released the 'Deep Is The Way' album, what was your favourite song and story in that album? And which one was the first that you wrote for the album?
Gena Rose Bruce: My favourite song keeps changing but I do really love the story in the title track 'Deep Is The Way' – This song is an ode to the deep thinkers and sensitive people of the world and how to love that about yourself and not let it burden you. The first track I wrote was 'Love', I wrote the chorus first off but couldn't finish it at the time but later on once I had written more songs I was then able to feel where I needed to take it and finish it.
Indie Midlands: Speaking of your album, what was the writing process like? There is so much emotion in the record, it must have been a very passionate process.
Gena Rose Bruce: Thank you – I was going through a bit of a heavy time for many different reasons so I began writing this album as a self project to keep me busy and help me process everything I was feeling, I feel lucky I have an outlet like songwriting to help me get through difficult times.
Indie Midlands: When writing your album, what was the biggest inspiration sound wise and within the lyrics?
Gena Rose Bruce: I recently started learning the piano so I knew I wanted to incorporate more piano in this record compared to my last. Lyrically it felt like diary entries to me but I was also reading a lot of fiction at the time and I feel I was inspired by some of the characters in my book and sort of tried to imagine how they might feel towards a certain situation rather than just my own feelings.
Indie Midlands: Several songs on the album were co-written with Bill Callahan, how did that occur and what was that process like?
Gena Rose Bruce: It was all during lockdown, where all of a sudden we had all this time to try new things and for both Bill and I we were new to co-writing and wanting to give it a go! The whole process was over email, sort of like a modern day penpal. We just wrote long emails sharing lyric ideas and slowly creating a story with both our lyrics.
Indie Midlands: When it comes to both songwriting and performing, who are your biggest influences?
Gena Rose Bruce: I have so many but if I have to name a few – Thom Yorke, Jeff Lynne, Weyes Blood, Angel Olsen and The Beatles.
Indie Midlands: Was there any specific moment during your life which made you certain you wanted to pursue music?
Gena Rose Bruce: Half way through this album I sort of quit music all together and needed to completely let it go for a while and I think only then I realised how much I need it in my life and now I have completely changed my mindset about the whole pursuit of music and why I do it.
Indie Midlands: What has your proudest moment within your music career been?
Gena Rose Bruce: I'm really proud of this record for many different reasons, so at this current stage releasing 'Deep Is The Way' is my proudest moment.
Indie Midlands: Finally, is there anything you would like people to check out after reading this interview?
Gena Rose Bruce: I'm heading over to the UK in May for a tour (dates up on my website) and would love to see you there xx
Gena Rose Bruce headlines Hare & Hounds on May 4th. Tickets available here!