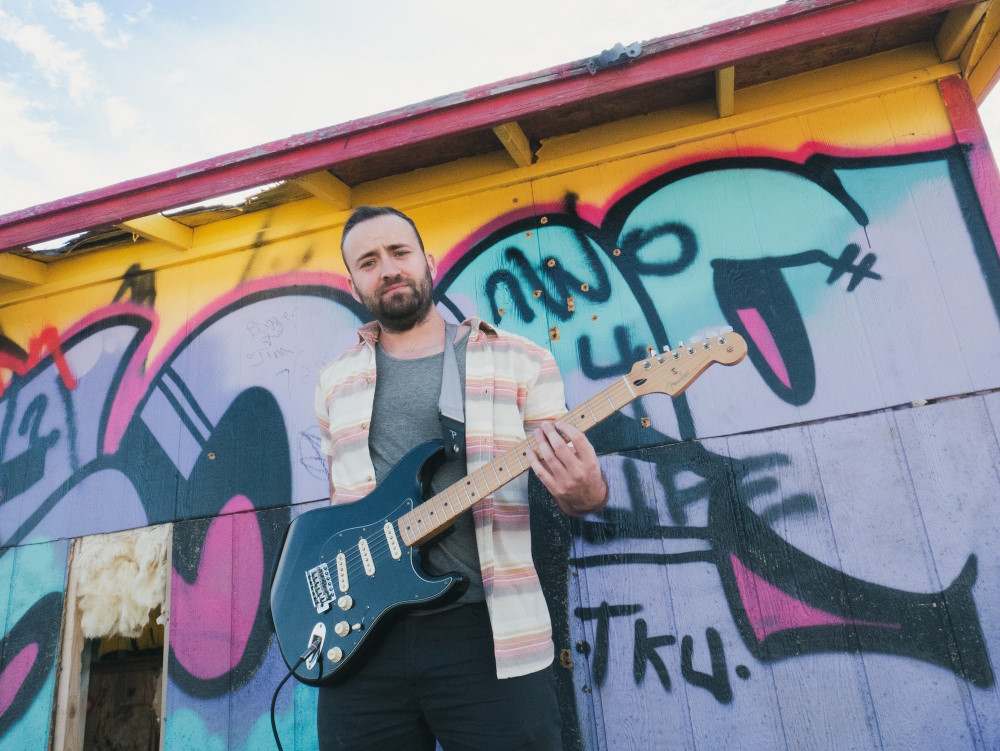 Much like stumbling home from the bar at the end of the night, Drunken Logic has always been a balancing act — between indie rock, piano and guitar pop, and Americana music, as well as personal truths, scathing wit, and the search for empathy. His what first seems like unconventional approach to music makes for something truly raw and something you could literally reach out and touch sonically. Jake Cassman has always been a pioneer in songwriting prowess and relentlessly recorded and released three albums and toured extensively.
Influenced by those 90s grunge-filled greats in Third Eye Blind and Green Day, Cassman however also moulds his own sound world together and raucously blends a multitude of genres together. The result is an angsty and gritty plethora of alternative rock that sticks, and since the turn of this year he has been preparing for the release of his new 5-track EP 'An Awful Lot Of Nothing'. With singles released so far in 'Ten Years' Time' and 'Rounding Up', lead single 'Born Mad' further invites you into Drunken Logic's one of a kind rock-infused psyche.
Indie Midlands: Can you tell us about yourself and the people who read Indie Midlands?
Drunken Logic: I'm a musician from California. I've lived and played all over the US. I've played just about every gig I know of, from dueling pianos to wedding bands to busking to improv and sketch comedy. I've got three albums and two EPs out, and the most recent, 'An Awful Lot Of Nothing', came out on 4/21. I play pickup basketball and love American IPAs, and desperately want to get a dog but my apartment is too small.
Indie Midlands: Answer honestly, do you know where the Midlands in the UK is/what it is?
Drunken Logic: Honestly, nope. I've only been to the UK for a total of four days, and never left London. But I've been watching a lot of UK panel shows recently (I love Taskmaster and already miss Mock The Week), and I've gathered there's a north-south rivalry over there. Don't know where you fit into that.
Just Googled the Midlands – I've heard of Birmingham! I watched Peaky Blinders! Man, I would have loved to have some of our tunes on that show.
Indie Midlands: How do you find LA – how does it help with writing music?
Drunken Logic: I grew up in Northern California and my grandparents lived here, so I spent a lot of time here as a kid. I lived in Boston for seven years before moving here, and I definitely like it more – I think winter is highly overrated.
I don't know if living in LA helps you write, because writing requires you to live life, and there's a lot about this town that distracts you from reality. But there's no doubt that being here helps you collaborate, record, and perform – there's too many talented people here to not want to work with them. And if you're a competitive bastard like me, it forces you to keep going just to keep up.
Indie Midlands: What's the backstory of 'Born Mad' and what does it mean to you?
Drunken Logic: I've gathered that most of the rest of the world is pretty confused as to why school shootings are still a thing in this country – honestly, most of us feel that way too. It seems like there's a simple fix, specifically regarding the guns. But I do think there's a deeper issue too. Too many young men in the US feel profoundly alienated and isolated and feel that if the masculinity they grew up with is now considered "toxic," there's no room for them in society. I don't agree with that way of thinking, but it's clear that a lot of men feel that way – and that means it's my job as an artist to try and empathize, no matter how difficult or unsettling I may find it. The character in this song hasn't bought the gun yet (though God knows it'll be way too easy for him to do so), but he's explaining the origins of his rage and desperation.
Indie Midlands: Who are your greatest influences and why?
Drunken Logic: The Who taught me rock could be musical and majestic. Green Day showed me rock could be political and relevant. Frightened Rabbit demonstrated that rock could be personal and revelatory. And all of them managed to be funny too.
Indie Midlands: If you had to play one instrument for the rest of your life, what would it be (singing doesn't count in this context)?
Drunken Logic: Damn, really? You're gonna make me choose?
It's not a hard choice. I've been playing piano since I was 5, writing on one since I was 12, and you can at least simulate playing other instruments with a keyboard.
Indie Midlands: Where do you hope your music career will take you in the next 5 years?
Drunken Logic: A tour through the Midlands, an appearance on Big Fat Quiz of the Year, and an English girlfriend – I'm a sucker for the accent.