Friday February 7th – 7pm to 10pm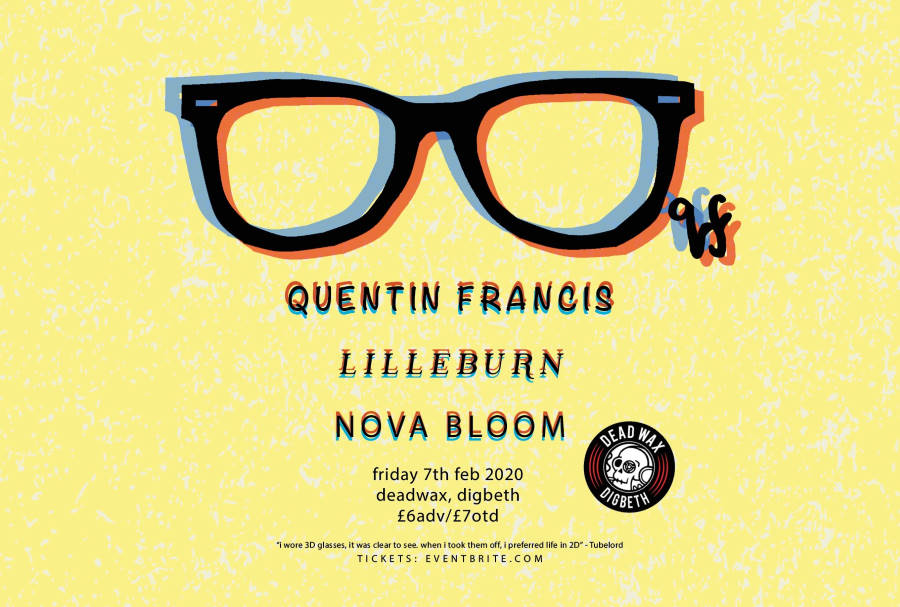 "I wore 3D glasses, it was clear to see. When I took them off, I preferred life in 2D"
An immersive audio-visual indie rock experience is coming to Birmingham's brand new venue, Dead Wax.
Quentin Francis are a brand-new, Midlands-based supergroup founded and spearheaded by Matty Smith. Comprised of Smith (The Sunset Beach Hut, P.E.T., Echo Beach!) on lead vocals and guitar, Ross Carley (Echo Beach!) on lead guitar, bassist Luke McCrohon (The Sunset Beach Hut) and James Morris (La Dharma) on drums.
With a set full of driving guitars, synth soundscapes and pop hooks, Quentin Francis are a breath of fresh air in the indie-pop/rock scene. Their stage presence can be matched only with the likes of Sports Team, The Magic Gang or Vistas. Influences include; Modern Baseball, VANT, Hockey Dad, Hippo Campus and the aforementioned Sports Team.
Quentin Francis are currently in the process of organising their first single which is set for release in 2020 as well as opting for more shows. With plenty of experience between the members from their respective bands, QF are ready for the big stages.
Support provided by Lilleburn + Nova Bloom.