Sunday April 26th – 7:30pm to 11pm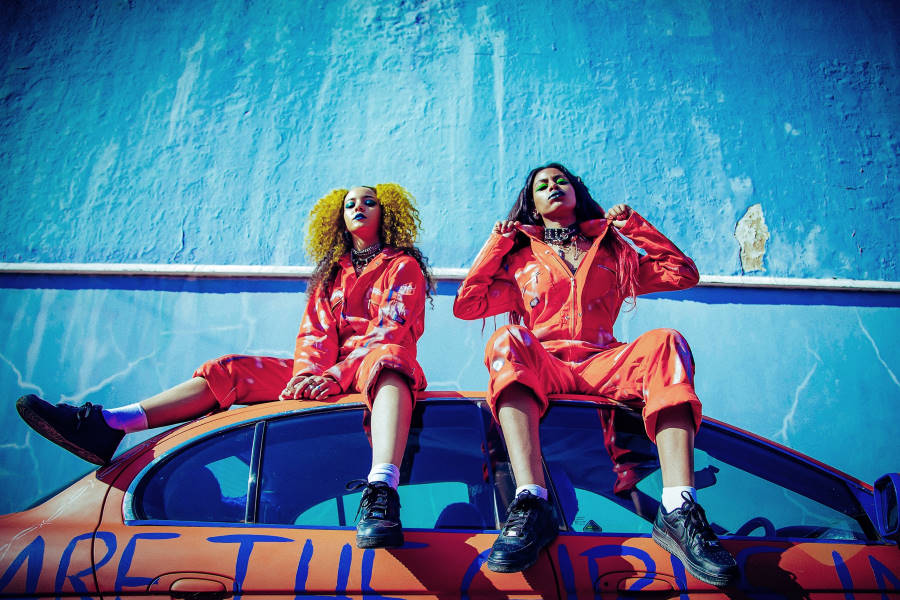 **The UK dates originally announced for February 2020 have been moved to work with the release of the album, with more dates now added. Any tickets already purchased for the original February dates remain valid, otherwise refunds are available at point of purchase. Tickets for the new Edinburgh show in May 2020 will become available in January 2020.**
Nova Twins return with yet another punch-in-your-face-anthem, "Vortex". The track bobs and weaves with effortlessly cool swagger, vocal nods to the Queen of Hip-Hop (Missy Elliott), and headbanging basslines and siren guitar riffs (all of which were created with the use of their vast pedal boards – no synths here!) . Take a joyride with Nova Twins in their video for "Vortex" HERE.
"Vortex" follows on from the huge success of their previous single "Devil's Face" which received spins from Annie Mac (declared as her "New Name") and Sophie K at BBC Radio 1 and was chosen as Single Of The Week by John Kennedy at Radio X. The band turned heads when they performed to packed tents during this summer's busy festival season (Boomtown, Download, Hellfest and Nova Rock festivals and a blistering set at this years Heavy Music Awards to name but a few) and smashed it every night on tour with Prophets Of Rage across Europe and the UK. Nova Twins are also the featured artists in the current Dr Martens A/W campaign – you may have already spotted them on posters and in stores around the world! Further to this, the duo have just embarked on a short UK tour supporting legends Skunk Anansie, ahead of their headline UK tour later this September (with London and Brighton dates already sold out).
When you've never seen yourself in music, there's an opportunity to build something from nothing. To make tracks that don't sound directly like anyone else's. "We had to work out our identities within music because we never had a reflection," says Georgia South, Nova Twins bassist. "This is a 21st-century take on rock. It's so many things." Singer and guitarist Amy Love adds with a smile, "It's the NOVA sound."
The strong and unique bass guitar of Georgia South and the incisive vocals of Amy Love, are the driving force of Nova Twins. "Devil's Face" and "Vortex" showcasing their unique future-rave-rock sound. The duo refuse to conform to any template, fusing bass-heavy grimey punk and taking inspiration from all corners of audio, from bands like N.E.R.D., Betty Davis, Jack White but also Missy Elliott, Princess Nokia and Rihanna, capturing fans of all demographics with their riotous energy. The best friends have turned rock on its head, injecting their songs with boundless energy, barely controlled rage and heavy riffs. The pair, always dressed head-to-toe in designs they've made themselves, are uniquely genre-bending.
This year has seen Nova Twins awarded The International Showcase Fund in Jan 2019 generating European gigs and Festivals Summer 2019 and the PRS Momentum Music fund (which has helped artists such as Little Simz, Boston Manor, Years & Years and many more), as well as being featured as a Flying Vinyl Spotlight Artist, and scoring features in both NME and The Guardian.
Nova Twins use their platform to champion inclusivity and diversity with their high-octane, genre-warping approach. Effortlessly cool in not only their musical output, but in every element of what they do creatively as artists. From designing and making their own outfits for all videos, photoshoots and stage wear to the art direction on their videos. Nova Twins are above all, strong, independent and inspiring women. Their modus operandi is to take socio-political experiences from their day-to-day and turn it into something their fans can lose themselves in.
Nova Twins are currently wrapping up their debut album with legendary producer Jim Abbiss (Adele, Kasabian, Arctic Monkeys), more news on that soon…