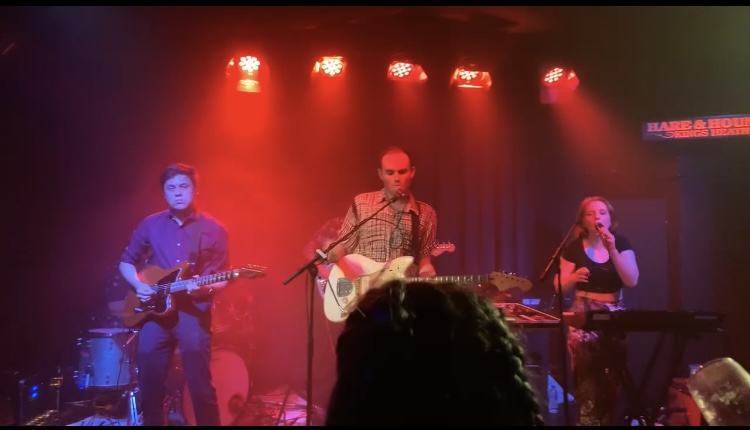 Shai Brides
Hare & Hounds
Review by Ben Wilson
What started off with a few swinging arms and little shuffles soon turned into a mass jump around as the music being played by Birmingham's very own Shai Brides quickly got the whole crowd dancing. The dreamy synths and shimmering guitar riffs combined with the blissful vocals of frontman Thom Dent captured the attention of the whole room at Kings Heath's finest venue. Support came from indie rock quintet Demelza who delivered a mix of airy, melodic tracks alongside some real foot stompers during their set. Singer Cherry Halfyard's stellar vocals perfectly captured the audience, both helping to entertain and pump up the crowd.
We strolled down to the venue, bought a ticket on the door and got there just in time to see Demelza. Originally they began as an acoustic band, playing live streams in their bedrooms. However after recruiting a drummer and bass player they quickly began writing tunes and playing shows in the local venues. It was refreshing too see five mates just having a great time up on stage and amping up the crowd for later on. As the set began more and more fellow gig goers got closer to the stage, dancing to the harmonies of the amazingly controlled but passionate vocals of Halfyard.
"For a first gig back non-socially distanced, we had so much fun – the crowd were unreal! We love what we do and it's so nice to see people enjoying it too."
The lead guitar rang out with blissful solo work and was accompanied by a pacing drum beat. A real collective of talented musicians who pumped out tune after tune that was impossible not to let your body sway to. Latest single 'Would It Be Enough?' saw the rooms energy lift as the melodies bounced off the venue's walls.
Lights went down leading to a big cheer from the crowd, "this is Birmingham right!" shouted vocalist Dent, followed by a big roar from the crowd once more. A foot stomping drum beat hit by talented drummer Cameron started alongside a fuzzy pop guitar riff and the lights began flashing, Shai Brides had started!
Confident powerful vocals by Dent accompanied the melodic beats and dreamy backing vocals from Meg on the synths. It's 80s power pop, almost as if the The Smiths were naughties kids and it was perfect. The buzz of hit single 'Joie de Vivre' began to make the crowd jump up and down and even saw the bar man giving his head a little nod. Dent is a frontman who is both passionate and sure of himself. Talking with ease to the crowd and even taking a stroll through it at one stage. A hectic pop performance of 'Tokyo Drift' was my personal highlight until the band said goodnight to the crowd to a chorus of "ONE MORE SONG!", to which of course they obliged and gave us a new tune to finish off dancing with.
Catching up with a couple of the band after, Dent had the following to say: "Just loved being back in the scene. Absolutely amazing! We're just getting back to live shows again and the energy we got back from the crowd was unreal tonight. One of our best ever Brum shows" (hey we know how to do it here). I also managed to grab a word with drummer Cameron who said : "The crowd was sick, the support was sick, we were (hopefully sick), everyone's sick, BIRMINGHAM IS SICK!" Yes you were, don't worry.
You can't beat a Thursday night impromptu gig at The Hare and Hounds.