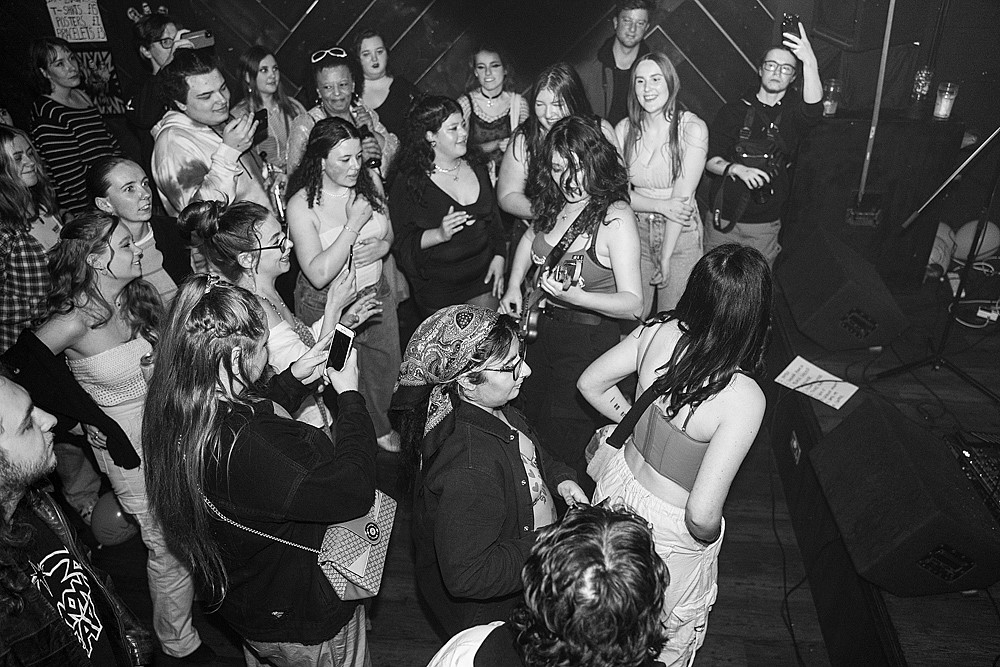 LOXZ
The Sunflower Lounge
Review by Isabelle Evans
The best gigs are the ones that will stick in your mind and resonate with you for weeks, if not months. It is a sign that the bands left such an impact and impression on you that you could not forget about it, which is exactly what happened when I went to LOXZ's EP release party at The Sunflower Lounge with support from Nightshade and Eleven Fifteen.
Nightshade was there to kick off the night and they did an amazing job, starting off their set with beautiful guitar tones and a strong voice. The four piece band played plenty of originals during their time on stage, each showing off their skill, talent, artistry and their unique and carefully crafted sound, with powerful instrumental sections, as well as a beautiful build that a lot of their songs had before going into the final act of the song.
To add on, their rehearsal was incredibly clear, every song went by smoothly, all of the songs seemed to come to them naturally. When an instrument dropped out it was clearly a conscious decision and it would come back in just at the right time. They were a fantastic start to the night and began to increase in energy that kept going throughout the whole night.
The next band up was Eleven Fifteen and I can best sum up their whole set by saying they had some of the best energy I have seen. Every second they were on stage they were putting their all into it, they were so obviously loving every second and even when their drummer dropped one of his sticks, he kept going with one drum stick for about half a song (which was hardly even noticeable).
There was tons of crowd interaction, including their lead singer encouraging the crowd to sing along to the covers they chose, which were 'Teenage Dirtbag' by Wheatus and 'Boyfriend' by Dove Cameron. Both of these were wonderful choices for covers as the crowd were sure to know the lyrics to at least one of them. I also think the way they played these songs fit their sound incredibly well. For two songs that are incredibly different they managed to alter them so that they fit within the same set.
Overall though, my favourite song in their set was definitely their original 'Mine', the sudden pick up that happens near the start of the song made it stick in my head and it was insanely catchy to listen to.
Finally, LOXZ came onto the stage, it should come as no surprise that they were amazing to watch, they always are, however watching their set this time was even more fun and joyful. The atmosphere in the room was incredible, the setlist was amazing and everyone there seemed to love it. It was a wonderful mix of dancing and throwing balloons, which were brought by LOXZ in an incredibly smart move.
Their setlist was a mix of music off their new EP 'Pretty in Pink', which is out now, as well as music off their first EP 'Third Eye EP'. They did a wonderful job of weaving their newer songs (such as 'Pillow Princess' and 'Date Me!') in between songs the crowd will know, as well as giving themselves a chance to talk about each song.
Also, the cover they added into their set, 'Black Sheep' from Scott Pilgrim VS The World, was an incredibly smart choice, it was not a song I would have imagined them performing but hearing it be done, it came across perfectly and showcased the amazing vocals using the higher notes.
Another thing that stuck in my mind about their set was the amazing crowd interaction, such as guitarist Scarlett running into the crowd to create a moshpit. I would say this kind of interaction has improved since I saw them play in January. For example they took the time during one of the songs to teach the audience how to sing one of the sections, which helped everyone's engagement in the set greatly. They did the same thing during their January gig, however I would say it was much more effective here.
Another thing that has improved since January is that they were ready to play an encore, when they were not before. It allowed for a very thrilling and fun ending to the whole night.
The entire night was absolutely wonderful and it had some absolutely amazing energy. I am so happy I got to be there and that I am able to continue to go to these kinds of gigs. Nights like these are what make live music worth it.