Dry Cleaning
The Sunflower Lounge
Review by Jed Zed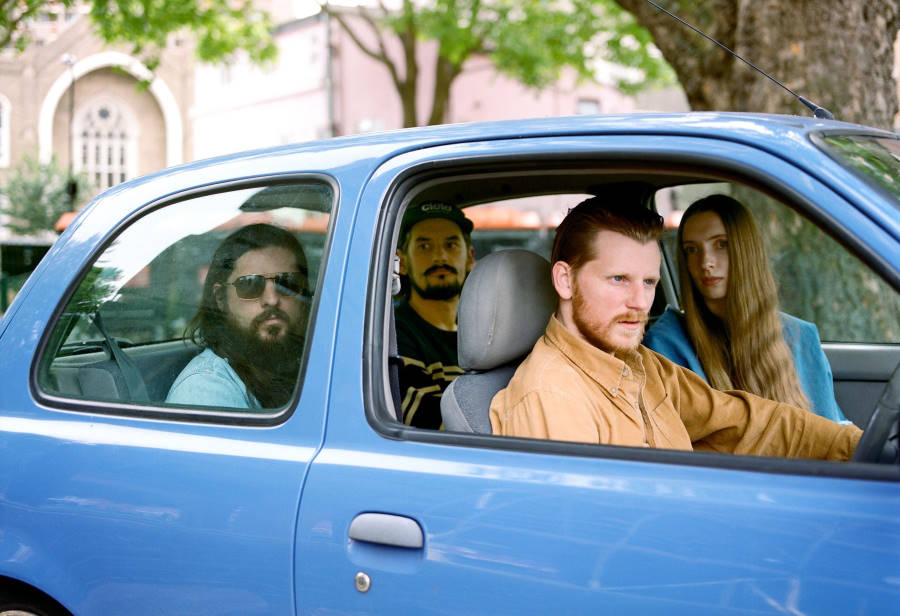 It's Saturday night. The weather is pretty shitty, but manageable. Yet that is of little concern to those attending tonight's showcase of two of London's rising stars in the growing post-post punk revival scene that has surged in popularity over the last couple of years.
Clearly, it isn't Dry Cleaning's first time in Birmingham, with the gig selling out just over a month ago. The room has already begun to fill quite nicely prior to the first and only supporting act of the night, Pozi.
Whilst they initially make a tentative start, confidence grows as they begin to gain a feel for the room. The vocal stylings of bassist/vocalist Tom Jones and drummer/vocalist Toby Burroughs are familiar, reminiscent of late 70s and early 80s punk vocalists, similar in part to the likes of Howard Devoto of Buzzcocks and Tony Deary of Neon Hearts. Add to this the relentless bass lines from Jones that dominate the instrumental (a post punk staple) and you'd feel as if you were being taken right back to the height of new wave. What pulls this into the modern age is the violin work of violinist/vocalist Rosa Brooks, coaxing an eery, cutting synthetic sound from the instrument.
A few songs in, the band really began to settle into their performance. Playing 'Engaged', this song set a calm energy in the crowd; the softer vocals from Burroughs and steadier, smoother violin from Brooks combined with a steady bass line. From this point, Pozi started to build, going from strength to strength, track after track. Particularly notable mentions include 'Yia' and 'Ash Can' from their recent Album 'PZ1'. The aggressive bass, sharp violin and increased tempo reaches out into the crowd, disrupting the peace that their previous songs had established.
Whilst I may not wish to rush out to see them perform again, I am keen to track their development and hope they continue to increase in confidence and further polish their live performance. Definitely one to watch.
As people shuffle off to refill their pints and get some air (it was getting pretty packed and a little sweaty), anticipation builds for tonight's headline, Dry Cleaning. I make a critical mistake at this point, moving further back because I believe I'd have a better view. As people pack into the small gig space, I do my best to try and fend off the other audience members and hold onto what little personal space I have.
And so it begins. The lights go red. Enter South London's Dry Cleaning, with lead vocalist Florence Shaw standing front and centre. From the beginning, the performance captivated the crowd; the spoken word of Shaw unwavering, monotone and yet so powerful. She projects an unconventional confidence, needing not to be flamboyant, energetic or overly expressive as you find with other leads. Yet, she is still thoroughly engaging. Intelligent lyrics delivered with a subtle hint of emotion driven from slight adjustments in expression from the vacant staring she maintains throughout the performance.
A performance with many standout moments, one of the first was the song 'Goodnight' from the 'Sweet Princess' EP. Unabating in their playing; bassist Lewis Maynard, drummer Nick Buxton, and guitarist Tom Dowse lay down an unrelenting instrumental backdrop for which Shaw can layer her lyrical magic and obscenity. The punctuated profanity and uncensored language cuts with such clarity through the sound. This is a repeated occurance in 'Phone Scam' (A personal favourite of mine). Swearing in songs isn't uncommon, yet Shaw's placement and delivery makes their use a device for artistic effect, enhancing the tone of her songs. This sounded fantastic live, even if Shaw had forgotten some of the words as she revealed by her own admission.
Drawing their show to a conclusion, Dry Cleaning pulled out apparent fan favourite (at least that's what I assumed based on the reaction) 'Magic of Meghan' as their penultimate song. By this point, the room was alive. It's hard to try and stand still when this song plays, the continuous guitar melody makes this a solid dancing tune. Concluding their performance saw Pozi's Brooks and Jones joining the band on stage for an excellent rendition of 'Conversation'.
And that's Dry Cleaning. An unmissable gig experience. Can't wait to see what they do next.