Ali Barter
The Sunflower Lounge
Review by SdM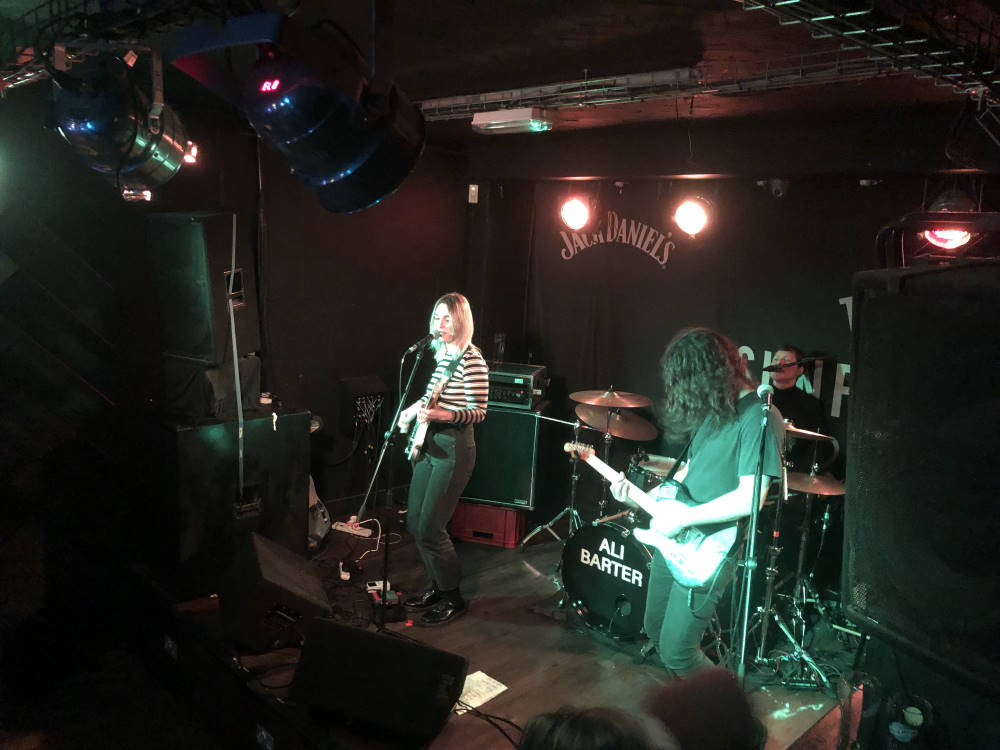 Ali Barter was clearly giving the audience a keen-eyed once over. There is an easily discernible wit and intelligence behind those peepers, and when she looked at you it all became quite personal. "This song is about opinions. We've all got one." I shall leave you to imagine the next line (prompted by an audience member). Just bear in mind she wasn't looking at me when she said it.
A blistering performance of 'Back-seat' opened Ali's set of self-penned tunes. The feedback drenching gave way to a pacey drum beats and fuzzy guitar-chops as Ali sang her lungs out in ferocious and stratospheric fashion. A deliciously dark version of 'Cigarette' stomped with nonchalant verve and swagger. The fun and upbeat guitar-rock of 'Cocktail Bar' and the tongue-in-cheek 'History Boys' put the dance and groove into the audience. 'Magoo' added honeyed harmonies, deep distorted bass runs and some heavy drum-thumping to the fray.
Antipodean weather and travel advice was given during an exchange with a fellow Aussie. "Sydney is beautiful but the traffic is fucked. But you do have the sun." Melbourne resident Ali gets the rain, apparently, or as she described it, "the English weather!" You learn something every day.
Solo versions of 'January' and 'This Girl' were preceded in characteristic style – "I know you're a rowdy bunch… I have told audiences to shut the fuck up before, so…." That told 'em! The chastened crowd did acquiesce, to a fair degree, and Ali delivered a strikingly impassioned and stirring vocal that was worthy of the quiet.
With the band back on stage for the dynamic double-stop beat of 'Big Ones' (oo-er missus!) it signalled a grand return to rocking-out. 'Piece Of Shit', again for the record, she wasn't looking at me when she introduced it, bounced along with hubris and humour. 'Far Away' and 'Girlie Bits', after an initial comedic exchange with the drummer over the tempo, closed the show.

Barter's signature sound falls unquestionable more State-side garage-rock-pop than British Indie. The faster paced and angrier tunes have a Green Day blitz about them; others bear a slant of Midwest Country lilt and West-Coast rock. Be in no doubt that here in Blighty it still works, however. The quality of the songs shine though and Ali Barter, if there is an ounce of justice, will receive the greater recognition she thoroughly deserves. The new album 'Hello, I'm Doing My Best' is out 18th October. Highly recommended listening.