Monday May 23rd – 7:30pm to 11pm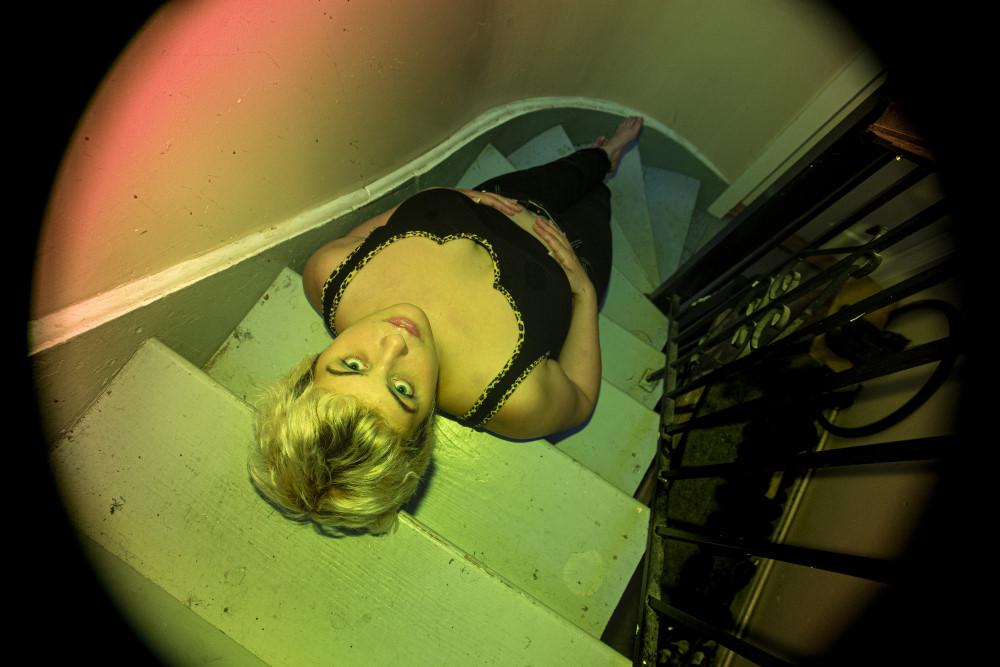 This Show Is Cancelled!
Please note, Lily Konigsberg at The Sunflower Lounge on May 23rd has been cancelled.
'Due to unforeseen circumstances, Lily K has had to pull her European tour dates for May 2022 but looks forward to rescheduling in the autumn. She wants all her European fans to know that she is devastated but personal circumstances of her and her band have made the decision unavoidable.'
Indie Midlands Presents Lily Konigsberg + Guests
Lily Konigsberg
Lily Konigsberg wrote "Sweat Forever," one of the singles from her forthcoming full-length album, Lily We Need to Talk Now, in the heat of a moment when her life felt upside down and a longtime relationship was ending. "I'm still here / Is that what you wanted?" she sings, with light and clarity that belies the true sadness of that sticky refrain. The song is propelled by the feathery strum of a 12-string guitar (one gifted to her while she was working at the Gym, a Brooklyn mutual-aid hub), her playful vocal asides, and crisp, detail-oriented production by Nate Amos (Water From Your Eyes, My Idea).
Lily We Need to Talk Now is a record Konigsberg has been slowly chipping away at since 2016, revising and re-recording the songs over the years. The eleven-track collection is her first proper full-length, following her anthology of EPs and unreleased tracks, The Best of Lily Konigsberg Right Now, released in 2021 by Wharf Cat Records. The new record is catchy the whole way through, like much of the poppy and plainspoken indie rock output that's made her a fixture of the NYC underground in recent years. Her voice twists and turns and dashes around her clever wordplay in new ways here; there are hints of power pop, pop punk, and downtempo introspection, all dotted with easter eggs of winking humor. She's joined by many of her longtime collaborators: Andrea Schavelli, with whom she released the 2017 split Good Time Now; Matt Norman, with whom she has collaborated in the avant-pop duo Lily and Horn Horse for years; Paco Cathcart, of the Cradle, who produced her 2020 EP It's Just Like All the Clouds; and Nina Ryser, with whom she plays in the acclaimed art-punk trio Palberta. But it's her collaboration with Amos that makes the most notable new additions.
True to its title (taken from a text message sent to Konigsberg by Amos), this collection of songs is like a check-in with herself. On "That's the Way I Like It," with backing vocals from Cathcart, Konigsberg reflects on the feeling of struggling with a loved one. "You can get all evil about it—like a brat, like a baby," she says. On "Proud Home," she sings one of the record's boldest earworm hooks ("You've got a lot of fucking things to be proud of!") and tries to comfort a friend who has a crush on her mom. "I really cracked myself up with the lyrics," she says. "It's kind of a 'Stacy's Mom' riff. I decided it's a dedication to Adam Schlesinger [of Fountains of Wayne]." But Konigsberg's lyrics aren't happy all of the time. "There's a lot of sadness or strangeness in them," she says. "This album is clearly about breaking up with somebody that I love. But, in all of my music, there's humor. I don't take myself too seriously."
Konigsberg's sense of humor is on display in "Hark," an infectious and light-hearted track about the frustrations of songwriting. It was originally written for her quarantine project with Palberta bandmate Ani Ivry-Block, Forever. "I hate the fact that I belong to something that needs my help or else it will die," she sings gracefully about her unfinished tunes, before joking, "You can look, but don't touch / That part's a mess / Leave it to me," backed by a bouncy bassline and horns, her voice occasionally wrapped in a touch of autotune. "It's an odd song but weirdly catchy," she says. "My musical life is kind of encapsulated in it."